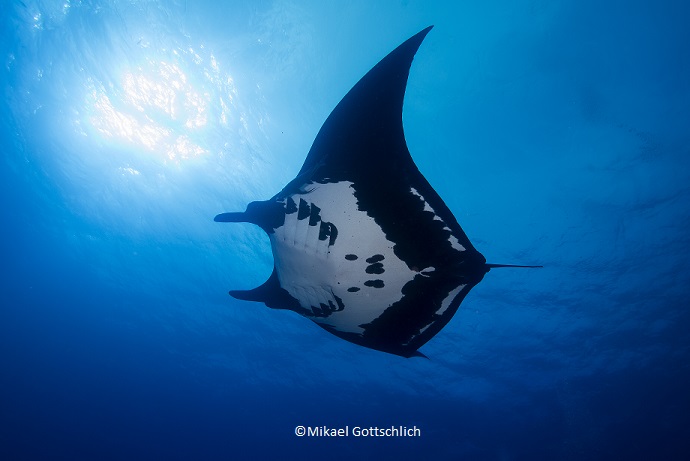 I am back! The first thing that I checked was the water temp when I got back . So far it is 24 C and that is good for me because I love it when I am able to wear only a shorty. Well, we left from Cabo San Lucas and we were all excited. There were a lot of whale sharks, dolphins, giant manta rays, hammerhead sharks, silkies and silver tips actionsoI knew that it was going to be a good trip.We did our check–out dive and everyone was nice and calm.
We headed to the boiler aka the Manta City. The water was clear and calm so we jumped in and WOW! I could not believe my eyes as we got in the water, there was a manta waiting for us under the boat. It was a nice surprise for all of us but I knew there were more just around the corner. I got everyone to follow me, as I turned back, I saw 6 shadows off in a distance. I had to go and check it out, and before I knew it, the shadows came straight to us,the mantas were following each other! Everyone could not believe their eyes! As we came up everyone could not stop talking about the mantas and could not believe what they just saw.I told them that on the next dive it was going to be better, as predicted, we counted 8 and someone counted 9, as if we were swarmed by bees! Unbelievable! We only did one dive at the boiler and headed to Roca Partida- shark city. The seas were so flat, calm like a lake. Upon arrival, there were dolphins and wahoo jumping out of the water feeding.
We got in and we saw a schooling hammerheads,silkies, dolphins and huge tunas . The weather is good, the seas are calm and the vis is 80-100 plus.
Stay tuned for the next post!
DM Juan