Ahhh… Fresh air. A beautiful ocean breeze. At sea with a small group of like-minded divers heading out for some diving magic with the friendliest giant manta rays in the world. Where might this be, you wonder? Socorro! There is no place in the world that I would rather be right now. I am itching to get back in the water and spend a week away from the coronavirus and all the surrounding madness.
Check our latest video about our divemaster Pedro
Our phones are ringing every day with folks booking trips. People just want to dive and get on with life rather than stay home and get depressed by the news channels. That being said, regardless of our decades-long reputation for hygiene (and briefing guests with my famous "don't get sick" presentation after boarding), we are getting inquiries wondering what we are doing about the virus. Here's what's happening:
Complimentary makeup trip for anyone who contracts COVID-19 and cannot join us.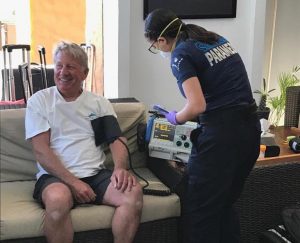 We have always had excellent hygiene on our ships – sanitizing everything in sight, deep cleaning every stateroom before boarding, supplying plenty of hand sanitizer, and identifying guests who are ill with a cold or flu and giving them rum hot toddies and love (but also keeping them away from food service areas). We learned our lesson back in 2003 when I was still the captain onboard and one sick guest from Seattle took down the whole boat as well as our shoreside team, the Aeromexico office, and a lot of the school my port agent's kid goes to. I swore that would never happen again! Our crew has been briefed and trained on twice-daily sanitizing of all public areas; spraying down all walls and ceilings with sanitizer between trips; changing out pillows and duvets between trips; and most importantly – washing our hands a lot and doing our best to never touch our faces.2.3.
A medical professional from a local hospital is attending our SeeCreatures dive centre to perform a medical assessment for all embarking guests. We will be offering a complimentary makeup trip and local hotel stay at our expense for any guests with a fever over 100.4F.
All crew have their temperatures taken every morning with a protocol that kicks in for anyone with a temperature above 100.4F.
I vividly remember diving out at Roca Partida with a big beautiful giant black manta in November 2008. She obviously couldn't have cared less about the financial crisis, and that made a deep impression on me that I have never forgotten. When things get tough, the best thing I can do is go diving. Hope you can join us soon.
Dive safe!
Mike Lever
Founder
NAUTILUS