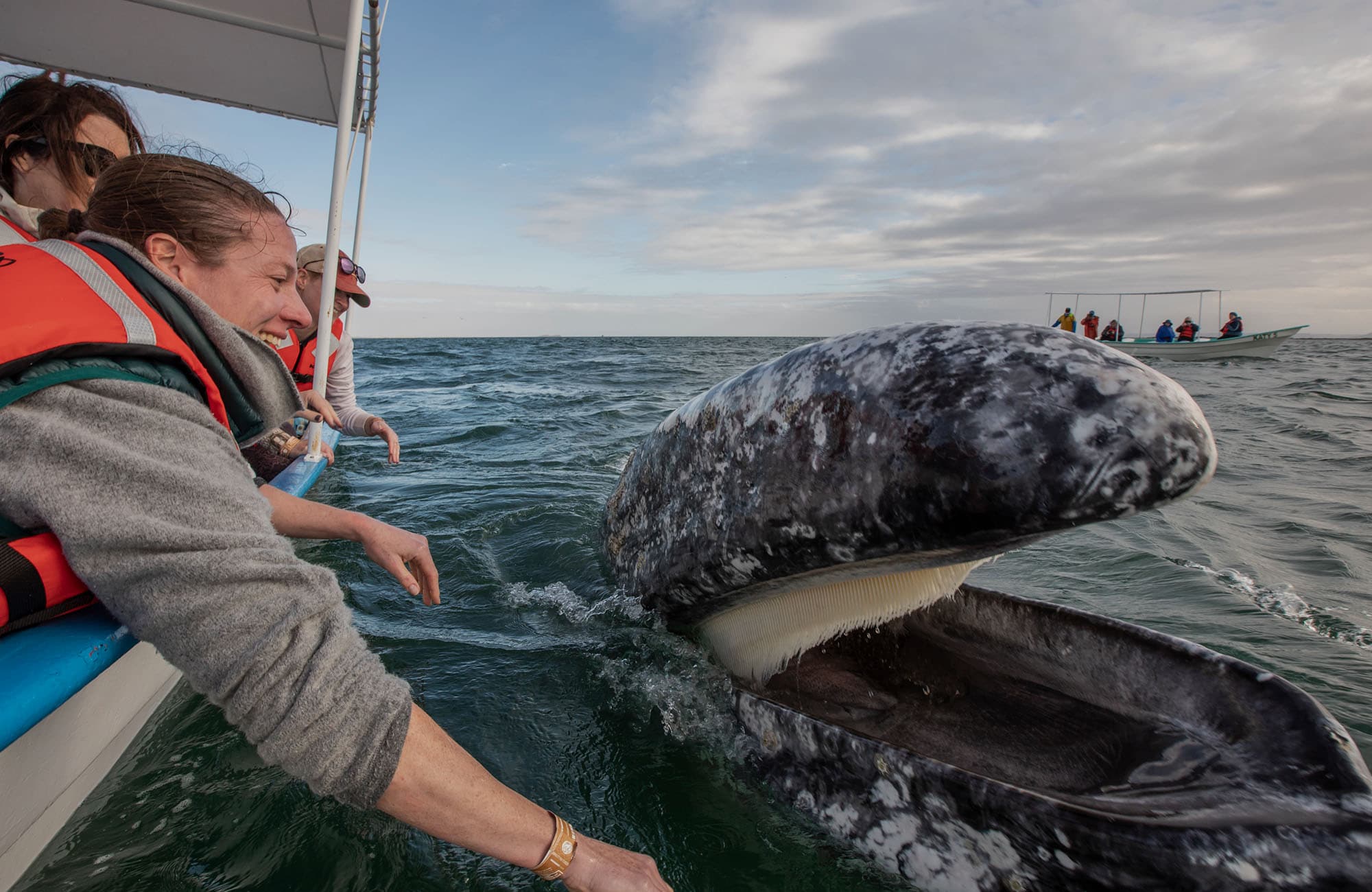 Expect a lot of feelings
to surface
San Ignacio Lagoon Gray Whales We are proud to continue 28 years of continuous beach camp operations with the gray whales at San Ignacio Lagoon while providing an injection of new energy, excellence in guest experience and safety, new equipment and the introduction of luxury and sophistication. Tim Means and
Baja Expeditions
truly pioneered eco-tourism in Baja including the first gray whale camp at San Ignacio Lagoon 28 years ago.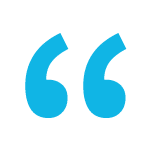 After a couple of minutes of watching blows all over the lagoon, our Captain explained a very simple action that would change my life. He told us to be gentle and splash the water with our hands. After a few minutes of splashing, a curious calf gray whale approached and came straight to me. I started rubbing and scratching the baby and she was so happy about that I think she started purring. She stayed with us for a long time and changed the life of all of us on the panga. I've seen and done a lot of things in my life but this was far away the most amazing experience ever. The star lit sky that night in camp was second!
— Ronald Z.
Getting closer to a
gray whale
than you ever imagined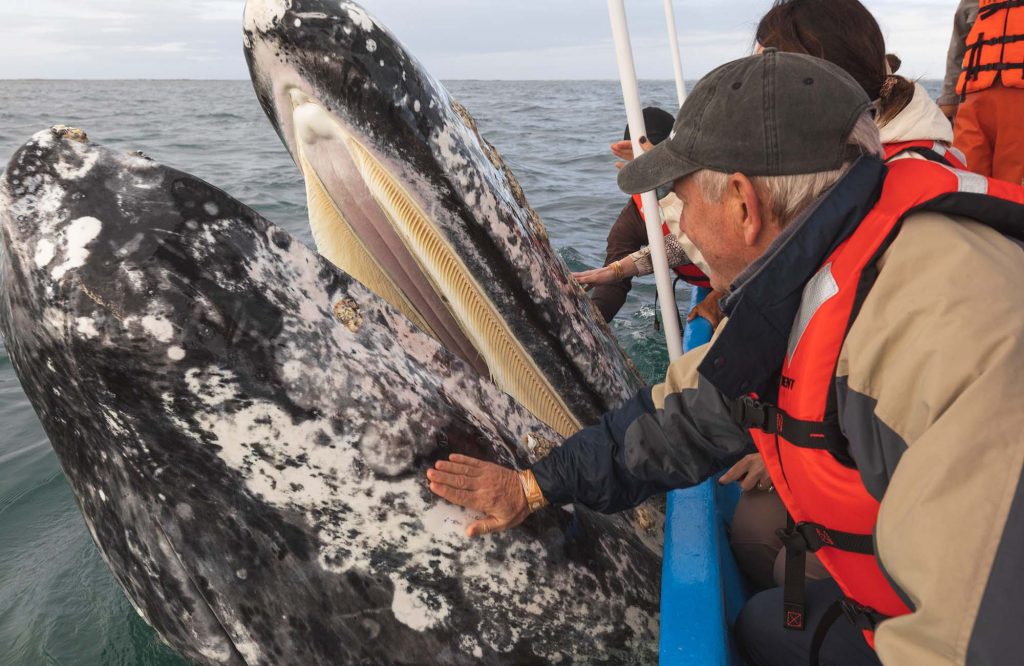 Imagine a 49-foot long gray whale, no more than an arms length away, raising its great head from the water to look you directly in the eye. A mother whale approaches and gently nudges her newborn calf towards your boat, presenting him to be admired. There is a remote lagoon in Baja California where these dreamlike encounters are a reality, and a visit there will touch your soul. At Camp Tio Timo, with Nautilus and Baja Expeditions, we invite you to share in this unforgettable experience.
Once hunted to near extinction and branded as "devil fish" due to aggressive attacks on whaling boats, gray whales have since undergone both a remarkable recovery in population and a moving transformation in their view of humankind. San Ignacio Lagoon, with decades of respectful ecotourism, has been the center of this heartwarming display of forgiveness and redemption, where gray whales place their trust in humans to the point of seeking out interaction with visitors.
You may
wonder…
What are your COVID-19 protocols?
Our job is to keep our guests and crew safe. Now more so than ever during the COVID-19 crisis. Please find our latest covid protocols here.
What am I going to see ?
You can expect up close and personal interactions with Pacific gray whales! San Ignacio Lagoon is also home to a variety of bird species including nesting ospreys and egrets.
When should I go?
We only operate in peak season when large numbers of whales are present, from January through April.
Why do your trips leave out of San José del Cabo?
Because the shortest charter flight to the Lagoon is from San José del Cabo which is super easy to get to with service from 15 different US cities, most of Mexico and even direct flights from overseas. Because San José in the winter and spring is a really fun place to visit!! Because you won't have any border crossing hassles. And because we offer all sorts of other activities from our San José del Cabo base including swimming with whale sharks and other adventures into the Sea of Cortez, scuba diving including our Socorro giant manta liveaboard trips, Backscatter photography workshops and much more.
Is there another way to get to camp or do I have to fly with you from San José del Cabo?
If you are traveling with a large, group we are happy to host your group no matter which way you arrive from camp and you will save money with a self-arrival. It's a +20 hour drive plus border crossing from California or a six hour drive from Loreto. Pilots are welcome to fly in to the 4000 ft dirt airstrip close to our beach camp. Alternatively, there is an 8000 ft paved runway 2.3 hours away at Guerrero Negro with either charter flight or ground transfers to the Lagoon. The Guerrero Negro airport is tightly guarded by the military and your airplane will be happy and safe while you are in camp. Please contact our office so that we can help you plan your trip.
What kind of accommodations can I expect?
We offer two levels of accommodation:
Glamping Camp
We say "NO" to tiny tents with cots, sleeping bags and a couple of shared toilets and showers for the whole camp! Our tents are windproof, insulated and heated for maximum comfort, with ensuite bathrooms and showers, hot and cold running water with good pressure, and 24- hour power. Not to mention "real beds" with fine linen.
Enormous thought has gone into every detail, from a fire pit to a fine selection of wine, craft beer, single malt scotches and fine dining. We even have a bar and lounge tent and Wi-Fi access throughout the camp.
Luxury Camp
Our luxury camp features all the amenities of the glamping camp, but with 12 large and luxurious tents, ensuring the utmost privacy. Each tent features an ensuite bathroom, a dresser in the bedroom as well as a separate sitting area with a couch and easy chairs – perfect for relaxing after a day of adventure.
Think of our luxury camp as one of the world's best pop-up hotel.
What's included in the trip?
Return chartered flight from San José del Cabo. Hotel transfers in San José del Cabo. Accommodation, activities, meals, snacks and non-alcoholic beverages plus unlimited whale watching subject to capacity control and weather. On-site naturalist. Park fees, gift shop, bar, gratuities and camera rentals are NOT included.
What airport do I fly into?
SJD Los Cabos International for both commercial airlines and private aircraft.
Private aircraft are welcome to use the 3000 ft compacted sand strip at our camp. There is a 6000 ft paved airport 1.5 hours away at Guerrero Negro with connecting transfers.