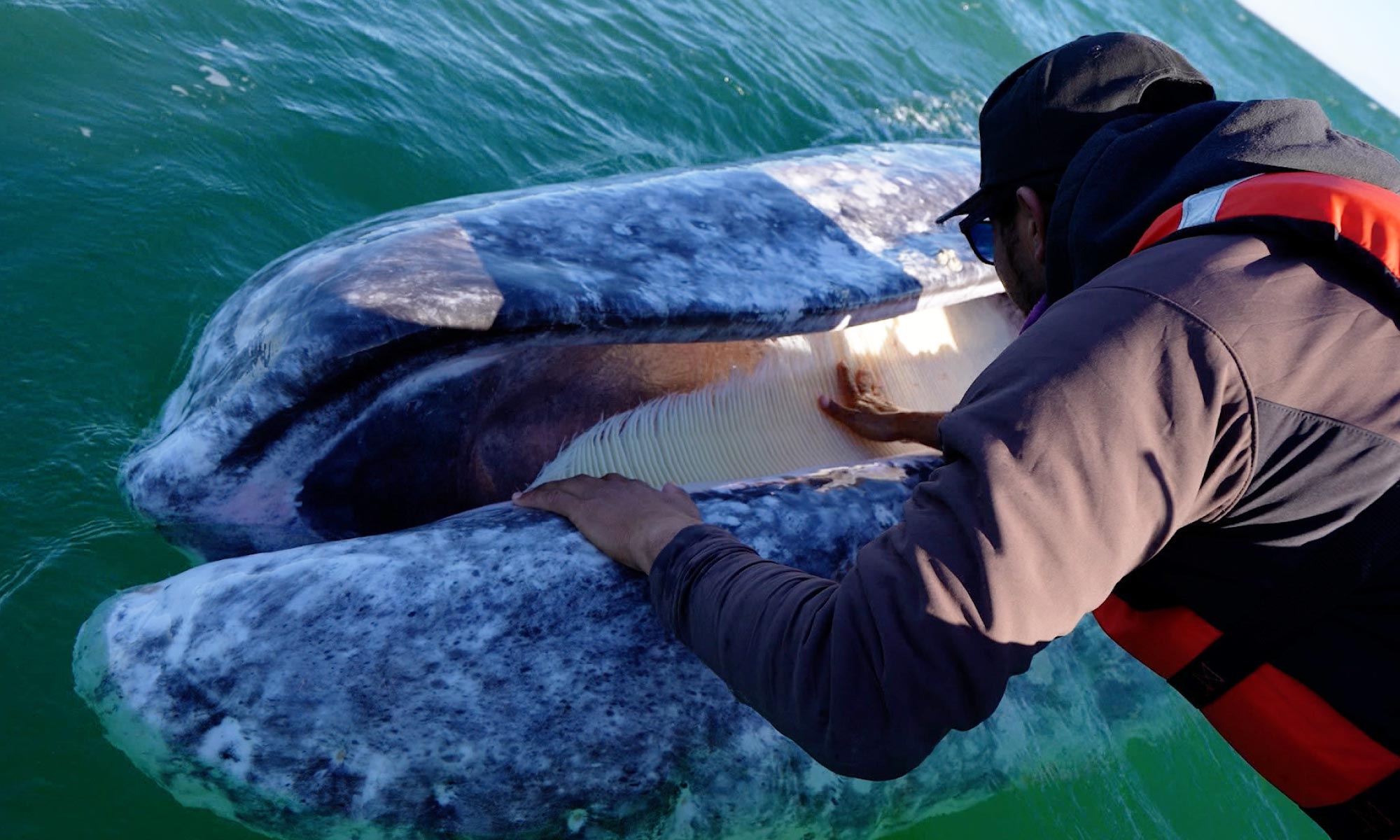 San Ignacio Lagoon
Most Extraordinary Whale Interaction on the Planet
SEASONS
Mid-January – Mid-April
4 Days, 3 Nights
TYPES OF ADVENTURES
Glamping & Luxury Camp
PRICING (pp. dbl occ.)
Glamping Tent: US$2495
Luxury Tent: US$3045
Destination Overview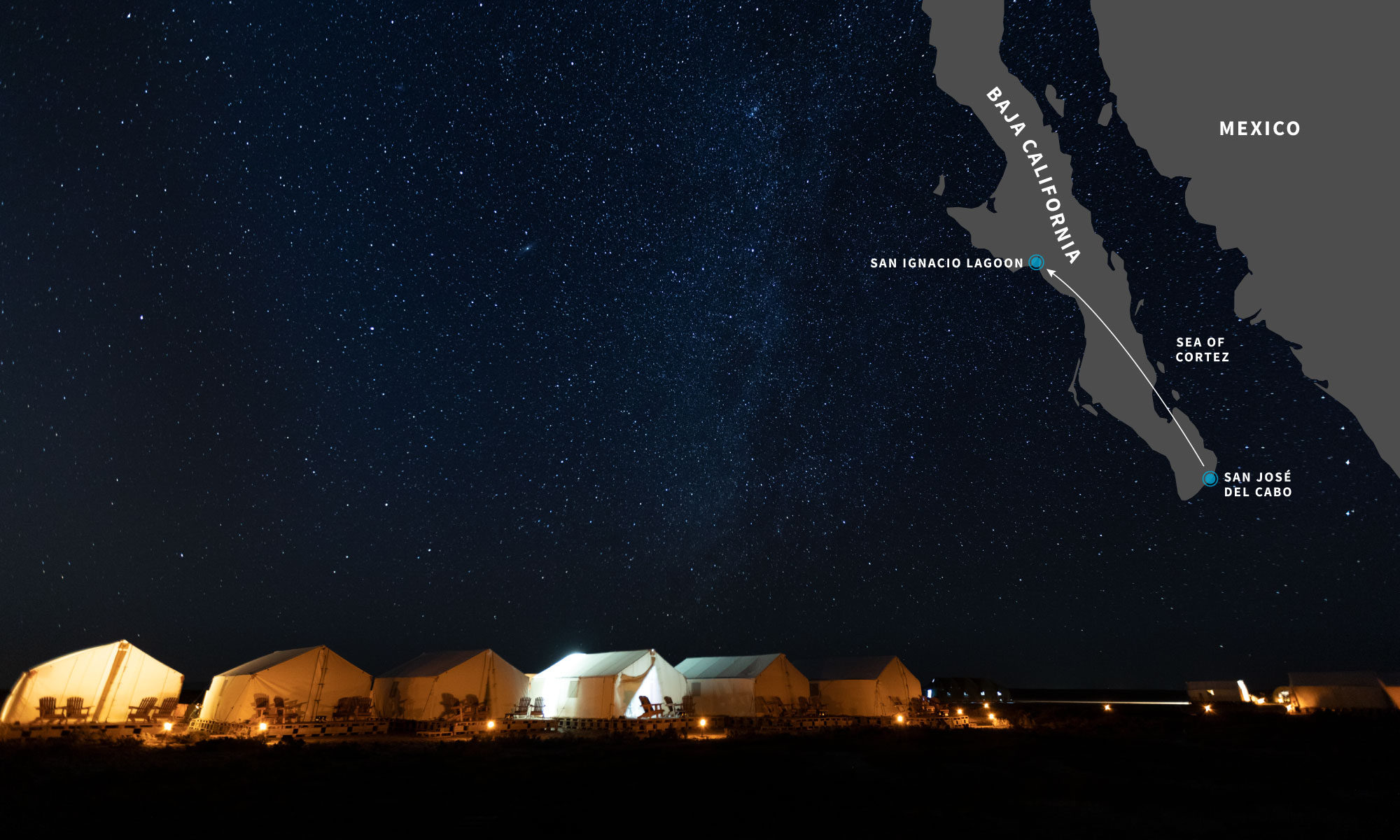 San Ignacio Lagoon
Friendliest Gray Whales on the Planet
This is the most amazing and spectacular whale interaction with humans on the planet.
Whales are sentient and very intelligent animals and much like your puppy looking you in the eye and communicating that they want you to scratch behind their ears, the whales in this breeding and birthing lagoon will look you right in the eye and choose to swim over to your panga to be caressed, stroked, rubbed (and yes, kissed) and even roll onto their backs so that you can scratch their bellies.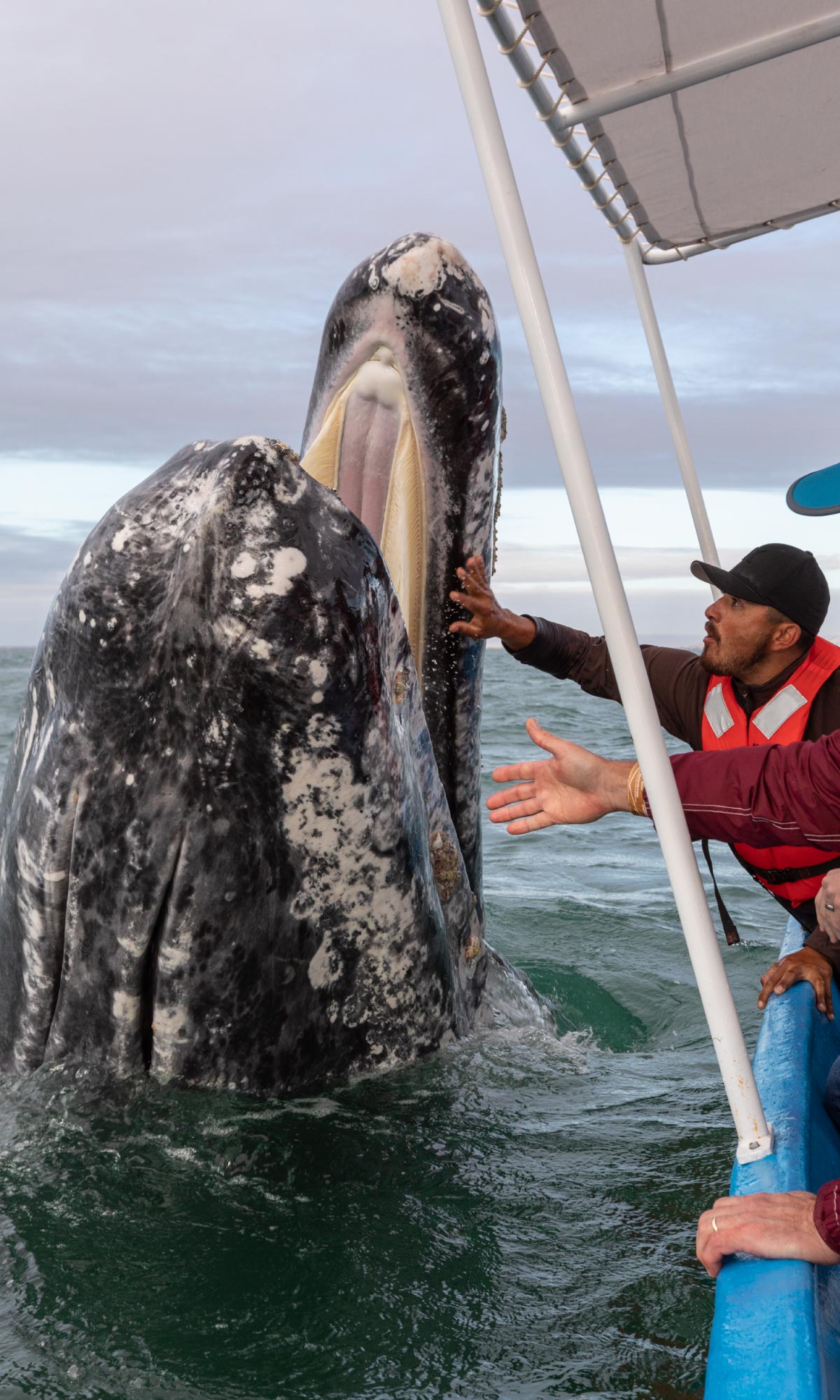 Wild Experience
The interaction is entirely on their terms. Mamas will even push their babies up against our pangas to be stroked. The first whale interaction happened in 1972 and just gets more incredible every year.
This is the last significant remaining gray whale population in the world with a second very small population near Japan.
Be ready to create a deeply personal connection that will stay with you for a lifetime.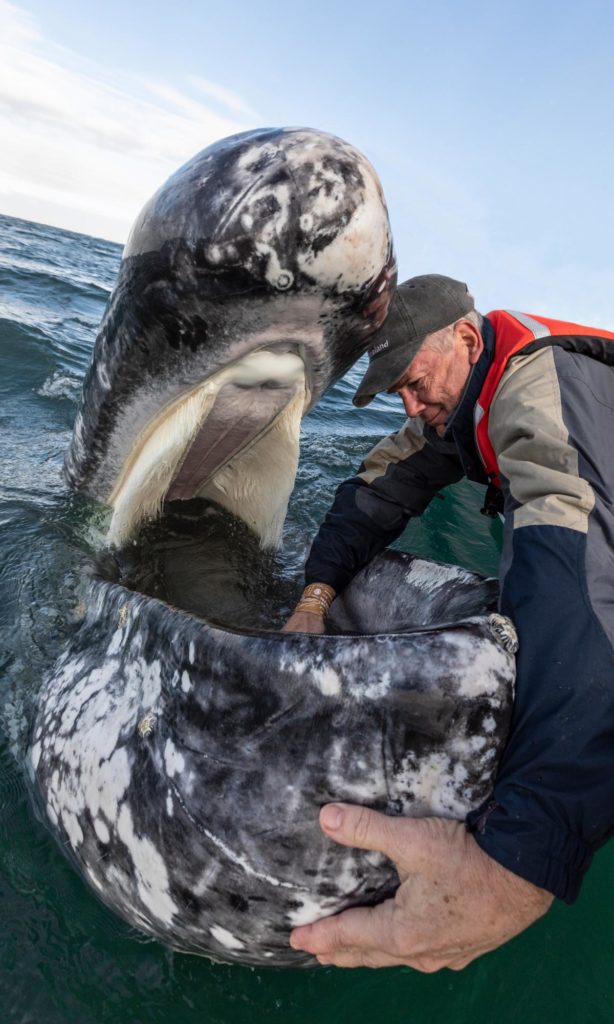 Camps
Camps
Camping in the desert at the edge of the ocean doesn't mean roughing it! Choose from either our glamping or luxury camps with all the amenities you might expect from hot and cold running water and showers and bathrooms in each tent to fine dining to attentive service.
Glamping Tents
US$2495*
We say "NO" to tiny tents with cots, sleeping bags and a couple of shared toilets and showers for the whole camp! Our tents are windproof, insulated and heated for maximum comfort, with ensuite bathrooms and showers, hot and cold running water with good pressure, and 24-hour power. Not to mention "real beds" with fine linen.
Enormous thought has gone into every detail, from a fire pit to a fine selection of wine, craft beer, single malt scotches and fine dining. We even have a bar and lounge tent and Wi-Fi-access throughout the camp.
Virtual Glamping Tent Video
*Inclusions: accommodation, meals, average of three whale panga sessions per day, non-alcoholic beverages, complimentary internet access.
*Exclusions: 5% tax, park fee $35, bar, gift shop, crew gratuities.
Luxury Tents
US$3045*
Our luxury camp features all the amenities of the glamping camp, but with 12 large and luxurious tents, ensuring the utmost privacy. Each tent features an ensuite bathroom, a dresser in the bedroom as well as a separate sitting area with a couch and easy chairs – perfect for relaxing after a day of adventure.
Think of our luxury camp as one of the world's best pop-up hotel.
Virtual Luxury Tent Video
*Inclusions: accommodation, meals, average of three whale panga sessions per day, non-alcoholic beverages, complimentary internet access.
Exclusions: 5% tax, park fee $35, bar, gift shop, crew gratuities.

Sample Itinerary
Sample Itinerary
Fly into SJD. Cabo.
Day before boarding. Complimentary Backscatter photo and video workshop at SeeCreatures Cabo. Afternoon ocean safari searching out humpback whales.
Day 1: Meet the Gray Whales!
07:00 – 07:15am pickup transfer to FBO executive airport terminal. 1 Hour 50 minute flight to the airstrip at camp. Greeted by camp manager and hosties with champagne on silver trays. Brunch at camp and then out for your first whale encounters on the lagoon.
Days 2 – 3: San Ignacio Lagoon
Your choice of an early breakfast and 07:30am panga ride to get an early start on 2 whale watching encounters. Or sleep in for late breakfast and one leisurely encounter. Lunch. Relax. One more afternoon whale watching encounter. Go for a kayak or paddle board or walk in the desert. Cocktail hour around the fire pit as the sun goes down. Dinner (fine dining of course) and an evening presentation by one of our naturalists.
Day 4: Return to Cabo
Early breakfast and one more whale watching encounter before your 1 hour 40 minute flight back to Cabo (we should have a tailwind). 12:30pm arrivalat the SJD FBO.
Salt Flat at High Tide
Bonus!! Salt Flat at High Tide!
Discover the salt flats of San Ignacio, one of the coolest places to visit in the Americas. Brilliant white salt flats as far as the eye can see are located south of the lagoon and we love to arrange afternoon visits there.
Our glamping and luxury camps are located in splendid isolation on the beautiful north side of the lagoon on a salt flat that is more of a unique light brown colour, but even more spectacular because it floods for an hour or two several times a month. It can be breathtakingly beautiful and a photographer's dream on a sunny calm day when the salt flat floods to a depth of 30 cm.
Our camp is designed and built on pilings for this unique event, ensuring that our operations are not affected in any way. This experience is truly extraordinary and not to be missed!
Frequently Asked Questions
Frequently Asked Questions
What am I going to see ?
You can expect up close and personal interactions with Pacific gray whales! San Ignacio Lagoon is also home to a variety of bird species including nesting ospreys and egrets.
When should I go?
We only operate in peak season when large numbers of whales are present, from January through April.
Why do your trips leave out of SJD?
Because the shortest flight to the Lagoon is from SJD which is super easy to get to with service from 15 different US cities, most of Mexico and even direct flights from overseas. Because Cabo in the winter and spring is a really fun place to visit!! Because you won't have any border crossing hassles. And because we offer all sorts of other activities from our Cabo base including swimming with whale sharks and other adventures into the Sea of Cortez, scuba diving including our Socorro giant manta liveaboard trips, Backscatter photography workshops and much more.
Is there another way to get to camp or do I have to fly with you from San José del Cabo?
If you are traveling with a large, group we are happy to host your group no matter which way you arrive from camp and you will save money with a self-arrival. It's a +20 hour drive plus border crossing from California or a six hour drive from Loreto. Pilots are welcome to fly in to the 4000 ft dirt airstrip close to our beach camp. Alternatively, there is an 8000 ft paved runway 2.3 hours away at Guerrero Negro with either flights or ground transfers to the Lagoon. The Guerrero Negro airport is tightly guarded by the military and your airplane will be happy and safe while you are in camp. Please contact our office so that we can help you plan your trip.
What's included in the trip?
Return flight from San Ignacio. Hotel transfers in Cabo. Accommodation, activities, meals, snacks and non-alcoholic beverages plus unlimited whale watching subject to capacity control and weather. On-site naturalist. Park fees, gift shop, bar, gratuities and camera rentals are NOT included.
What airport do I fly into?
SJD Los Cabos International for both commercial airlines and private aircraft.
SJD Los Cabos International for both commercial airlines and privaPrivate aircraft are welcome to use the 3000 ft compacted sand strip at our camp. There is a 6000 ft paved airport 1.5 hours away at Guerrero Negro with connecting transfers.te aircraft.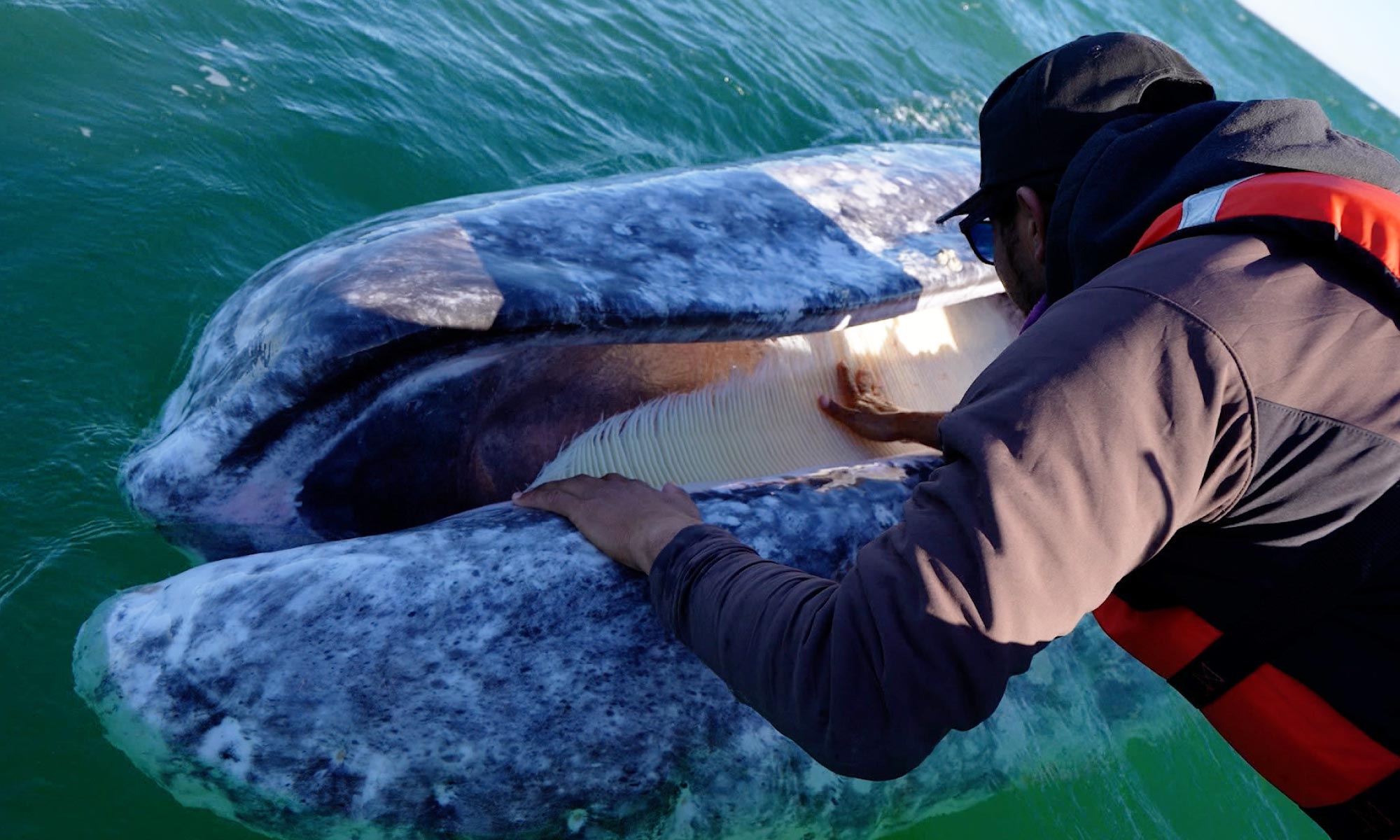 See What Guests Have Said
What Guests Have to Say About San Ignacio
Life Changing Experience

This has been a most incredible life changing experience. We will cherish these memories. Read full review

Charles & Deb W – Tucson USA
Everything was Perfect!

Everything has been perfect!! the staff knowledge, kind, patient and helpful. Read full review

Jane B – USA
Picture Prefect Dream

The entire experience lived up to the dream of being here. Read full review

Anthony M – Atlanta USA
Awe-inspiring Creatures

Words cannot adequately describe how awe-inspiring these magnificent and playful creatures are. Read full review

Randy S – USA
Experience That Changed My Life

Today was our second date. What an amazing experience!! I am so grateful to be here. Read full review

Anahi – Cabo San Lucas
Get Inspired!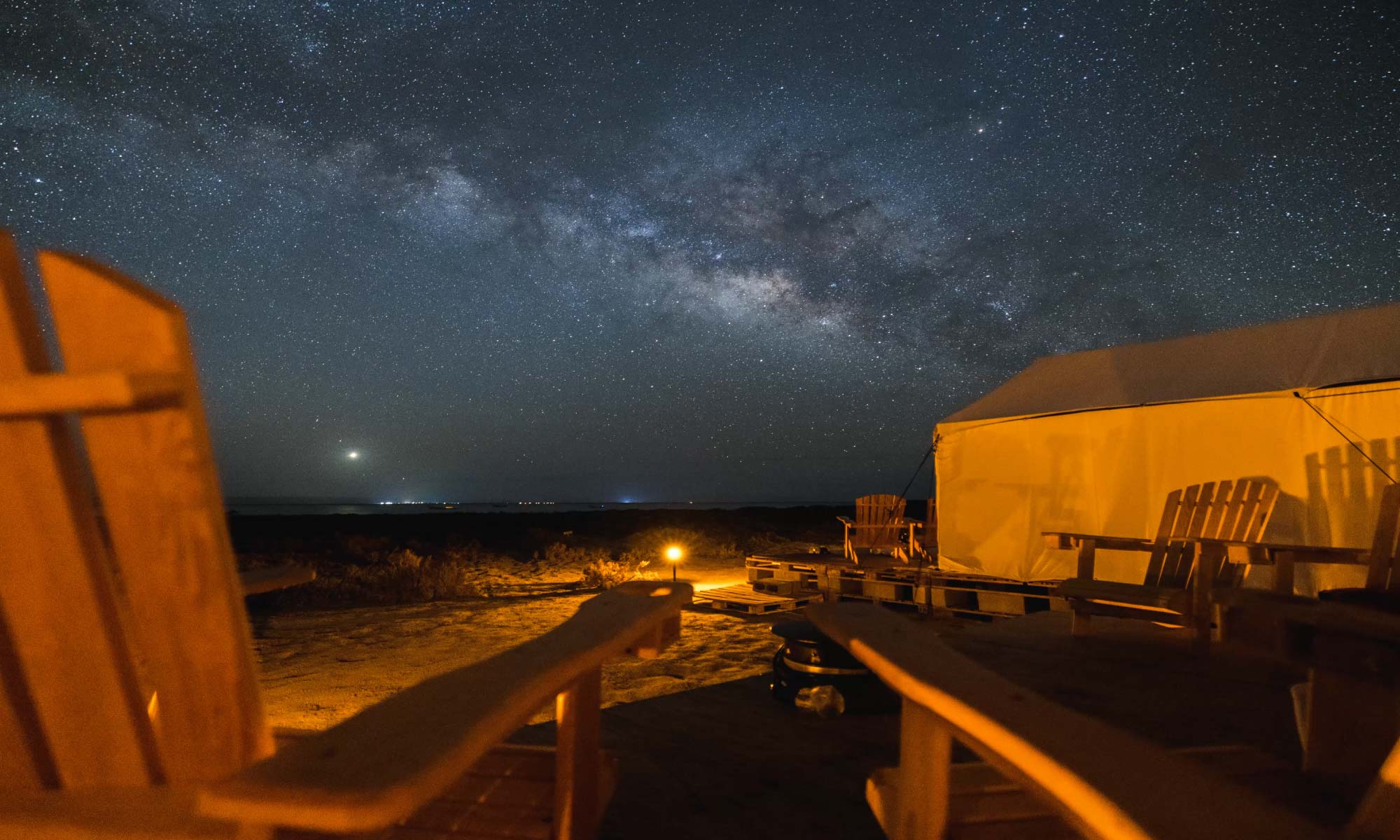 Get Inspired
Watch our San Ignacio Lagoon videos
Read our latest blogs