What makes our trips special
Our pre-trip information packages outline boarding information, what to pack, rentals and other details. Please read the pre-trip package for the latest and most up-to-date information about your upcoming trip.
San Ignacio Lagoon Gray Whales
BAJA ULTIMATE WHALES
ULtimate Whale Sharks
Our job is to keep our guests and crew safe. Please do not travel if you recently received a positive COVID-19 test result. Tests are available on request at local clinic. Pre- and post-trip antigen tests are not require now. For more detailed information on our COVID-19 procedures and protocols, please read our COVID-19 FAQs. We look forward to welcoming you on board!
Our complimentary pre-boarding COVID testing clinics are located close to our SeeCreatures dive centres in downtown Cabo San Lucas and downtown San Jose del Cabo. The testing clinic will be open all day for your convenience. Please let them know you are a Nautilus guest. Drop by our SeeCreatures dive centre to have them point out where to go!
Frequently Asked Questions
General Information
What is included in the trip?
Accommodation, all meals (continental breakfast, breakfast, lunch, dinner and dessert), non-alcoholic beverages and snacks, use of kayaks and stand up paddleboards (on Socorro Island trips only), weights, weight belts, aluminum 80's and air, daily room service, towels, in-water divemastering, end of trip slideshow DVD and onboard facilities such as the hot tub and lounge.
Additional Costs
Port Fee of $35.00 USD per person payable in cash onboard, transfers between airport and hospitality suite, gift shop purchases, bar, crew gratuities, dive gear rentals and optional Wi-Fi access onboard. Nitrox is available for $20.00 USD per dive day.
Dive Insurance
We require all divers to have dive insurance from DiveAssure or another reputable provider. In the highly unlikely event of a diving accident, medevac and medical treatment could cost upwards of US$50,000. Click "here" to purchase. The policies are very affordable. We also highly recommend the optional purchase of trip interruption insurance, which covers everything from cancelled flights, weather delays, lost baggage, to reimbursement if another guest has a medical issue that affects your trip. If you decline coverage, please note that we do not issue credits or refunds for anything that is beyond our immediate control.
Weather & Clothing
Surface weather at Socorro Island is similar to southern California climate. Very warm during the day, and cool at night. Summer clothing should be fine for your trip. We recommend bringing a sweater, pants and a windbreaker/rain jacket.
Emergency Calls
A satellite phone is available onboard with airtime charges of $3.00 USD per minute. Should you want to leave an emergency number for family and friends at home, please use our office number, +1-604-241-1918. If it is outside office hours there will be an emergency number on the answering machine for our on call shoreside duty officer.
Customs & Cameras
Unfortunately, we have received recent reports of isolated incidents where guests have been charged taxes for bringing their camera housings into Mexico. This is a transgression of your rights as an international passenger and a violation of both Mexican and international law. The company is investigating this, and in the meantime, we would like to provide you with this information to help improve your experience at Mexican customs.
As an international passenger, you are entitled to bring without paying taxes, two cameras or video recording devices, and their accessories. An underwater housing unit is a camera accessory which fits your camera and allows control and usage of the device while diving. As the housing can only be functional when used with your camera, it should be considered a part of your "two cameras with their accessories" luggage allowance.
For more information, please see our Customs & Cameras page in your pre-trip information package or through our link here.
Onboard Bar
We have learned that the safest alcohol policy is to restrict guests from bringing their alcohol onboard. We provide a wide selection of beer, wine and alcohol from the ship's bar at very reasonable prices. Please contact our operations office 60 days prior to your trip for a variation from this policy otherwise the crew will politely but firmly restrict all guests on your trip from bringing their own alcohol onboard. Please note, we have a strict drinking and diving policy onboard. When your drinking starts, your diving stops.
How much should I tip?
Crew gratuities are customary in this part of the world if you think the service is deserving, typically $250-350 per guest.
Can I smoke?
Yes, there is a designated smoking section on each boat. The crew onboard will be happy to show you.
How can I pay my onboard charges?
Onboard charges can be paid by Visa, MasterCard or cash. Please note, park and port fees must be paid in cash only.
What kind of outlets are onboard?
All our vessels are equipped with standard North American outlets that put out 110 volts. Please bring appropriate adapters if your electronics need a different format.
Food & Drink
You can expect a fusion of Mexican and West Coast North American food with fresh baking, produce and vegetables. Vegetarian, vegan, gluten-free, food allergy options, and quasi kosher menus are available with at least 30 days prior notice.
Pre-Dive Continental Breakfast
A pre-dive continental breakfast with fresh baked goods, a fruit plate, homemade granola, a choice of cereal, yogurt, toast, fresh orange or mango juice and oatmeal.
Breakfast
Breakfast is usually served after the first dive and will be a mix of buffet and cooked to order. While menus are always subject to change and refinement, our "hotel breakfast" presently includes eggs to order, omelets, eggs benedict, french toast, pancakes, bean & rice burritos, muffins, hashbrowns, turkey bacon and sausages.
Lunch
Lunch is served with salad and soup of the day and presently includes Deli style sandwiches with fresh bread, homemade italian style pizzas, fish tacos, burgers, fajitas with fresh salsas, tostadas, quesadillas and lasagna.
Snacks
Our hostesses will be on the back deck to meet you after every dive with a big smile and a tray of goodies, drinks, and snacks. Afternoon snacks include a selection of the following; homemade cookies, brownies, sushi, cheese and cracker plates, chicken wings, assorted cakes, freshly baked muffins, banana bread, artichoke dip, ceviche, nachos, melted brie, ice cream, vegetable platters with dip and all sorts of other yummy stuff.
Dinner
Dinner is served plated, buffet or family style. There is a nice array of both Mexican and American style meals. Some of the delicious dishes include: street taco night, roast beef, salmon teriyaki, clam alfredo and New York grilled steak.
Drinks
Tea, coffee, water, juice, soda are included in your trip price. We also carry a wide variety of alcoholic beverages stashed in our onboard bar including: red wine, white wine, champagne, vodka, gin, tequila, rum, mezcal, brandy, bourbons, single malt scotch and beer (Mexican and domestic)
Socorro
What is the diving like at Socorro Island?
After an overnight voyage we arrive at these Jurassic Park-like islands and with a little luck from mother ocean will experience interactions with our giant mantas unlike anywhere else. The mantas of the Socorro Islands love divers, they love to swim with divers, love to feel our bubbles hitting their bellies and then they quiver with excitement. Socorro is also home to humpback whales, dolphins and up to 10 types of sharks. Please visit the Socorro Island page for details, photos, wildlife calendar and more.
What airport should I fly into?
SJD Los Cabos International for both commercial airlines and private aircraft.
When should I fly in?
At least one day before departure given our experience with airlines having mechanical problems, losing luggage or even cancelling flights. It's a one-day sail from Cabo out to Socorro which means the ships cannot wait for guests who have missing luggage or missed their flight, otherwise everyone else will also miss a day of diving.
Where do I meet the boat?
SeeCreatures, located directly across from the town square, two blocks from the marina and in the heart of the downtown restaurant and bar district. We want our place to be your home away from home! Please drop by when you get into town and we will get you kitted up with whatever you need. We offer a variety of pre-trip packages including two or three tank boat dives and side trips.
What should I bring?
Valid Passport

Visa (if required)

Credit Card (if applicable)

BCD

Regulator

Hood

Fins

Mask

Snorkel

Hooded Vest (recommended)

Wetsuit (5-7mm recommended)

Personal toiletries

Camera gear

Plenty of film/memory cards

A good book
Disembarkation
The ship disembarks at 8:30am. If flying out on the day of disembarkation, we recommend booking a flight no earlier than 12:00 pm.
San Ignacio Lagoon
Will I see gray whales on this trip?
Yes, you will see gray whales! You may even have the chance to physically interact with the whales as they often approach our pangas. San Ignacio Lagoon is also home to a variety of bird species including nesting ospreys and egrets.
Why are we trying to touch whales? Is this bad for them?
Gray whales are normally shy and reclusive but their behavior changes when they are in the lagoon. These whales were thought of as dangerous because they fought back hard against the whalers who nearly exterminated them when they discovered the breeding and birthing lagoons in the 19th century. It was only 30 years ago that a local fisherman bravely put his hand out to touch a whale who approached his panga. Much like the misunderstood orca – or "killer whale" – it became apparent that these highly-intelligent animals in the lagoon were actively seeking out physical interaction with humans. It's entirely their choice to approach our pangas and rub up alongside to be touched and stroked. Amazingly enough, the whales will grow bored with humans after several minutes if we don't physically interact with them. It's clear to us that the whales are reaching out to us, not the other way around. It touches our hearts. It's amazing and emotional. We will never betray their trust nor allow any whale to be harassed.
Is COVID a risk to the local community of San Ignacio?
We have engaged in discussions with the local panga captains and community, and they are very much looking forward to receiving guests this year as a large portion of their annual income is dependent on ecotourism. We are dedicated to taking every possible measure to protect local community members.
What about the whales?
This is a factor still unknown to us. We are taking every precaution to protect our guests, staff, and the gray whales. We are requiring guests to be tested for COVID-19 before their trip. Extensive protocols are in place in our camp, including sanitizing hands and wearing masks while on the pangas. Guests will be able to touch the whales but we ask to refrain from kissing the whales and putting our hands inside their mouths this season.
What do you mean by virtually unlimited whale watching?
Two things. We reckon that if you have travelled all the way to San Ignacio Lagoon for gray whale encounters, we should facilitate as much time with the whales. If you want, we will start early when the reserve opens at 8:00 am. with 2 back-to-back sessions before lunch. And then 1 or 2 more sessions after lunch! Or you can take it easy and do a couple of sessions in the morning and then relax and enjoy other activities in the afternoon. The other thing to note is that a maximum of 20 pangas are allowed in the reserve at one time while there are 26 permitted pangas. This means that during very busy peak season, each panga can stay in the reserve for 90 minutes and then needs to step back to allow another waiting panga in. The other camps typically do 2 whale watching sessions, one at 10:00 am and another session at 2:00 pm. We like to start early and finish late to avoid crowding with the other boats.
What kind of camping accommodations can I expect?
Standard glamping tents are Weatherhaven with adjustable twin beds or one king bed. Each glamping tent has an ensuite bathroom and shower.
Large premium tents with adjustable twin beds or one king bed. Each premium tent has a spacious ensuite bathroom and shower, plus a seating area.
We have separate tents that host the dining area, bar and lounge, as well as our nightly natural history presentations.
Can children come on this adventure?
Yes! We welcome all children over 5 years of age to our Glamping Camp.
How often can I shower?
Water is a precious commodity in the desert. We have ample water on-hand for you to take a hot shower every day but please limit it to that.
What can I do in my free time?
We have kayaks available in camp for you to take out for a paddle on the calm lagoon waters. You can take a walk to explore the pristine shoreline and tidal pools. Birders will love to check out the local avian population. Relax at camp with a book or have a cold drink at the bar.
Why do your trips leave out of San José del Cabo?
Because the shortest charter flight to the Lagoon is from San José del Cabo which is super easy to get to with service from 15 different US cities, most of Mexico and even direct flights from overseas. Because San José in the winter and spring is a really fun place to visit!! Because you won't have any border crossing hassles. And because we offer all sorts of other activities from our San José del Cabo base including swimming with whale sharks and other adventures into the Sea of Cortez, scuba diving including our Socorro giant manta liveaboard trips, Backscatter photography workshops and much more.
How do I get from SJD to San José del Cabo?
Sealine Cabo Transfers is our recommended provider of airport transfers to and from San José del Cabo. For booking, please email Paco at pmoreno@sealinecabotransfers.com
What airport do I fly into?
SJD Los Cabos International for both commercial airlines and private aircraft.
When should I fly in?
Due to our morning flight time, you should plan to arrive to San José del Cabo the day prior to your trip. We will have a complimentary whale watching trip to see humpback whales as well as a Backscatter photography workshop on offer for you to enjoy!
Do you have a hotel recommendation in San José del Cabo?
Yes, we recommend the Barceló Grand Faro Los Cabos, which is a premium level resort located along the breathtaking waters of the Sea of Cortez. It is the perfect resort for enjoying a bit of peace and quiet, thanks to its exclusive location just 0.6 miles from San José del Cabo downtown and our SeeCreatures office where you need to check in.
What will the plane ride be like?
We charter a late model Cessna Grand Caravan 208 with 13 passenger seats, large cargo pod and leather seats and air conditioning.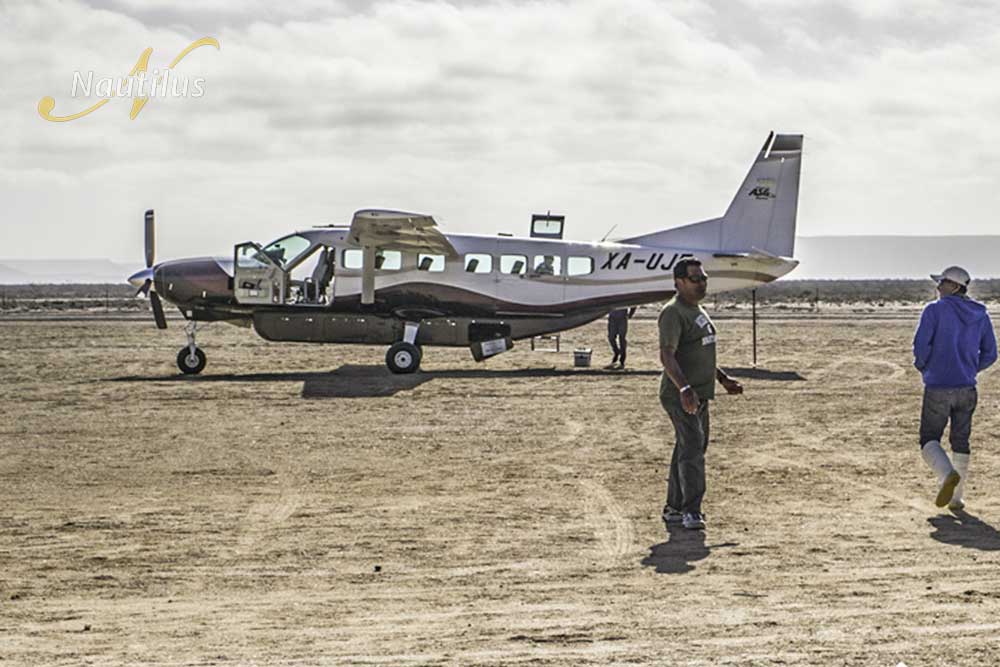 Is there another way to get to camp or do I have to fly with you from San José del Cabo?
If you are traveling with a large, group we are happy to host your group no matter which way you arrive from camp and you will save money with a self-arrival. It's a +20 hour drive plus border crossing from California or a six hour drive from Loreto. Pilots are welcome to fly in to the 4000 ft dirt airstrip close to our beach camp. Alternatively, there is an 8000 ft paved runway 2.3 hours away at Guerrero Negro with either charter flight or ground transfers to the Lagoon. The Guerrero Negro airport is tightly guarded by the military and your airplane will be happy and safe while you are in camp. Please contact our office so that we can help you plan your trip.
Can you accommodate special dietary requirements?
Yes! With 30 days notice, we can provide delicious vegetarian, vegan, and gluten free options.
What will the weather be like?
Average daily high temperatures are 20-25°C (79-86°F) with nightly lows cooling down to 8-10°C (48-52°F). Precipitation is very minimal. Plan to wear layers as you will be exposed to sun and wind on the boat, and cooler temperatures and windy conditions at night in camp.
Is there a maximum baggage allowance on the airplane?
The aircraft operator limits us to 10 kg of baggage per person which doesn't seem like much until you realize that you only need to bring clothes for four days of whale watching plus toiletries, camera and computer. We will happily store any suitcases or excess gear at SeeCreatures San José warehouse. We know that serious photographers or astronomers might want to bring a lot more gear. Please contact our office and we will arrange this for you.
What should I pack?
Comfortable clothes for camp (cotton t-shirts and long sleeve shirts, warm sweater, shorts and pants), windbreaker, waterproof pants, a warm jacket for cool nights and mornings in camp, warm sleepwear, lots of extra warm socks, tennis or hiking shoes, water friendly sandals, flashlight, reusable water bottle, insect repellent, sun hat, beanie hat, sunblock, personal medicines, and your camera! Be ready to get wet!There are no ATM's in San Ignacio so please bring all necessary cash.
Optional: Dry bags, computer or electronic devices, and binoculars.
When is the best time to go?
We only operate in peak season when large numbers of whales are present, from January through April.
What kind of insurance is required for this trip?
Due to San Ignacio's remote location, we require all guests to have current evacuation and emergency medical coverage. We recommend packages from Dive Assure. If you are purchasing coverage for just this adventure, you can select "non-diving trip" for best pricing.
What are the boats like?
The whale watching excursions take place on local "panga" style boats. They are about 7-8 meters in length and have bench seating.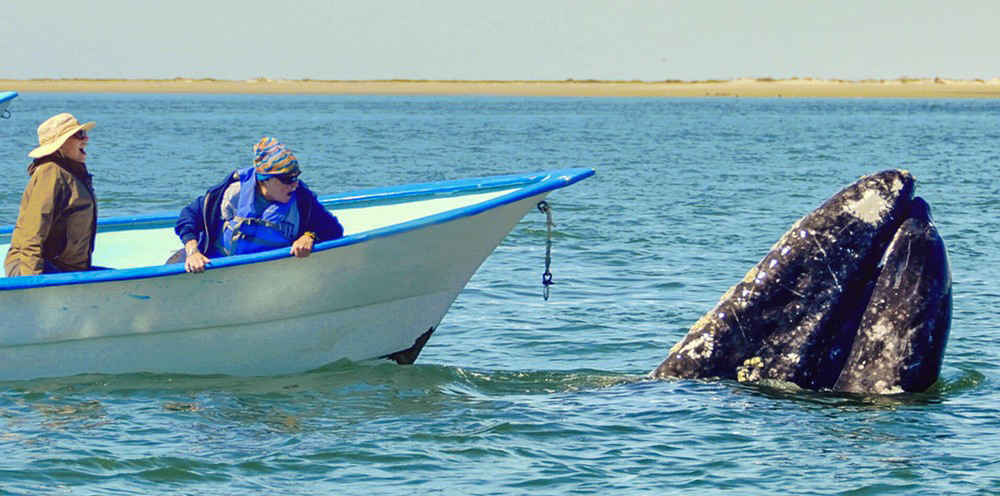 How many guests will be on each boat during whale watching?
We will ensure a maximum of only seven guests per panga to provide the highest quality, most personalized experience for each visitor. This ensures you will have the best opportunities for whale interactions!
Where do we meet?
Meet at SeeCreatures San José del Cabo at 6:30am for fresh coffee and continental breakfast. We will pick you up directly from SeeCreatures at approximately 7am for the morning transfer to the airport. One additional stop at the Barceló hotel at 7:05am before the airport.
When will I return to San José del Cabo?
Your charter flight will return to San José del Cabo on day five at about 12:30pm.
What can I do in San José del Cabo before or after my trip?
Plenty! Take a day trip to the Sea of Cortez to snorkel with sea lions and whale sharks, or book a day dive with our SeeCreatures San José del Cabo. Extend your trip and join one of our Liveaboard Dive sailings. Or, relax by the pool and enjoy some sun at one of our partner resorts.
Do I need a passport or visa?
All guests must have a passport valid six months from entry. Visas are required from certain countries, please check your specific requirements online.
Will it be quiet in camp or will a generator being droning away?
Our eco-experience camp is silent. But don't be fooled!! You will still be able to enjoy electrical powered luxuries from the cappuccino machine to toaster to ice machine.
Is Wi-fi available in camp?
YES! There is Wi-Fi network throughout camp with four satellite connections to the internet that is complimentary to all of our guests. Please note that satellite service is not the same speed or quality connection as being in the city. It's sensitive to natural elements and weather. We've metered the speed so each guest can have access to applications such as emails, chats or web browsing. Video streaming is not compatible.
A faster connection is available for an extra cost.
What happens in the case of an emergency?
Our camp operates with the same emergency preparedness and protocols as our ocean-going liveaboard ships. You can be sure that our camp will be stocked with an AED, emergency oxygen and extensive first-aid equipment and that we have "first responders" on staff. In the very unlikely event of a medical emergency, medevac flights are available to an acute care hospital in Cabo.
What's included in the trip price?
Comfortable, fully catered camping with provided bed linens and towels. Non-alcoholic beverages, guide service, washrooms with flushing toilets and showers, biodegradable toiletries, two to four whale watching excursions per day, battery charging station.
What's NOT included in the trip price?
Reserve and airport landing fee of $35 USD per person, alcoholic beverages, single occupancy (25% surcharge), and if you think the service is deserving, crew gratuities – typically between $250-300 USD per person.
Still got questions?
Haven't booked yet?