Our flagship, the Explorer, is a strong, hardworking boat with beautiful, classic lines that we custom built in a Vancouver, Canada, shipyard. She was the first SOLAS certified dive boat in the world, which means that she is an incredibly safe ship, ready to handle whatever Mother Ocean throws at her.
Accomodations
Triple Stateroom
H
An affordable triple occupancy stateroom is available on the lower deck.
Staterooms
A, B, C, D, E, F, G, J
The lower deck has 8 comfy staterooms and are approx. 90 square feet with central air conditioning. Six of the staterooms have side by side beds. Two of the staterooms have large full beds and additional storage area.
Superior Suites
Dofleini, Rosario, Nautilus
Three superior suites on the upper deck with large windows, desk and wardrobes. Two of these suites have doors that open directly outside. The third suite boasts a large flat screen TV.
Premium Suite
Emerald
One large premium suite is available on the upper deck and is twice the size of the other suites. It has a separate bedroom and lounge, each with a large flat screen TV, ensuite with full size bathtub and shower.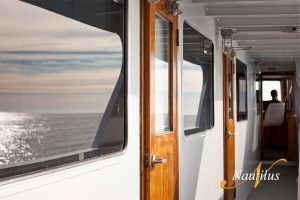 Beautiful large windows, with million-dollar views in the dining room and lounge.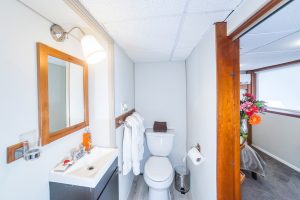 Bathrooms with showers in all suites and staterooms.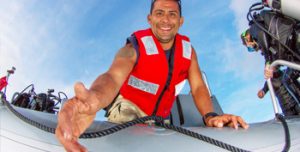 A dedicated and enthusiastic crew of men and women from around the world.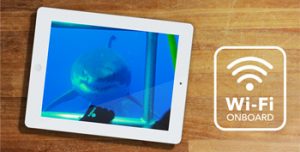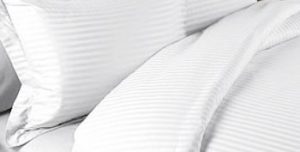 Lower Deck
8 staterooms plus one affordable triple occupancy stateroom on the lower deck.
Click on highlighted room to view image
Main Deck
Dining room, salon/lounge and dive deck.
Click on highlighted room to view image
Upper Deck
Premium and superior suites. Enjoy the hot tub after a dive.
Click on highlighted room to view image
Sun Deck
Plenty of seating for everyone on the sun deck.
Click on highlighted room to view image
Specifications
116′ x 27′ ocean-going dive boat
Millenium boat built by Sylte Shipyard, Canada
Steel hull & superstructure, Stabilized, 12 knot maximum service speed
ISM audited by OMCS
The world's first and only fully SOLAS certified dive boat. This beautiful tough small ship carries the same certificates as the largest cruise ships in the world
Water capacity: Unlimited with high capacity watermaker
Compressors: 2 x water cooled Coltri MC-30
Rebreather friendly
Dive skiffs: 3 x high speed large inflatables
Passengers: 25
Crew: 10-11
Spacious, comfortable and stable
Satphone, email & internet access