The World's Friendliest

Giant Mantas
You can see giant mantas in many places around the world. But nowhere else boasts a population of giant mantas that literally seek out interaction with divers and snorkellers. While mantas are the main reason to voyage out to Socorro, there are lots of other animals to see, including schooling hammerheads and silky sharks, plus 10 other species of sharks, bottlenose dolphins that consistently hang out with divers at certain dive sites, large schools of pelagic fish, and, in season, humpback whales.
When
should you Go?
Socorro features the friendliest giant mantas in the world, humpbacks, wild pelagic dolphins and up to 10 species of sharks. Surface weather is similar to southern California climate. Very warm during the day, and chilly at night.
Socorro diving is HOT right now !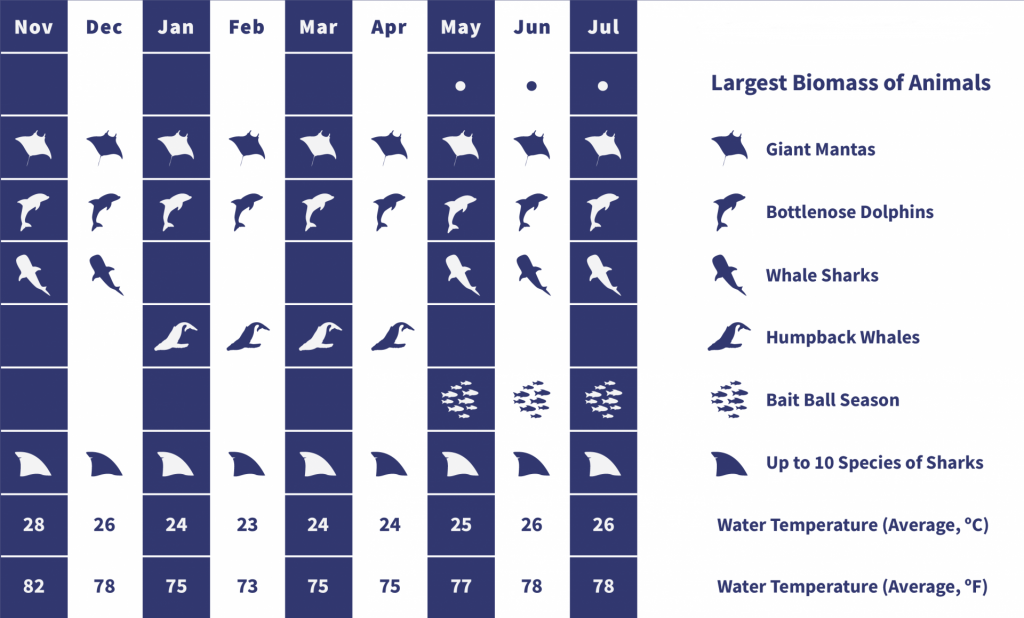 Experience Manta Love

The behaviour these giant mantas exhibit is almost inexplicable. These gentle giants with a wingspan up to 20 feet consistently approach divers for intimate eye-to-eye encounters. If you are able to be calm and still in the water, you are almost sure to experience what we call "manta love."

Loads of sharks

You may also see up to 10 varieties of shark: schooling scalloped hammerheads, solitary giant hammerheads, Galápagos, whitetip reef, silver-tip, silky, tiger and oceanic whitetips. The list also includes whale sharks and dusky sharks and on occasion even a thresher shark.

There is more

Your journey with us will include four dives per day (subject to weather and unforeseeable circumstances)—each an opportunity to encounter resident pods of playful dolphins.