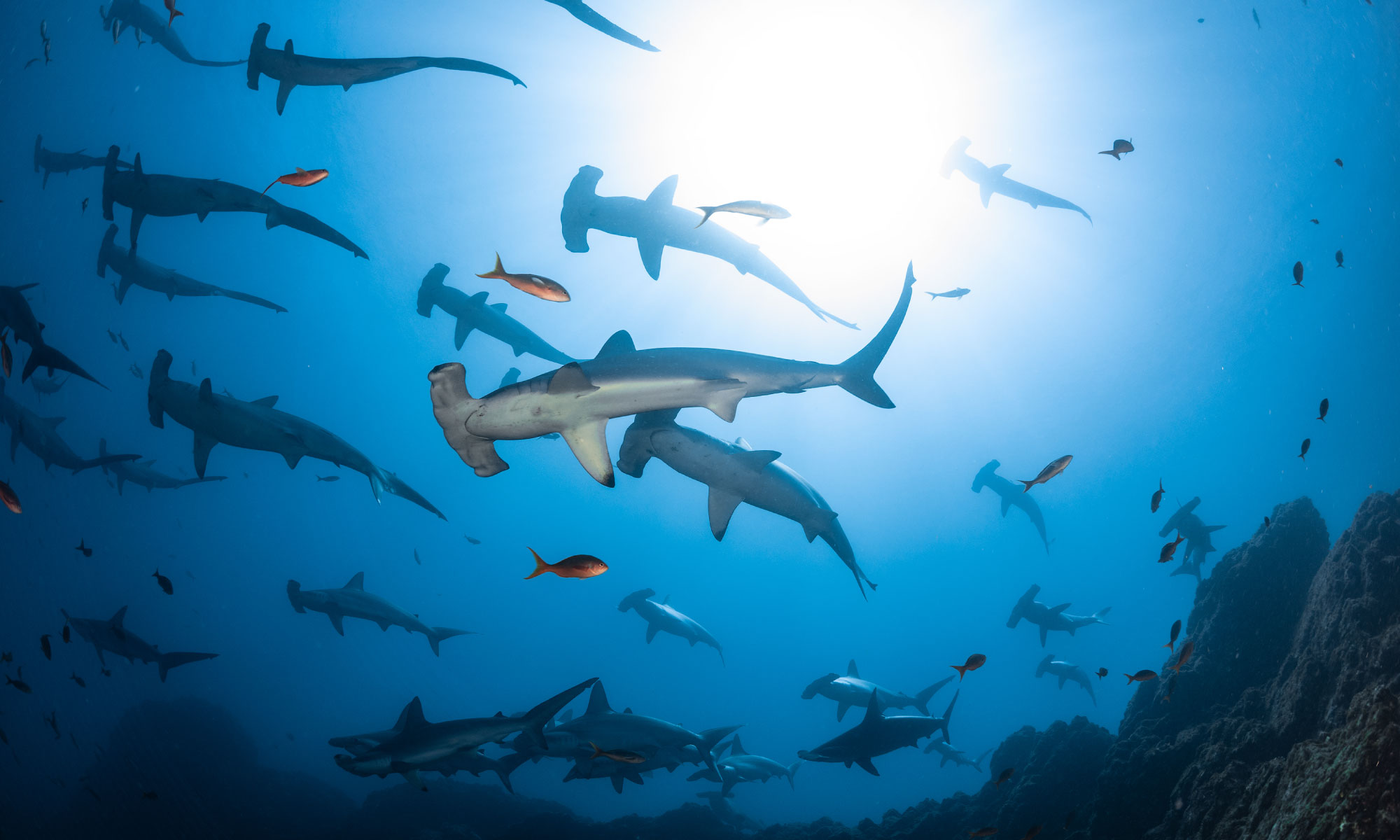 Cocos Combo Ocean & Rainforest
August – Mid-September
13 Days / 12 Nights
On special $6,250
US$4,995 pp. dbl occ.
Destination Overview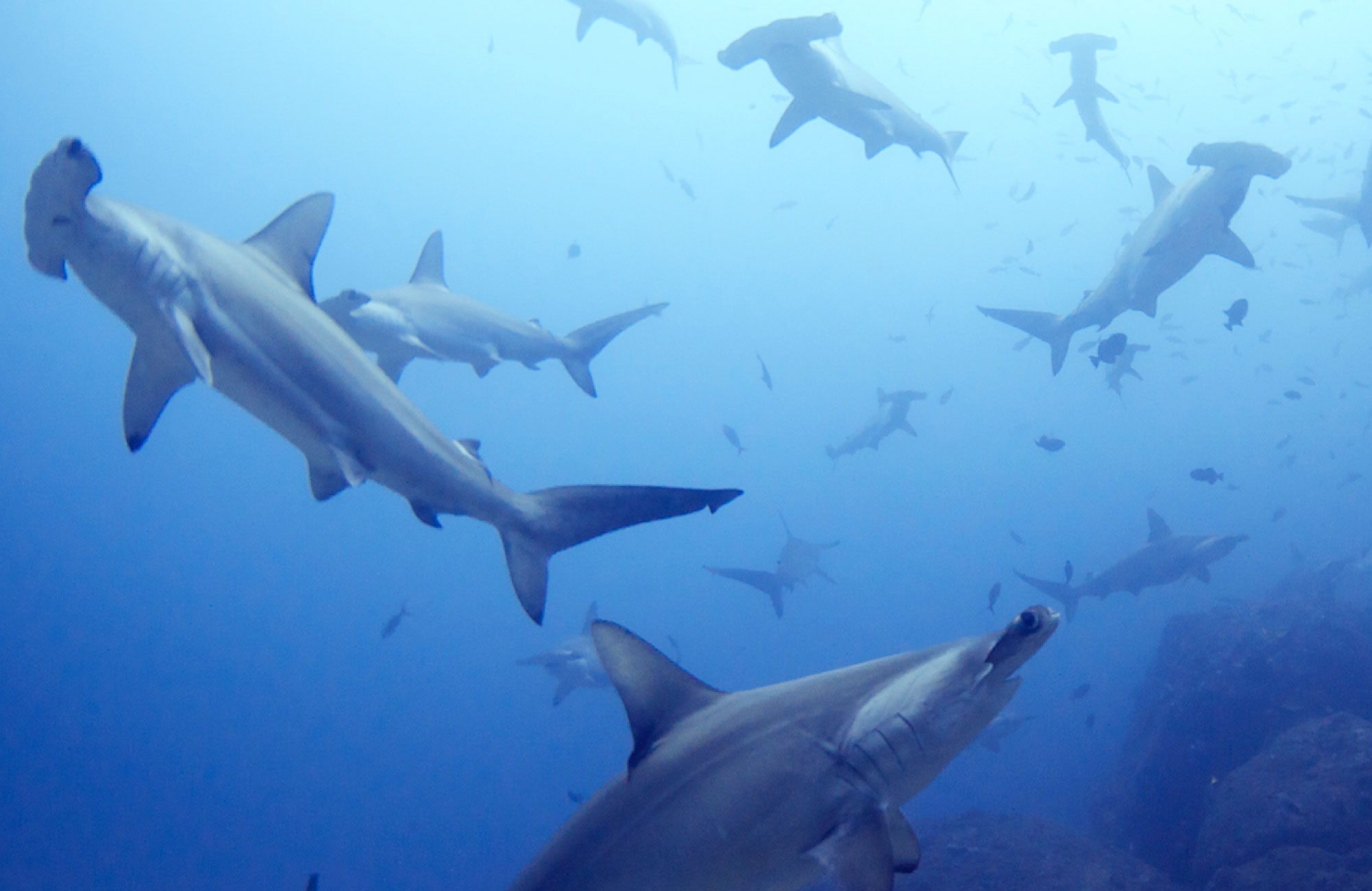 Cocos Combo Ocean & Rainforest
PURA VIDA!
You are going to hear this a lot when you join us in Costa Rica. It represents Costa Ricans' relaxed attitude towards life, no matter the circumstance. It's used to say hello, goodbye, to express that everything is okay, and to brush off any negativity. It's a way of life, an attitude, and a reminder to us of how extremely fortunate we are to have gained permission to run liveaboard adventures in this truly natural paradise.
Cocos Island of the sharks is legendary and spoken of in hushed whispers among divers. Cocos is awesome of course but there is a lot more to the diving, super eco-consciousness and national parks of Costa Rica. Our captain and lead dive guides on expedition 2023 Costa Rica have over 100 years of experience diving this area and more than just a couple of things they want to share with fellow adventuresome spirits!! That's what this exclusive combo trip is about – venturing off the beaten track for a couple of days of living and shoreside rainforest adventures before heading out to Cocos Island of the sharks.
The best of 2 awesome adventures. 7 dive days at Cocos Island of the Sharks + 2 days of diving and adventuring around Drake Bay and Caño Island including going ashore in the tropical rainforest with our naturalist.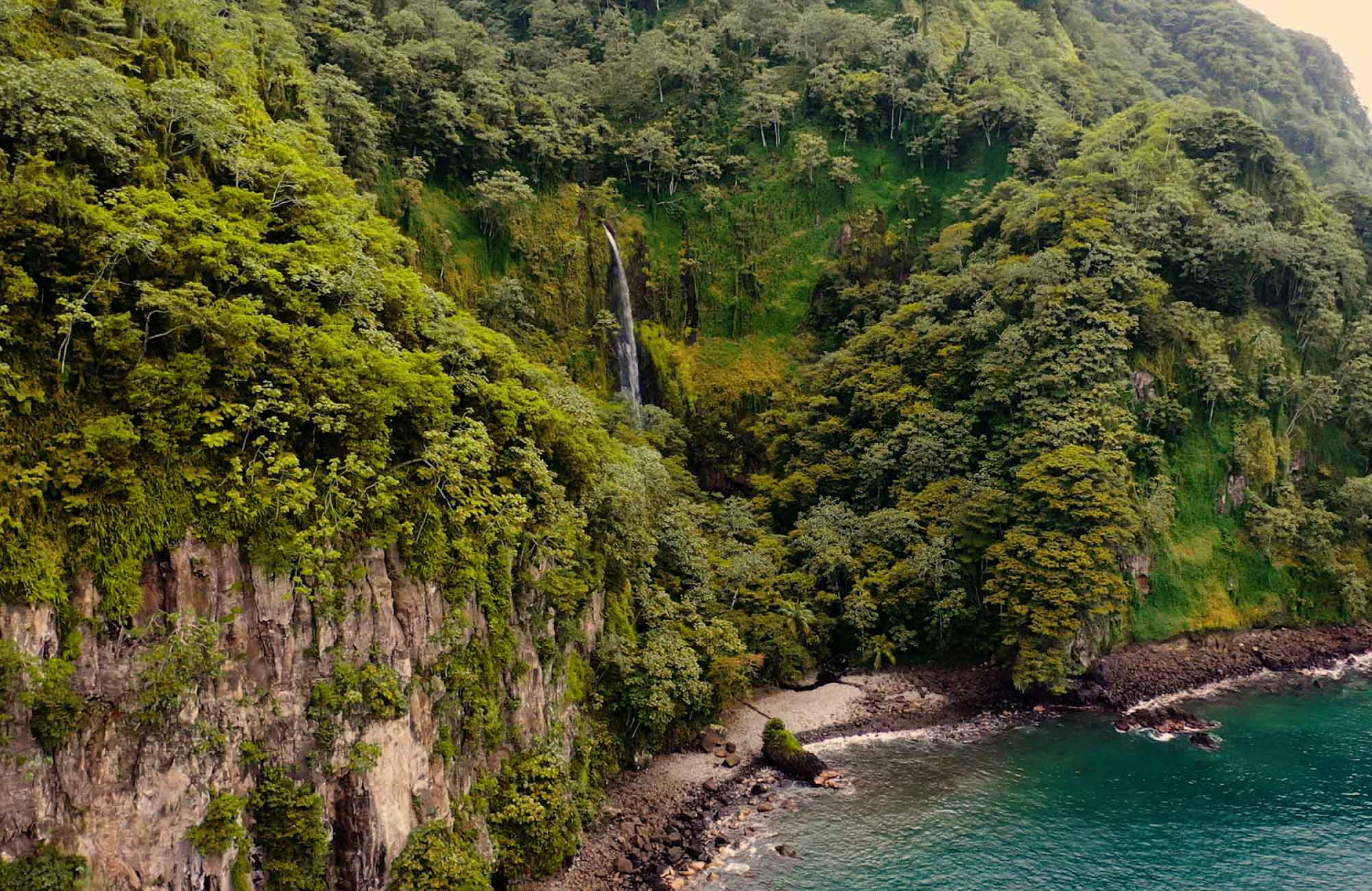 Peak Season Diving
Rainy season is the peak season for diving in Costa Rica. Best vis. Best animals. Best diving! We encourage you to visit between mid-May to November.
Don't be fooled by the term "rainy season," as it doesn't hinder your adventure. Typically, the days are filled with sunshine until the afternoon, when clouds roll in and rain showers pour for an hour or two, often accompanied by a fantastic lightning display. Afterward, the skies clear up again for the night.
Sample Itinerary
Sample Itinerary
to Cocos Combo Ocean & Rainforest
Bienvenidos a Costa Rica!!
On arrival at SJO (San José international airport), we recommend checking in to the Marriott Hotel Hacienda Belen to rest, refresh, and head out for some local adventures prior to meeting at our hospitality suite on the day of boarding. Our Cabo based concierges are on standby prior to your trip to assist with pre-trip questions and hotel reservations. SJO gets very busy when the international flights arrive, and while we can prearrange transfers with pleasure, it's generally easier to hire a local taxi outside the arrivals hall.
Day 1: 4pm – meet at our hospitality suite at the Marriott hotel San Jose for transfer to board your ship in Puntarenas. Welcome aboard cocktail hour and depart overnight sail south to Caño island.
Day 2: It's possible to see great hammerhead sharks here and sometimes even bull sharks. Mobula and cow nose rays. Southern sting rays. White and black tip reef sharks. Moray eels. Schooling barracuda and loads of reef fish. Coral reefs. Mix of pinnacle, walls and drop-offs.
Day 3: This is our day to explore one of the most pristine parks in Costa Rica including beautiful deserted white sand beaches, old growth forests and chance for rarely seen animals. It's wet, rugged and remote. It's the only place in Costa Rica where you can see 4 different species of monkeys including the highly endangered red back squirrel monkey. Our naturalist will be keeping a sharp lookout for wild pigs, tapirs, scarlett macaws, sloth and crocodiles in the largest mangroves in Central America. We won't see them all but there are 40 species of frogs in the park, more than 100 species of butterflies and more than 400 species of birds including 16 species of hummingbirds.
This is the fantasy place where we can skiff you in for a hike in the rainforest to emerge on a beautiful sand beach complete with waterfall and your crew waiting with skiff and cold drinks and snacks.
Day 4: Your ship is a heavy steel stabilized oceangoing ship which will give you the best ride possible. We encourage you to relax and it's usually a good idea to take some anti-seasickness medicine just in case. Far better to feel 100% and enjoy the crossing rather than not take meds and to feel under the weather. There will be ample time for briefings and setting up dive and camera gear, and of course, cocktail hour at 7 pm with all our other guests!
Days 5 – 11: Enjoy some of the best diving in the world on the pinnacles surrounding Cocos. Choice of dive sites at the discretion of the park rangers and influenced by Mother Ocean, with a lot of input from your captain and dive guides. Typically there will be opportunity for 2 dives in the morning and 1 in the afternoon with water temps 78 – 82F (27 – 28C). Plus the opportunity to go ashore several times, whale watch with the humpbacks, relax, and have a great time!!
Day 12: We will be making tracks back to Puntarenas unfortunately. Packing gear up. Visiting with new friends. Planning your next adventure!
Day 13: Early arrival in port and onto the shuttle by 07:30 am for the reason that most international flights depart between 11:30 am and 2 pm. We should be able to get you back to the San José Airport in good time to make the same day flight home.
Frequently Asked Questions
Cocos Combo Ocean & Rainforest – FAQs
What dive experience is needed?
The oceans and rainforest portion of your trip is fairly mellow but, Cocos is cocos. It's a tiny island oasis out in the middle of the pacific. 50 logged dives and advanced open water is the bare minimum experience required to safely dive around Cocos Island. More experience is better and all divers should have good buoyancy skills. The diving can be challenging. There could be strong current on some dives. Some of the dive sites are in open water and exposed to the swell. The difference between Cocos and a destination such as Socorro is that there is no navy base or airstrip on the island which means that airplane medevac is not possible. If you have a medical issue, the boat will have to return to port or at least be met part way by fast boat. For all these reasons, these trips are best suited for good experienced divers. Don't worry if you don't feel that you are quite ready yet for Cocos!! Come and visit us in Baja, Sea of Cortez and Socorro and we will get you all tuned and tweaked up for this great adventure!!!

Do I need to dive with a dive guide?
Yes. At Cocos, current and visibility can change dramatically within several hours. If you were to surface unexpectedly mid-dive, there is the possibility of drifting away and needing to use your Nautilus LifeLine to get rescued. In addition to those challenges, local tiger sharks can show erratic behaviour around your safety stop at 15 feet and it's very important for our dive guides to keep a watchful eye on them. For all of these reasons, Cocos is a dive destination in which guests have to stay with our dive guides. Our dive guides are highly experienced and excellent and they will do their best to give you all the freedom and headspace you might be looking for in your diving, and of course, we are very focussed on giving shooters what they need (sorry, bad pun). Ultimately, your captain and dive guides are the final authority on whether a guest can do a specific dive or not.

What are your safety protocols?
Safety, excellence in guest experience and happy staff and crew are the cornerstones of our business. Nothing is more important than your safety. At Nautilus, we are proud to be the only dive operation in the world with ISM certification and external annual audit of an SMS (Safety Management System). This is the same certification as the largest cruise ships on the oceans. We operate within written processes, procedures and checklists that our captains and crew are trained into both initially and annually. Every dive starts with a briefing on a white board. We require that all divers carry LifeLines marine rescue GPS, SMBs and dive alerts. We will loan you one of ours if you are missing any of this safety equipment. We carry AEDs and extensive medical kits with a contract medical officer available shoreside via our sophisticated satellite communication system. NOTE: because of the remoteness of Cocos Island, we highly recommend a medical checkup before leaving on this trip.

How many dives can I expect?
Your dive schedule may vary according to weather, other dive boats and where the action is. You can generally expect 2 dives in the morning and 1 in the afternoon. Entry into the park is restricted and tightly controlled for diving allowing for not more than 65 divers in the park at any one time. A 13 day 12 night combo trip provides for 7 dive days at Cocos, 1 dive day at Caño Island and 1 shore adventure day at Corcovada or similar.

Is there nitrox onboard?
Yes, and it's highly recommended for all divers. The cost is US$ 120 per trip.

Water temperature?
78- 82 °F (27 – 28 °C).

Are the boats camera friendly?
YES, VERY! Ask about rental cameras and photo pro services.
What airport do I fly into?
SJO is the code for the Aeropuerto Internacional Juan Santamaría. Please note there is a San José airport in California so please use the airport code.

How do I get to the ship?
Your job is to please get to our hospitality suite at the Marriott. Our job is to look after everything following including seamless transfer to your awaiting ship in Puntarenas.

What time can I board the ship?
Shortly after your shuttle arrives from San Jose. Typically between 5:30 pm and 6 pm depending on traffic.

What time do we disembark?
07:30 am shuttle transfer to San José International airport or the Marriott if you will be staying in Costa Rica for more adventure. Most international flights depart between 11:30 am and 2 pm so this timing gets you there in good time.

What dive gear do I need to bring?
We provide aluminum 80 cu. ft tanks and weightbelts. Larger steel rental cylinders are available. 5 mm wetsuit recommended to avoid losing body core temp during multiple days of repetitive diving. It's always better to layer down rather than be cold with no options. We have rentals onboard by prior arrangement for almost anything you need. Please make any rental requests as early as possible.
What's the weather like and what clothes should I bring?
Well, it's the rainy season in the tropics!! We recommend casual and cool attire onboard (t-shirt and shorts). It can be drizzly in the afternoons and we recommend bringing a windbreaker and a fleece vest or sweater just in case. Make sure you bring good shoes if you are interested in going ashore for a hike. It's spectacular onshore. Just wait until you see the waterfalls!

Is there internet and WhatsApp onboard?
Yes. Internet and WhatsApp connection are available for $120 per trip. Please keep in mind that a satellite tracking system at sea only gives limited speed internet access. You won't be able to stream Netflix!!

What's the crossing like?
Coastal is pretty sheltered. But it's an open ocean crossing to Cocos Island Costa Rica. It can be smooth or it might be rough or more likely, something in-between. The Explorer is our flagship that has steamed through everything, from the current-swept chilly waters of Alaska to adventuring down to Clipperton Atoll, just north of the equator. We highly recommend the scopolamine "patch" and a glass of red wine to relax and have a snooze on the crossing. During the trip, we anchor in the calm anchorage behind Cocos.

Is there a fuel surcharge?
Of course not! We figure that dive boat companies that with fuel, surcharges year-in, year-out are just taking an extra fee onto the trip.

What's an appropriate crew tip?
US$ 400 – $500.
Get Inspired!