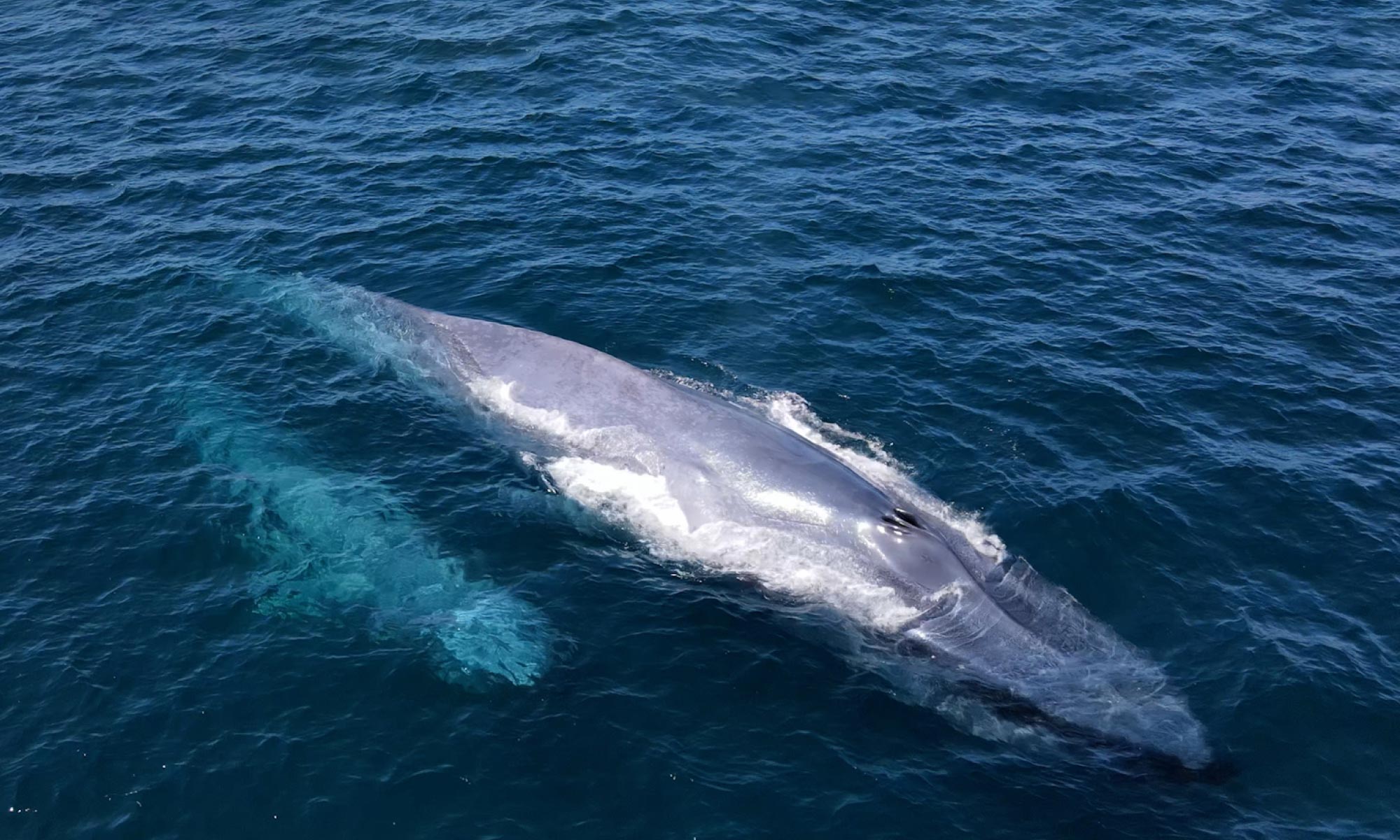 Baja Ultimate Whale
Spotter Airplane Supported
Combine the friendly gray whales of San Ignacio Lagoon, the humpbacks, giant fin whales, the blue whales(Balaenoptera musculus) of Loreto, huge pods of dolphins, whale sharks, and if we are lucky, orcas and sperm whales. You will get an adventure filled trip!
Every winter the gentle giants of Baja return to the Sea of Cortez and San Ignacio Lagoon to breed, birth and ready their calves for migration to summer feeding grounds.
Loreto & Mechudo Corridor
Blue & Fin Whales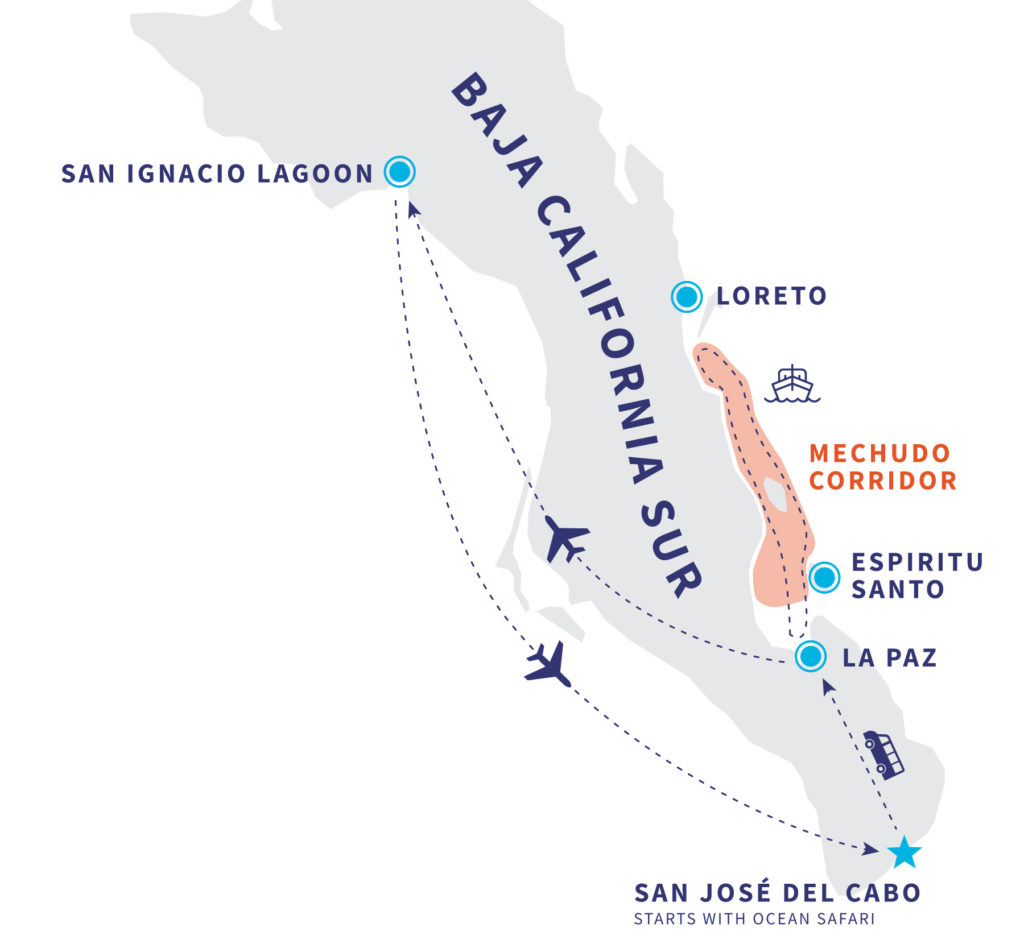 Enjoy unique whale watching and exploration opportunities from Loreto south through the Mechudo Corridor towards La Paz. Blue and fin whales are not just around Loreto but all the way south to Bahia de La Paz and Punta Mechudo. As well as humpbacks and mega pods of dolphins, we will be searching for orcas and sperm whales.
Plus, enjoy mangrove exploration, snorkelling and watching sea lions at Los Islotes, Espirto Santo Island UNESCO world heritage site, beach walks, hikes, kayaking and, weather permitting, snorkelling with whale sharks.
New to our 2023 Baja Ultimate Whale trips, we are including our new spotter airplane! We will have pilot and naturalist on board guiding our boats to all of the action in the Mechudo Corridor.
San Ignacio Lagoon

Gray Whales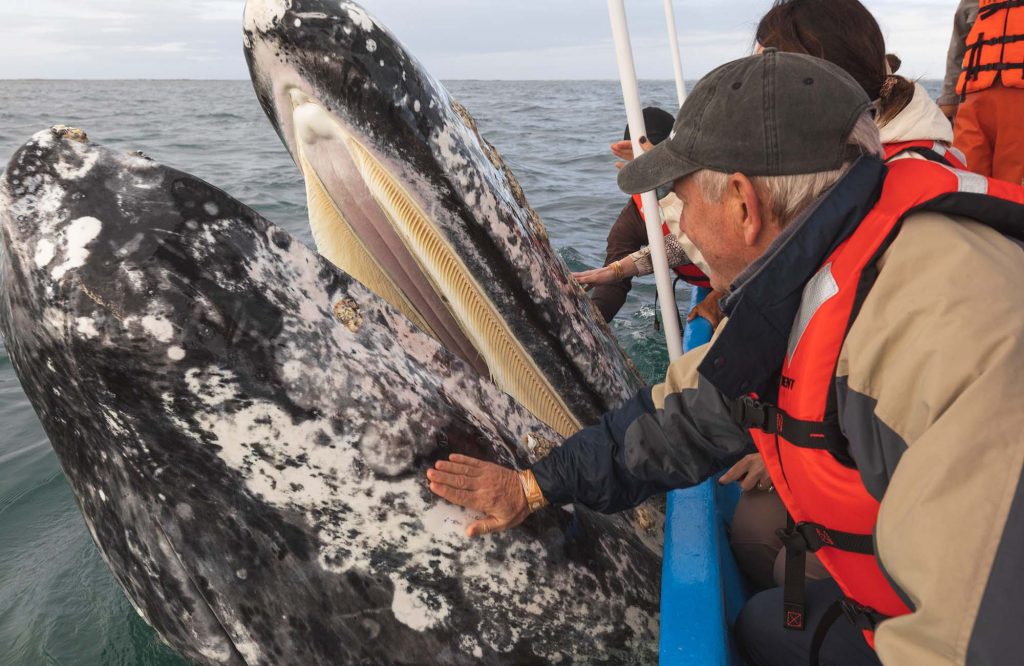 After your adventure in Loreto and the Mechudo Corridor, return to La Paz for your private charter flight to San Ignacio Lagoon. We will be waiting for you with a tray of champagne after your scenic flight over Baja.
Baja is the only place in the world where gray whales swim up to pangas to be stroked, petted, kissed, and even hugged. It's incredible. Interaction is entirely on the whales' terms, with mama whales even pushing their calves against the side of the boats to be stroked. Nobody should miss out on this experience.
It's almost impossible to imagine how amazing these whale interactions are but there is even more to the lagoon than the whales. The camp is nestled in the desert on the edge of the lagoon and surrounded by tall mesas. Venture out to the vast salt flats which are absolutely dazzling white. Go for a walk, hiking, biking, kayaking and bird watching are all additional pastimes at the lagoon. you might see coyotes, bobcats, herons, ospreys and beautiful white egrets. This is the most amazing whale experience in the world.
You may
wonder…
What are your COVID-19 protocols?
Our job is to keep our guests and crew safe. Now more so than ever during the COVID-19 crisis. Please find our latest covid protocols here.
What am I going to see ?
You can expect blue whales, humpback, fin whales, mega pods of dolphins, whale sharks, sea lions, and if you're lucky, orcas and sperm whales. Also, up close and personal interactions with Pacific gray whales! San Ignacio Lagoon is also home to a variety of bird species including nesting ospreys and egrets.
When should I go?
We only operate in peak season when large numbers of whales are present, from January through March.
Why do your trips start out of San José del Cabo?
Because the shortest charter flight to the Lagoon is from San José del Cabo which is super easy to get to with service from 15 different US cities, most of Mexico and even direct flights from overseas. Because San José in the winter and spring is a really fun place to visit! Because you won't have any border crossing hassles. And because we offer all sorts of other activities from our San José del Cabo base including swimming with whale sharks and other adventures into the Sea of Cortez, scuba diving including our Socorro giant manta liveaboard trips, Backscatter photography workshops and much more.
What kind of accommodations can I expect?
A stay at the Marea beachfront hotel in La Paz.
Onboard our 116-ft expedition yacht, the Gallant Lady.
We offer two levels of accommodation at San Ignacio Lagoon:
Glamping Camp
We say "NO" to tiny tents with cots, sleeping bags and a couple of shared toilets and showers for the whole camp! Our tents are windproof, insulated and heated for maximum comfort, with ensuite bathrooms and showers, hot and cold running water with good pressure, and 24- hour power. Not to mention "real beds" with fine linen.
Enormous thought has gone into every detail, from a fire pit to a fine selection of wine, craft beer, single malt scotches and fine dining. We even have a bar and lounge tent and Wi-Fi access throughout the camp.
Luxury Camp
Our luxury camp features all the amenities of the glamping camp, but with 12 large and luxurious tents, ensuring the utmost privacy. Each tent features an ensuite bathroom, a dresser in the bedroom as well as a separate sitting area with a couch and easy chairs – perfect for relaxing after a day of adventure.
Think of our luxury camp as one of the world's best pop-up hotel.
What's included in the trip?
Hotel transfers in San José del Cabo. Luxury coach transfer to La Paz fromSan José del Cabo. Marea hotel in La Paz. Spotter airplane support. Private charter flights from La Paz to the Lagoon and the Lagoon toSan José del Cabo. Accommodation, activities, meals, snacks and non-alcoholic beverages plus unlimited whale watching subject to capacity control and weather. On-site naturalist. Park fees, gift shop, bar, gratuities and camera rentals are NOT included.
What airport do I fly into?
SJD Los Cabos International for both commercial airlines and private aircraft.
Find
Baja Ultimate Whale
trips!