THE VERY BEST OF THE SOUTHERN SEA OF CORTEZ PLUS
A coral reef brought back to vibrant life
AND NOW A UNESCO WORLD HERITAGE SITE
The very best
of the southern Sea of Cortez
Our first ever trips in the Sea of Cortez departed La Paz for old favourites including Los Islotes, La Reyna, El Bajo, Suwamee Reef and the wreck of the Salvatierra.   We stopped offering these trips 10 years ago when the giant mantas disappeared.    Since then Cabo Pulmo national park has blossomed with life including reliable sightings of bull sharks and in 2018, the mantas returned to La Reyna.   We are super pleased to once again offer Sea of Cortez charters departing from Cabo Pulmo and voyaging into the southern Sea of Cortez.
When I came the first time to Baja California I was blessed to land in Cabo Pulmo. As a dive instructor with thousands of dives under my belt, I wasn´t expecting much. I got in the water in the dive site known as El Bajo, dropped down 35 feet to the sandy area on top of the reef when I just saw a dark cloud coming. I expected to be just a patch of cold, murky water coming in winter time but instead, I suddenly found myself in an endless school of big eyes trevallies, chased by 2 sea lions. My breathing stopped (don´t do it, I know, but I could´t help it) and in seconds I was surrounded by a tornado opening around the sea lions. That was my welcome dive to Cabo Pulmo.
– Juan T
You may wonder ...

WHAT AM I GOING TO SEE?
The best of the Sea of Cortez!  Huge schools of fish, sea lions, bull sharks, tiger sharks and for the first time in many years, mantas! With typically 100ft + visibility.

WHEN SHOULD I GO?
Water temperatures and visibility in the Southern Sea of Cortez improve dramatically in mid July through the first Norte winds at the end of November.  Our trips run from September to November.

HOW MANY DIVES DO I GET?

Tons!   4 dives per day.  Many guests choose to take a dive or two off to go paddle boarding, kayaking, walk on the beach, or for a hike in the beautiful Sonoran Desert.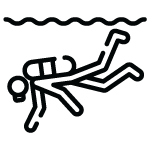 HOW MUCH EXPERIENCE DO I NEED?

Snorkelers enjoy these trips because of the nice conditions, however these are primarily dive trips. Suitable for divers of all experience levels.  Our friends who are new to diving will likely want to be with a divemaster at all times.  Experienced and self-reliant divers are welcome to have complete freedom if they choose. Most divers are in between these two levels.

HOW DO I GET THERE?
You may want fly into Cabo San Lucas (SJD) the day before, and enjoy the sites!  We would be happy help you with pre-trip activities; or for private charters, fly into Cabo San Lucas (SJD) and we will pick you up and transfer you directly to the boat.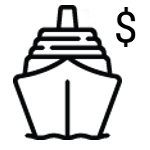 HOW MUCH DOES A TRIP COST?

The luxury of a yacht and the functionality of a dive boat for USD$2495.00! Premium suite available for $2995.00. This includes onboard accommodation, food, non-alcoholic beverages, and diving!
Day 1 – Welcome aboard the Nautilus Gallant Lady
Meet at our dive center at 8:30 in the morning to get kitted up with any rental gear needed for your trip, followed by a warmup dive off Land's End at Cabo San Lucas. Board the beautiful Nautilus Gallant Lady for lunch, then depart for the Sea of Cortez. There will be an afternoon dive, followed by cocktail hour on the deck to watch the sunset. Enjoy a smooth overnight run continuing north.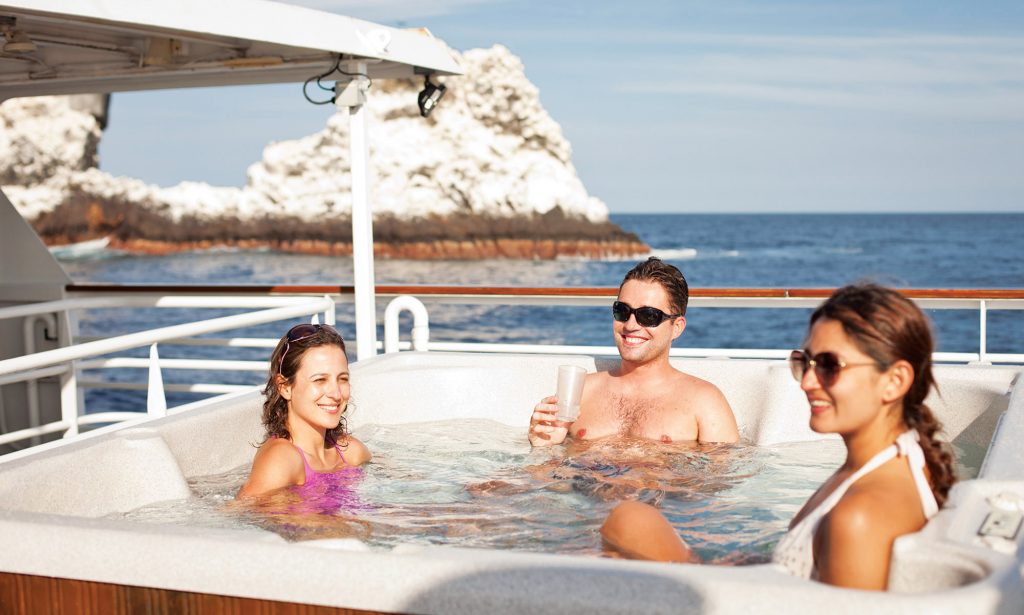 Day 2 to 4 – Exploring southern Sea of Cortez
We'll be exploring the best of the southern Sea of Cortez including our old favourites: the wreck of the ferry Salvatierra, beautiful Suwanee Reef teeming with life, La Reina, Las Animas, and Cerralvo Island. Years ago, we stopped offering trips into the Sea of Cortez because the mantas and sharks had disappeared. We are incredibly gratified that the population is rebounding, and we should see sharks, a chance of seeing mantas, as well as the more typical Sea of Cortez life. Our choice of dive sites will depend on weather, visibility, animals, etc. – you can be assured your captain & crew will do their very best to give you the greatest possible dive experience.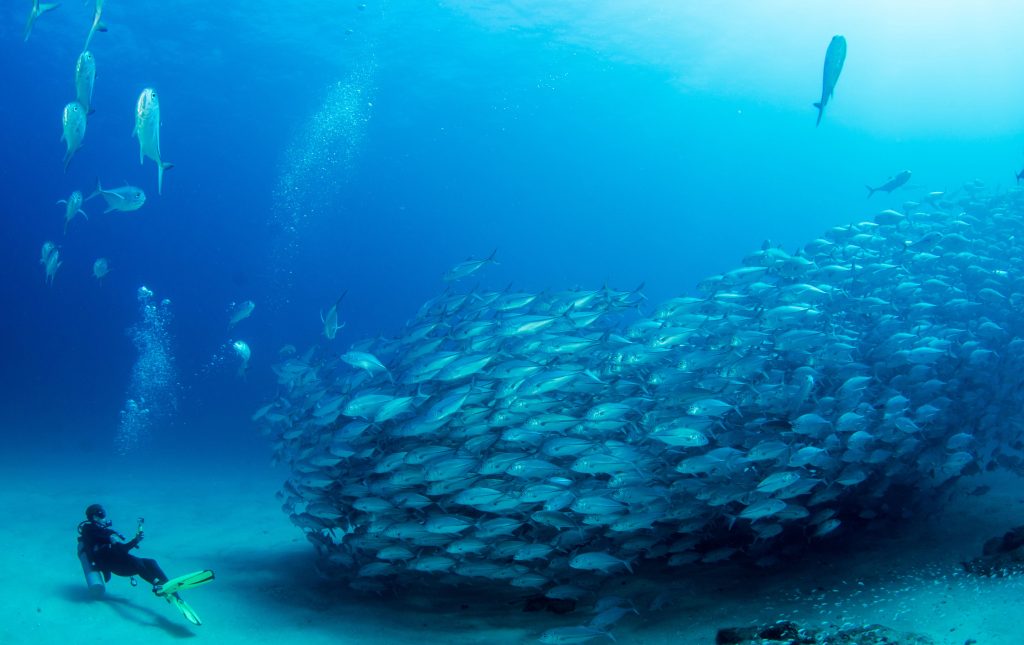 Day 5 – Diving the UNESCO World Heritage site; Cabo Pulmo.
Marine park Cabo Pulmo is the easternmost barrier reef in the Pacific and is the story of a reef that was overfished and almost obliterated, before the local village stepped up to protect the place. Cabo Pulmo has since gained national protection and has rebounded in an astonishing way over the last 20 years.
The upside is that there is a population of bull sharks, other sharks, and huge schools of fish – it can really be beautiful diving. The downside is some divers can find the protection provided by the park to be a little bit onerous. We respect all park rules which include, staying with a divemaster, not touching the bottom, and diving quotas at some of the most popular dive sites.
We'll have dinner and one last night under the stars before departing overnight for Cabo San Lucas.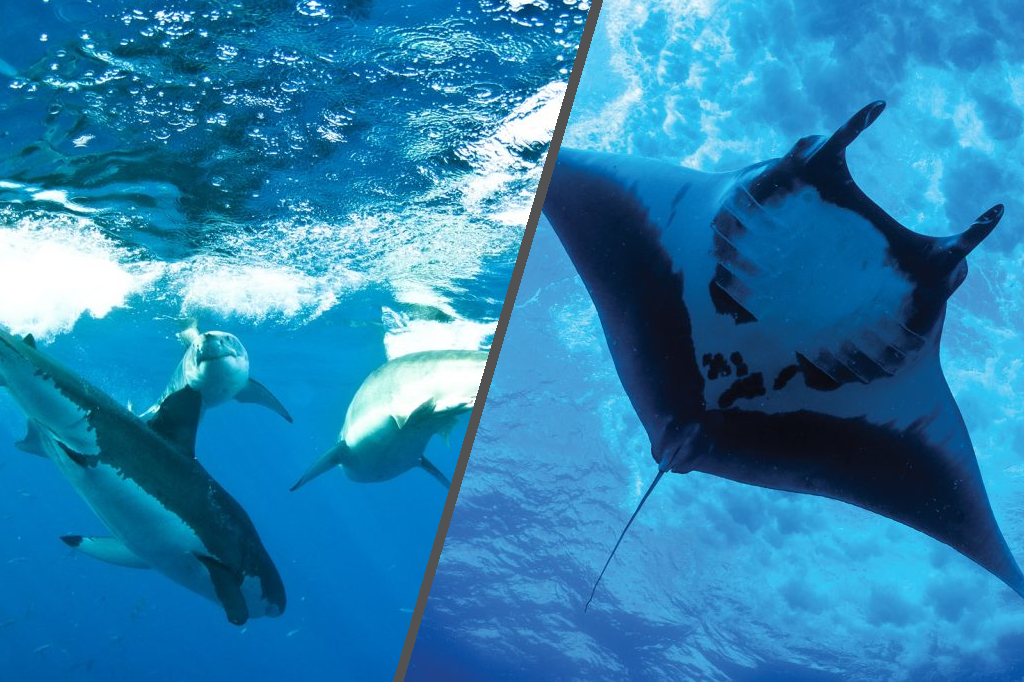 Day 6 – Always sad to say goodbye to our guests!
Always a sad time for us. It's time to say goodbye and disembark the boat in Cabo at 8 am for either SJD airport or our dive center in Cabo San Lucas. It doesn't have to be goodbye for long, as we hope to see you again very soon.
If you are joining one of our Guadalupe great white shark trips, we will be sure to provide seamless transfers to connect you with the flight to Tijuana and pick you up in TIJ to transfer you directly to our hospitality suite in Ensenada. If you are joining one of our Socorro trips, you may be able to board same-day in Cabo San Lucas. Otherwise, it's our job to assist you with arrangements for a local hotel, condo, or private villa.
Cabo Pulmo Featured Trips