Experience One of a Kind Giant Manta Interaction
The manta behavior here is unique in the world. The 12-to-16-foot giant mantas of Socorro seek out intimate interactions with divers. They communicate with us, from locking eyes in a first contact to gently swimming just overhead to be tickled by bubbles. Sometimes they hover alongside or underneath a diver, where they often stay, curious and seemingly in want of a connection that has left more than one diver with tears of joy.
It's one of the reasons we stay committed to the Socorro Islands (a.k.a. the Revillagigedo Archipelago), well worth the full-day motor south from Cabo San Lucas. Volcanic in origin, these islands serve as an oasis amid the Sea of Cortez, 250 miles off the Baja Peninsula coast. The raw lava flows and active volcanoes in these islands resemble the lost world of "Jurassic Park," which seems fitting as these outpost islands, including Roca Partida, beckon not just to giant mantas but to a host of big animals.
At Socorro, these giant mantas choose to interact with divers! If you are calm and relaxed in the water, they often come in very close, make eye contact with you and then swim alongside you totally on their terms. No where else in the world has this kind of manta behavior.
"What a great time in Socorro. We started our check out dive with Mantas and by the middle of the trip we had Dolphins, Hammerheads, Silkys more Mantas and more Mantas. We had the best Divemasters ever, Jesse our Dolphin whisperer, Nelson excellent Manta finder, Peter the great Hammerhead guru, and last but not least Sten the shark whisperer."

Jason F.
"Roca Partida, what a wonderful little rock in the middle of nowhere. She is beautiful above and below. On dive 3 of 4, we dropped into the blue and went to about 113 feet to see a school of 100+ hammerheads. What an incredible experience. It is one that we will never forget. The boat, the crew, the guests….amazing! Thank you for the trip of a lifetime."

Victoria W.
"A magical week on the Belle Amie. We were blessed with calm seas, and comfortable temperatures above and below. Water temps ranged from 72-75 degrees fahrenheit. We came for the big stuff and mother ocean delivered. Mantas, mantas, mantas! Sharks, dolphin, and a humpback whale sighting. The crew is fantastic. Wish I had another week."

Cindy K.
Your journey with us will include four dives per day (subject to weather and unforeseeable circumstances)—each an opportunity to encounter resident pods of playful dolphins. You may also see up to 10 varieties of shark: schooling scalloped hammerheads, solitary giant hammerheads, Galápagos, whitetip reef, silver-tip, silky, tiger and oceanic whitetips. The list also includes whale sharks and dusky sharks and on occasion even a thresher shark.
On most days, we enjoy visibility of 70 to 100 feet. When the current picks up, the ash from these volcanic isles can rise, reducing the visibility to 30 feet. For the wide-angle experience that is big-animal diving, this isn't ideal. But, we're still cruising one of the most pristine underwater environments—so we then choose dives where we're closer to the reefs and marine life such as eels, octopuses and Socorro lobsters.
The onboard experience isn't just about diving, but exploring this outpost that few people will ever visit. To that end, we carry kayaks and paddle boards. We offer an option for a night dive and a night snorkel. For added entertainment, we invite you to our "theater under the stars" for an open-air movie. It is our hope that the Nautilus team excels not only in surpassing your expectations of safety and excellence—but of fun and connection with the crew, the animals and the destination.
Wildlife Calendar
Socorro features the friendliest giant mantas in the world, humpbacks, wild pelagic dolphins and up to 10 species of sharks.
Click image to enlarge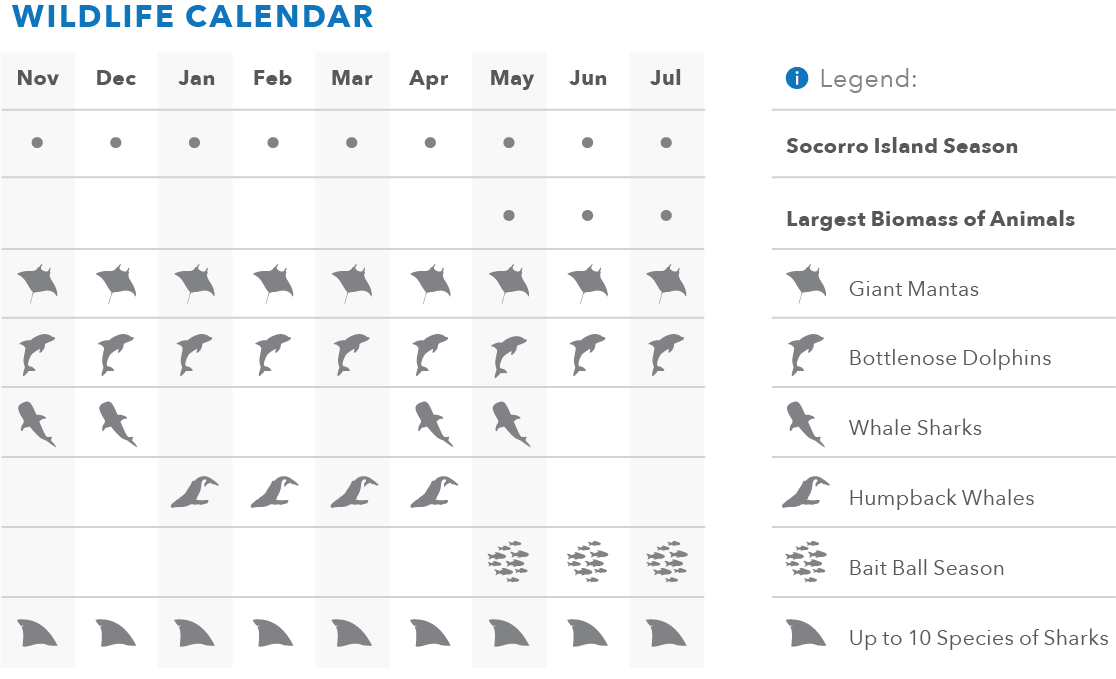 Socorro Photo Gallery
Submitted by divers onboard our trips. Check out our blog for more photos!