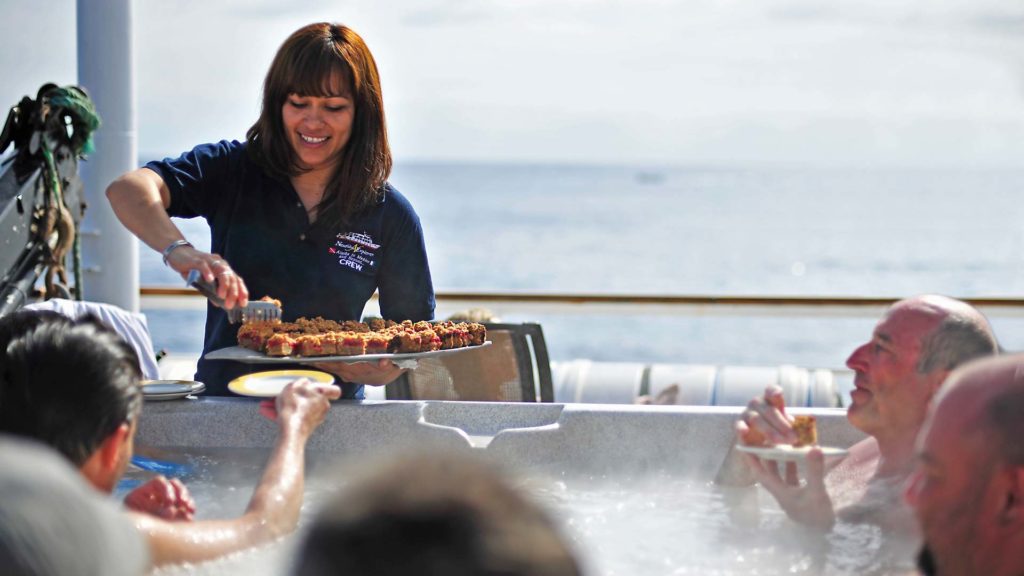 Liveaboard Hostess
Baja California, Mexico
It's not an easy job being a hostess at sea on a luxury live-aboard, but WOW, it's a very rewarding position for the right candidate, and the pay and working schedule are outstanding. We are looking for Hostess/Steward candidates to work month on/month off on our large ocean-going dive ships. The successful candidates will be expected to cheerfully and efficiently look after everything from meal service, bartending, gift shop sales, greeting divers when they come back from dives, to making up the rooms. Prior experience is not required, but a terrific attitude and a good fit with our company philosophy of safety, excellence in guest experience, and happy staff is a must. We expect an unwavering focus on integrity and always doing your best.
While our ships are the finest and best boats on the West coast of North America, we do operate in the open ocean, which means that some crew members may experience sea sickness. This is something that candidates need to be aware of. Sea sickness can be handled well with appropriate medications.
The wages are excellent for this type of work. We work hard to have a happy, cheerful workplace with zero tolerance for drama, politics or cliques. And you will get to go diving with some of the neatest big animals on the planet.
Duties and Responsibilities:
Safety
Excellence in Guest Experience
Hostess will report to the Captain in matters related to guest
Responsible for training new hostess
Responsible and timely compliance with ISM and Safety Management System Requirements
Accurate and timely bar services, maintaining a record of drinks sold, accurate pours, accurate inventory controls, proactive ordering of alcohol and related accounting. Doing their best in maintaining a general vacation atmosphere on board with good healthy service
Responsible for checking the guests in and making sure waivers are signed and dive certifications are checked
Bar and gift shop sales
Responsible for checking the guests out and ensuring their tabs are accurate and paid in full
Maintaining the guest accommodation areas to a level of cleanliness and hygiene expected by the company
Keeping the public areas of the boat neat, clean, tidy, and organized
Assisting with preparation of afternoon snack
This position can involve very long days, a disciplined approach and following the established customs, practises and procedures on the vessel are very important working efficiently is vital in having a reasonable working day
Hostess should monitor crew compliance with alcohol policy and report any problems to the Mate or Capitan
Hostesses are expected to liaise with the Captain/Mate at the end of each day to ensure that there are no guest problems
Responsible for Shipboard Operations (SMS – Manual)
Working closely with deckhands, engineers, and Mate
Happy Guests and happy crew
Skills and Qualifications:
Organization
Verbal communications
Teamwork
Excellent in customer service
Knowledge of bar, housekeeping and food service
General accounting skills
Certifications & Qualifications:
Willingness to obtain STCW emergency duties and security certification (we can assist with this)
Medical
Drug Test
Prior experience in the service industry including food and alcohol.
We encourage you to email a cover letter and CV with current contact info to hire@nautiluscareers.com.