A REMOTE BAY VISITED BY UP TO
220 Whale Sharks & Bahia de Los Angeles
THE GEM OF THE NORTHERN SEA OF CORTEZ
Bahia whale sharks
& Northern Sea of Cortez
Diving in the northern Sea of Cortez can be hit or miss unless you know about one unique gem: Bahia de Los Angeles. Between June and October, Bahia de Los Angeles national park is home to aggregations of up to 220 whale sharks – the largest population of whale sharks anywhere on the west coast of Mexico. The whale sharks gather in the southern end of the bay which is where we suspect a local estuary is spilling nutrients into the water column providing tasty treats for the whale sharks.
Plus…
The Sea of Cortez is one of two primary mating and breeding areas for dosidicus gigas, the Humboldt squid. They are reported by both scientists and fishermen to be in this area from May to October. The dosidicus is a curious, intelligent animal with the ability to change color in the blink of an eye. They are also equipped with eight arms plus two fearsome tentacles with rotating suckers lined with teeth to subdue their prey.
We did 2 dives on the north side of the bay where we saw a large angelfish, an assortment of other fish, spiny urchins, starfish, soft coral, a large green moray eel and a school of smaller fish.
Then, on the south end of the bay, we had the opportunity to snorkel with numerous whale sharks. We had a one-on-one encounter with these majestic animals, as there was no one else in the bay. Each one had a unique personality, some bolder than others, some more shy, but each magnificent. There is no way to put into words a 40-foot shark approaching you with its mouth agape a few feet from your face. Exhilarating.
– Brianna & Aiden
You may wonder ...

WHAT AM I GOING TO SEE?
The largest aggregation of whale sharks in the Sea of Cortez, more sea lions than you can count, and we're not promising but we're going to try to see if we can bring in the Humboldt squid at night.

WHEN SHOULD I GO?
The whale sharks and Humboldt squid are both in this area from May to October. We offer trips in July and August before the fall rains starts and potentially wipe out the highway.

HOW MANY DIVES DO I GET?

We'll be averaging four dives a day and one day of snorkeling with the whale sharks.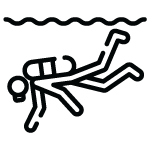 HOW MUCH EXPERIENCE DO I NEED?

Snorkeling with the whale sharks is for everybody! Certified divers – of all levels – will get the most of the Bahia de los Angeles experience. Bonus! Pre-trip open water certification available at our San Diego Dive Center.

HOW DO I GET THERE?
Fly into San Diego and meet at our dive center. You're welcome to borrow a set of dive gear and go for a splash in the kelp or with the sea lions. Or, take advantage of a boat diving package. You will need a hotel stay as we leave early the following morning to get you in the water with the whale sharks as soon as possible.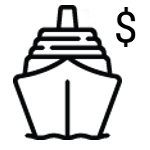 HOW MUCH DOES A TRIP COST?

The luxury of a yacht and the functionality of a dive boat for USD $2495.00, or enjoy our premium suite, available at $2995.00. Prices include accommodation, food, non-alcoholic beverages, and diving!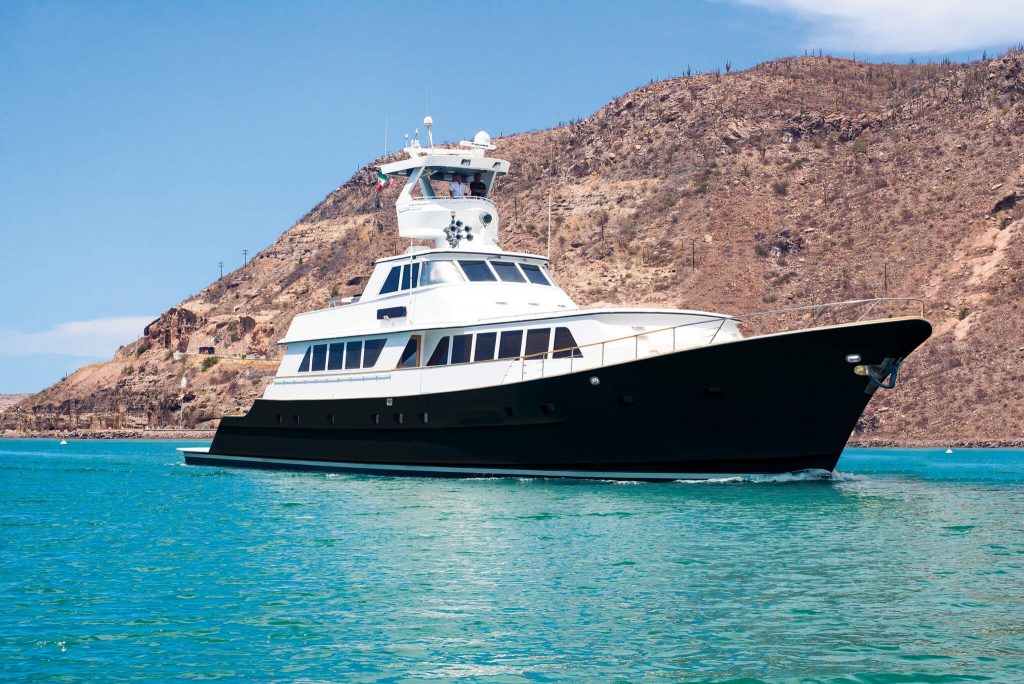 Day 1 – San Diego to San Felipe
Meet at our San Diego Dive Center for an 8:00am departure. The 3.5 to 4 hour transfer to San Felipe will be aboard "Rocket", our 20 passenger mini-bus configured for the comfort of 12 passengers.
(Our mini-bus is named after Rocket, our favorite juvenile great white shark who used to dart in and out of our Guadalupe shark cages when he was a little guy.)
Arrival in San Felipe at noon to board the Gallant Lady, then a lovely afternoon cruise and overnight run south to the Isla San Pedro Martir area.
Day 2 to 4 – Exploring northern Sea of Cortez
Four dives will be on offer each day for the best diving in the northern Sea of Cortez, primarily around the Isla San Pedro Martir area. Kayaks and paddle boards will be on standby for those who want to take a break from diving or snorkelling.
Every evening, we will have our underwater lighting turned on and our plexiglass squid cage in the water as dusk rolls around with fingers crossed that dosidicus will pay us a visit.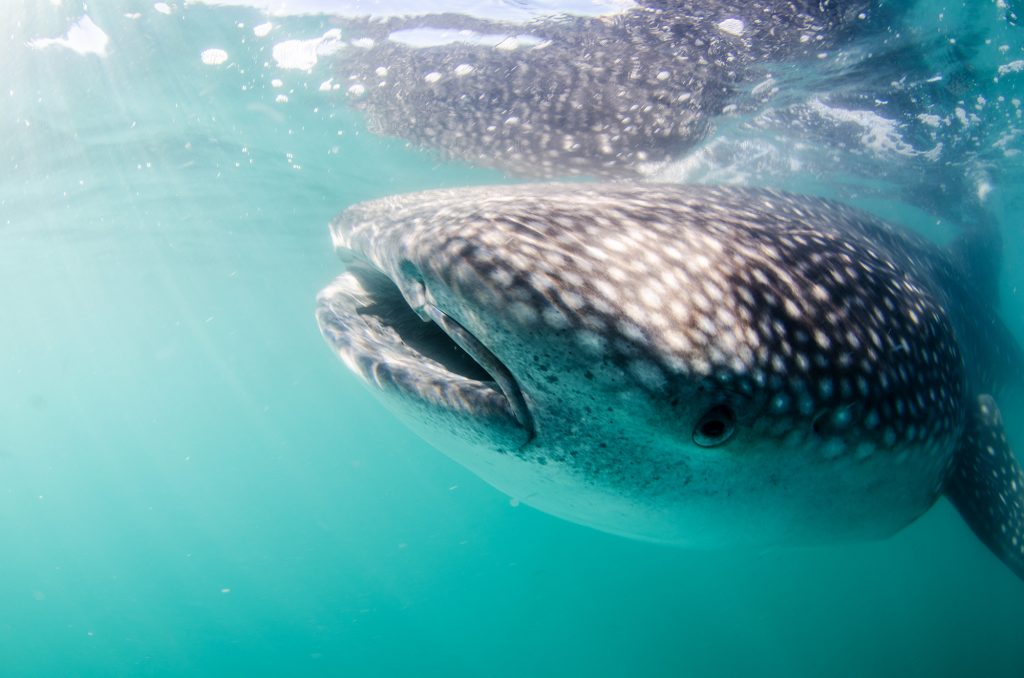 Day 5 – Bahía de los Ángeles
We will visit Bahia de Los Angeles and snorkel with the largest aggregation of whale sharks on the west coast of the Americas!! Every year, between 85 and 220 of these gentle giants visit the nutrient rich waters off the estuary at the south end of the bay. We commonly see a lot of whale sharks, and it is uncommon to see other boats.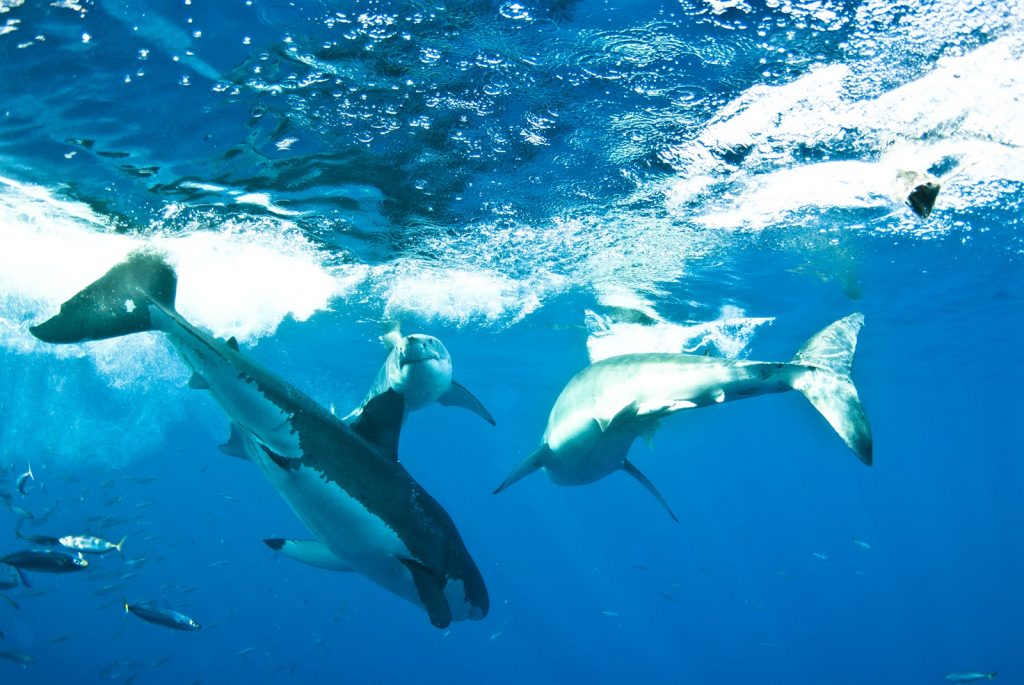 Day 6 – Return to San Diego Dive Center
Morning arrival at San Felipe. Disembark after lunch with transfer via Rocket back to our San Diego Dive Center. Arriving approximately 6:30 p.m. depending on US Customs.
From San Diego Dive Center, our guests joining our Guadalupe great white shark trips will board our luxury highway coach, Shredder, departing for Ensenada. Once in Ensenada, our guests will board one of our famous Nautilus Liveaboard dive boats to sail for Guadalupe Island.