Dive to 30 Feet and Go Face to Face with Great White Sharks
Great white shark encounters at Guadalupe Island are nothing short of spectacular. Guadalupe feels like a remote outpost at the end of the earth but is actually incredibly easy to get to. Our trips meet in San Diego, California with coach transfers to Ensenada, Mexico. It's the best destination in the world for calm, clear water and a consistently high probability of multiple shark encounters per day.
The sheer number of animals in the bay we dive is jaw-droppingly amazing. We see great whites on three out of four dives. The bay itself is home to 228 recognized individuals ranging from 12 to 19 feet long! At times, we have seen as many as nine sharks on one dive—and that's because Guadalupe is just the sort of place where magic regularly happens in the water.
Unlike traditional shark cages, Nautilus Liveaboards uses submersible cages that descend down to 30 feet where the sharks naturally congregate.
"I just returned from a Great White trip on the Nautilus Belle Amie. This is hands down the best live aboard I have been on, the crew worked tirelessly to do anything to make the trip amazing. All of the accommodations were top notch and the food was fantastic. The diving experience exceeded all. The dive masters, crew on deck and Captain made sure everyone on board was getting as many dives as they wanted to go on. We were doing 5-6 dives each day in the 30 ft cages, along with being able to jump in the surface cage as much as we wanted. This trip left us all amazed with Guadalupe and the sharks that we were able to dive with. I would recommend this company and boat to all my friends and I am hoping to plan another trip with some of the great individuals that were on the same trip!"

Jessie A.
"We came back from our trip to Guadalupe Island last Saturday and I still can't believe just how GREAT everything was. The ship is just beautiful. Spacious and clean. The rooms, the diving deck and of course the sundeck with that awesome hot tub exceeded my expectations of a diving ship!"

Isabelle G.
Even the island itself, 180 miles from the Mexico coastline, seems magical. The coast of Guadalupe is 25 miles of rocky cliffs, but above this is dense forest, giving it the feel of an exotic, South Pacific destination. You can expect between 100 and 150 feet of visibility. We can literally see the sharks come in from beyond the anchor line. Nothing but clear, cobalt blue water.
Moreover, this experience isn't limited to advanced divers. You don't need to be a certified scuba diver to join us, although we recommend you take a Discover Scuba Diving course prior to your trip, and possess a strong in-water comfort.
All certified divers will have the opportunity for a minimum of three dives per day in the submersible cages—and your trip includes the opportunity for unlimited time in the surface cages. Divemasters are in the water during every submersible-cage dive to ensure your safety. Note that the surface cages open at 6:30 a.m., and diving in the submersible cages begins at 8 a.m. Both are available until dusk.
Our conservation efforts also continue at night when we kick back in the salon and identify who we spent the day with. And should you realize that you hung out with a great white shark not yet catalogued, yes, the naming rights are all yours.
Check out our all new Bahía de los Ángeles Extension for the friendly whale sharks & sea lions, and a taste of "authentic Baja".
Our Submersible Cages
Please note this diagram is not to scale, and is meant to demonstrate a general sense of the cages on our three boats, their placement and their depth in the water
Click image to enlarge
Wildlife Calendar
July and August features rowdy gangs of male sharks. Female great whites start showing up in October and November.
Click image to enlarge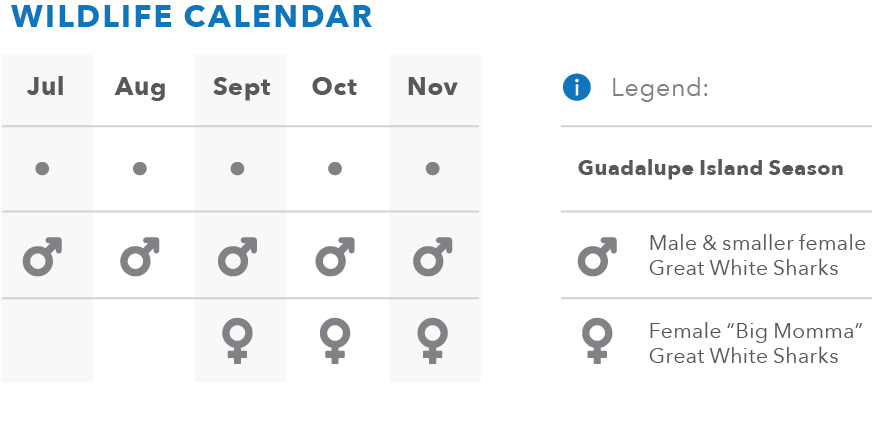 Guadalupe Photo Gallery
Submitted by divers onboard our trips. Check out our blog for more photos!