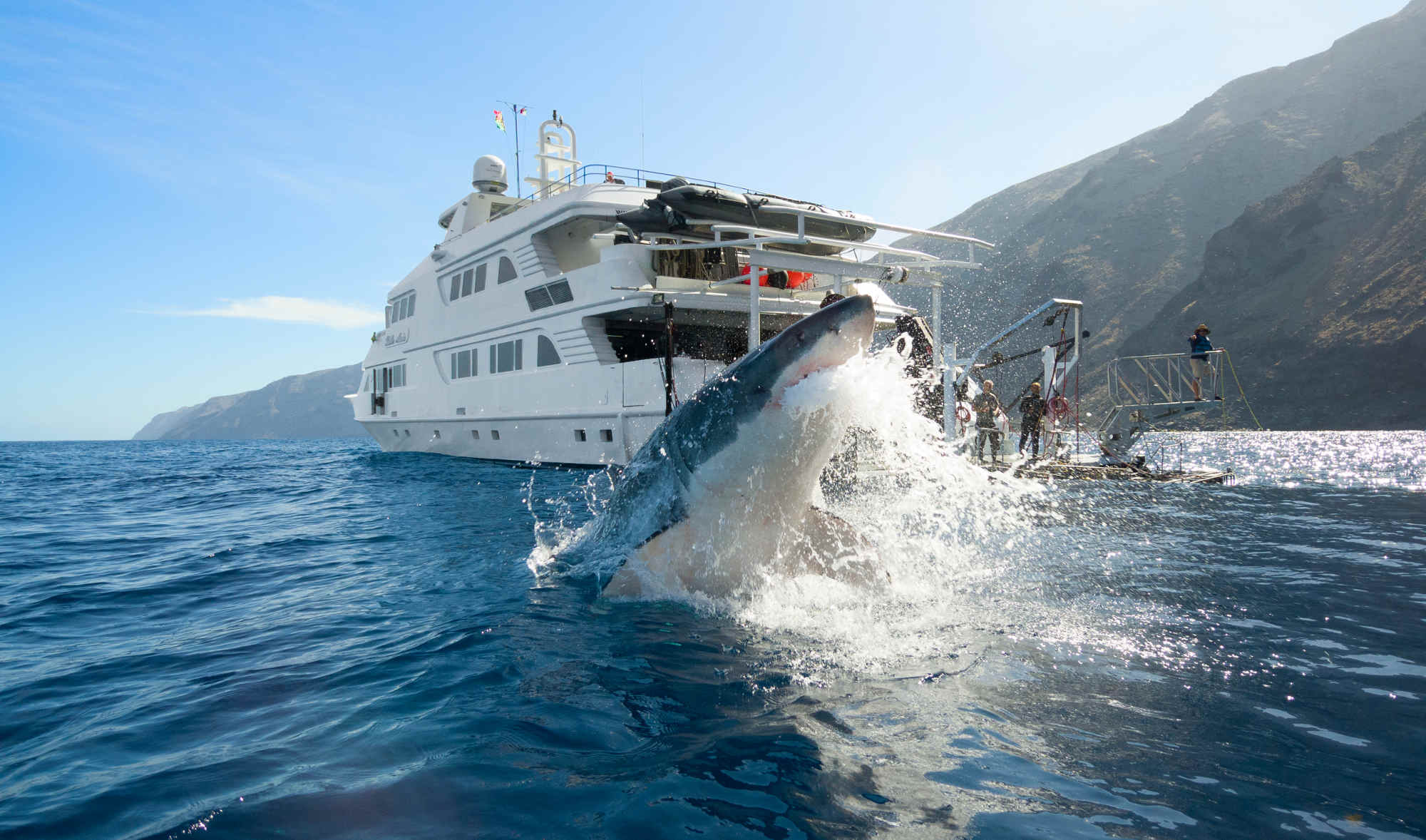 GUADALUPE GREAT WHITE SHARKS
SHARK-and-AWE
GO
Face-to-Face with the Great White Sharks
OF GUADALUPE ISLAND

Meet in San Diego, sail from Ensenada.
Slice 14 hours off your ocean transit time by jumping aboard "Shredder"!
*90 minute coach transfer plus border clearance.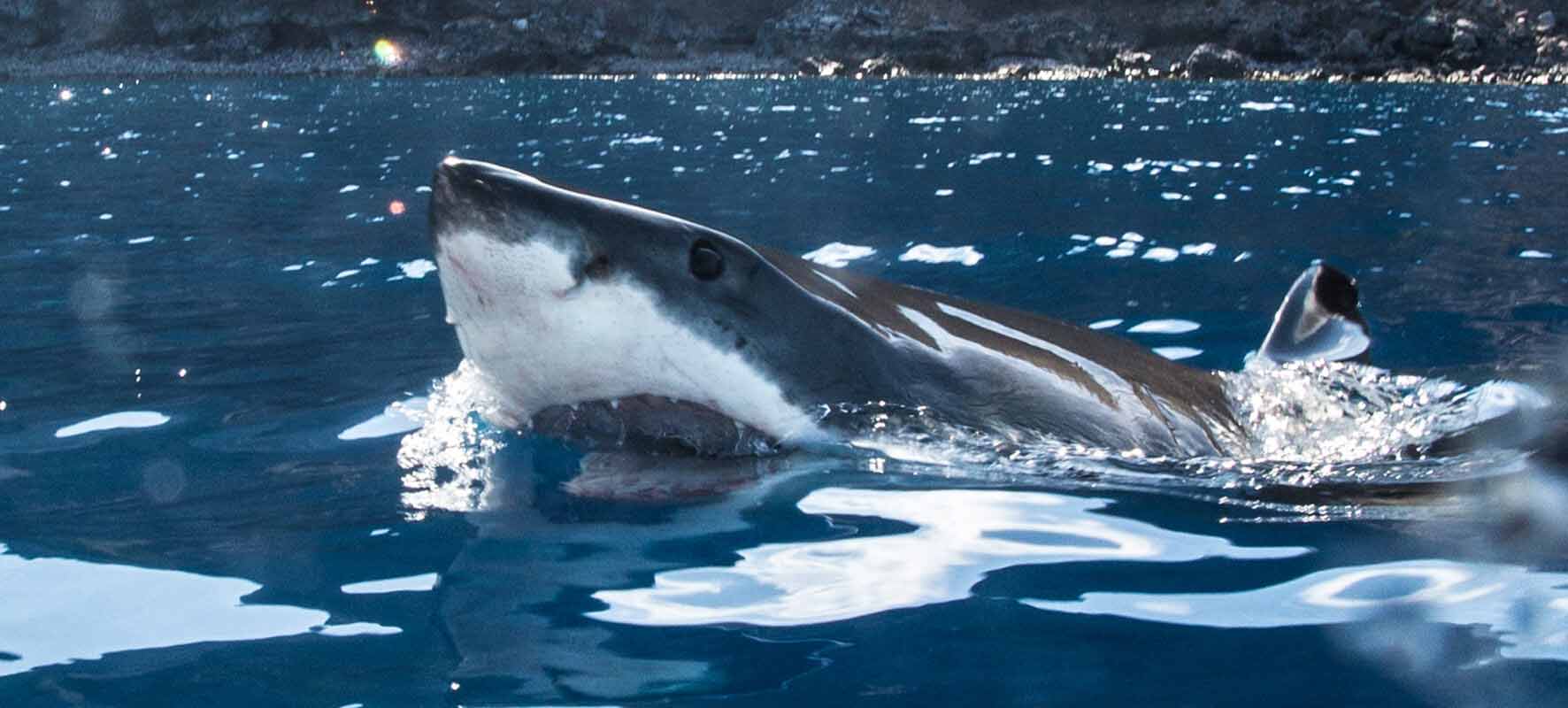 White Shark Calendar
July and August features rowdy gangs of male sharks. Female great whites start showing up in August. "Big Mommas" October and November. Water & Surface Temperatures
Surface weather is similar to southern California and can be quite hot during the day and cooler overnight.

Guadalupe Island
The Best Great White Shark Diving on the Planet
The best great white shark (Carcharodon Carcharias) encounters in the world are at Guadalupe Island and Nautilus is the best way to get in the water with them. That is a big statement to make, but we can back it up!!
The simple truth is that there are loads of great whites at Guadalupe, and a surprising number of them choose to interact with the shark boats. 350 individual white sharks have been identified just in the bay that we dive in, and we're still counting! Partial proceeds of every trip go towards supporting shark scientists, research and conservation efforts, and the continuing effort to identify and learn more about this population of animals. We typically see around 7 great white sharks at a time on 3 out of 4 submersible dives a day. We dive in aqua blue water, with 125 feet or more of visibility. The island itself is 25 miles long and provides a sheltered and calm anchorage during the 3 dive days. These are stunning numbers and it is what makes Guadalupe Island the best great white shark diving on the planet.
But it is not just about the number of sharks and the amazing interaction. 5 operators are permitted to operate in the Guadalupe biosphere reserve, which gives you options when it comes to picking the right boat. We humbly suggest that when it comes to the shark cage diving and the experience, there is no better option than Nautilus.
We are very proud of our ships, the incredible men and women from around the world who crew them, and our commitment to safety and excellence in guest experience. We don't think that it is a coincidence that twice as many divers choose to voyage out to Guadalupe with us compared to ALL of our competitors combined. In 2019, we anticipate staging 20,000 dives with our favourite sharkies!! Just the scenery alone at Guadalupe is quite stunning and feels almost like Jurassic park, as if you are at the edge of the earth in the deepest, darkest and most remote part of the pacific.
It doesn't matter if you are a super experienced diver who has seen almost everything, a first-time shark diver or a non-diver braving our shark cages, all are welcome! We cater to a wide variety of dive skill levels and interests – ultimately, it is always about the shark cage diving experience.
We strive to arrive on site the evening before diving starts, to ensure a nice calm dinner, a peaceful quiet sleep, and as early a start as you wish on your first dive day. Sleeping in and having a late breakfast is also encouraged!! It's your vacation after all. We put as many cages in the water as needed to provide "freestyle shark diving", which means that certified divers always get 3 or more submersible cage dives (our speciality) and everyone gets virtually unlimited diving in the surface cages. We say BAH to regimented "hour in/hour out" tightly-scheduled diving and WAHOO to being able to jump into a surface cage whenever you want, for virtually as long as you want. Our cages open early and stay open late. We also ensure you get a full dive day on our last day on station. That's what we call the Nautilus difference.
We love what we do – from our operations team of 11 staff, Mexico shoreside support team of 15, or the 80 crew onboard the ships. Each and everyone of us hopes that you will join us, and we are all committed to providing you with the the best darn possible vacation.
Guadalupe Featured Trips
dietrichunderwater.com

dietrichunderwater.com