The great white shark national park at Guadalupe island will reopen. It might be tomorrow or it might be in five years time. A power-hungry NGO was able to reach into government and facilitate the shut down. It won't last. We believe it's best to not accept any bookings until we have some certainty on when the park will open.
The best

Great White Shark cage diving
on the planet
Great white shark encounters at Guadalupe Island are nothing short of spectacular. It's simply the best destination in the world for calm clear water and consistently high probability of multiple shark encounters per day.
The sheer number of sharks in the bay that we cage dive in is amazing. On many dives, we see two to three great whites, although in July and August we have seen up to 47 sharks on one trip! Guadalupe Island is home to at least 366 individually identified sharks and still counting.
Great White Shark Cage Diving Calendar
July and August feature rowdy gangs of male sharks. Female great whites start showing up in August. "Big Mommas" October and November. Read more about Great White Shark facts.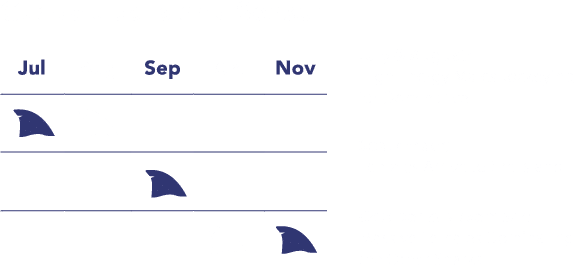 Guadalupe Island Water Temperatures
Surface weather at Guadalupe Island is similar to southern California and can be quite hot during the day and cooler overnight.