Guadalupe Island: The Best Great White Shark Diving on the Planet
Great White Shark encounters at Guadalupe Island are nothing short of spectacular. It's simply the best destination in the world for calm, clear water and a consistently high probability of multiple shark encounters per day. The sheer number of sharks in the bay that we dive in is amazing. On many dives, we see two or three great whites, although in July and August we have seen up to 12 sharks on one dive! Guadalupe is home to at least 238 individually identified animals and we are still counting.
"The SHARKS! WOW! After a few slow hours in the morning the first two days, the remaining dive time was non-stop action with sometimes as many as 4 sharks circling the cages and appearing from the blue from all angles. This trip is both an adrenaline rush and an experience of extreme beauty and awe."

–Robert K., August 2017
Even though the voyage is relatively short, Guadalupe Island feels like you are at the edge of the earth, getting to experience something that very few people do. The coast of Guadalupe is 25 miles of rocky cliffs, but above this is dense forest, giving it the feel of an exotic, South Pacific destination. The world might see sharks as man-eating predators, but we feel very lucky to get to descend into the world of the Great White and meet them as they truly are.
What makes Guadalupe Island the best place on the planet to see Great White Sharks is not just the sheer number of animals but also the viewing conditions. While visibility does occasionally deteriorate, we usually enjoy 100–125 foot visibility. Sometimes 150 feet. The sea conditions in the bay are almost always calm and protected from swell. Water temperatures are temperate, and the surface weather is beautiful, and very similar to San Diego and southern California.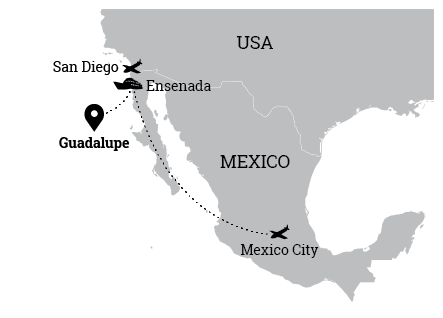 Where is Guadalupe?
Guadalupe Island is a remote island off the Pacific coasts of Baja California, Mexico. We depart from Ensenada.
Nautilus Odysseys Ep. 4 – Confessions of an Experienced Diver
Nautilus Odysseys Ep. 8 – Feel the Adrenaline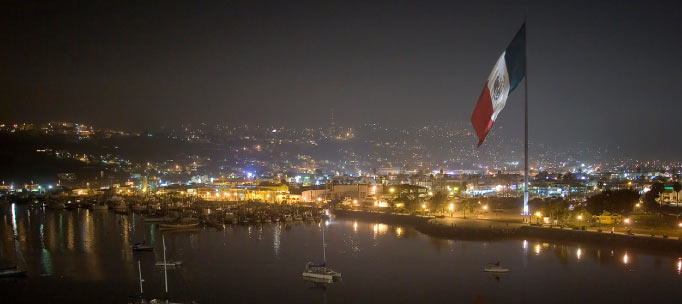 Day 1
San Diego option:
Meet at Best Western Palms Hospitality Suite and enjoy complimentary transfer to board the ship docked in Ensenada.
Tijuana option:
Fly into Tijuana airport. We offer complimentary pickups for transfer to the ship in Ensenada.
Activities:
Evening departure from Ensenada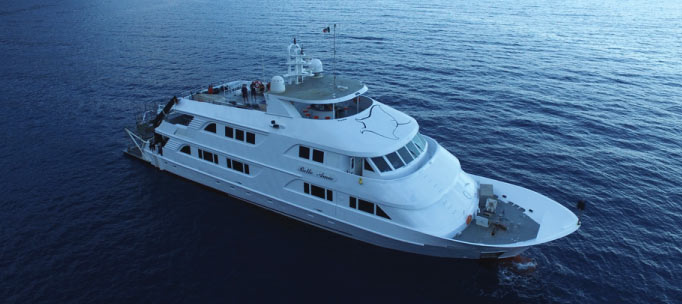 Day 2
Dinner time arrival at Guadalupe Island, with a nice relaxing evening at anchor.
Activities:
Safety Briefing
Diver Orientation
Shark 101
Cocktail hour at beautiful and peaceful anchorage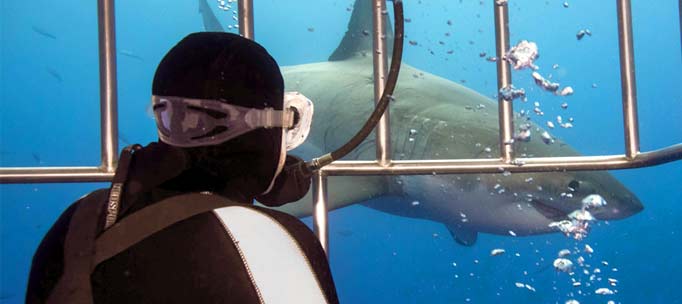 Day 3
Cages open at 6:30 am. First submersible dive at 8:00. Dive until dusk!
Activities:
Our famous Mexico taco fiesta on the upper deck
Shark ID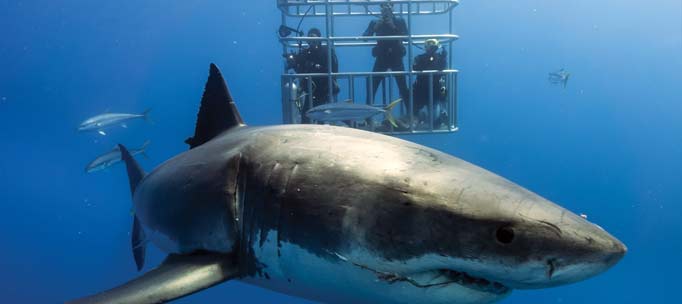 Day 4
Another full day of diving starting at 6:30 AM.Submersible diving starts at 8:30 AM. Dive until dusk!
Activities:
Shark Behavior
Shark ID
Theatre under the Stars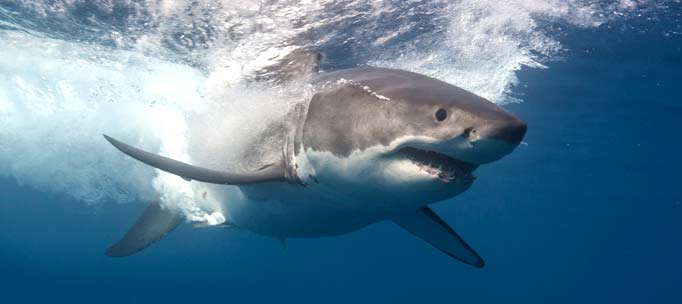 Day 5
Cages open at 6:30 AM. Submersible diving starts at 7:30 AM. Cages close at 5:00 PM.
Activities:
Shark ID
Cocktails with friends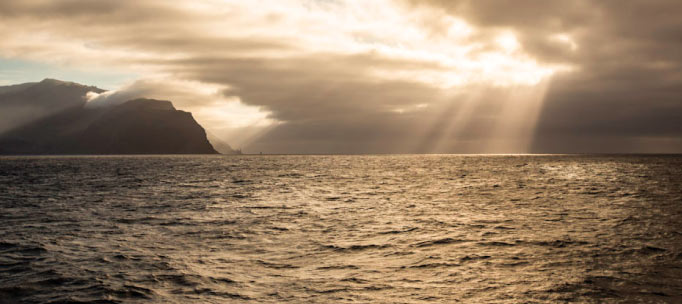 Day 6
At sea, arriving in Ensenada approx. 2:00 PM. Coach transfers to Tijuana Airport, San Diego Airport, or Best Western Island Palms Resort.
Activities:
Trip Slide Show
Our coach should arrive TIJ by 4:00 PM or San Diego by 7:00 PM if there are no customs or weather delays