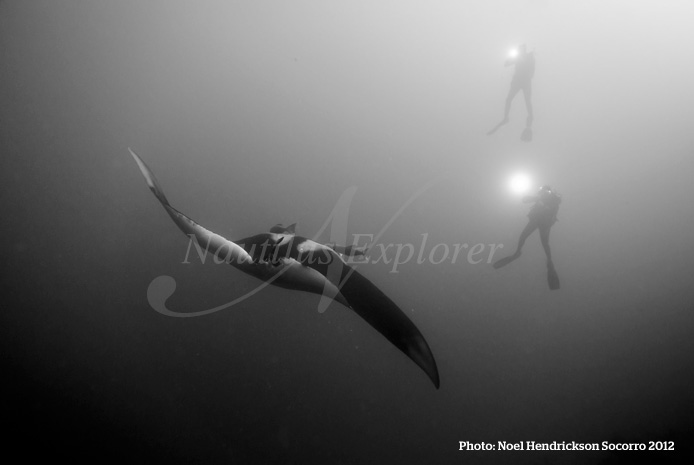 I've been to Roca Partida before but the first dive of the day was one of these dives that are simply magic. Leaving you with that special feel only a few dives over the years will give you to remember forever.
We dove in only two of us and had the ocean all to ourselves. Water was clear and visibility being the best of this Socorro trip giving us instant view of all the whitetips cuddling in the three crevices on the east side of the rock. Moving on from there we made it to the north point just in time to watch a school of sixteen-seventeen silvertips passing by slowly and effortlessly. No more than a couple of minutes after they'd passed we heard the dolphins and saw them moving in as well. Mimicking them, and vice versa, we spent quite some time with the largest of them, clearly in play mood, and so close by that I felt hugging him: an epic moment.
Li from California/Sweden.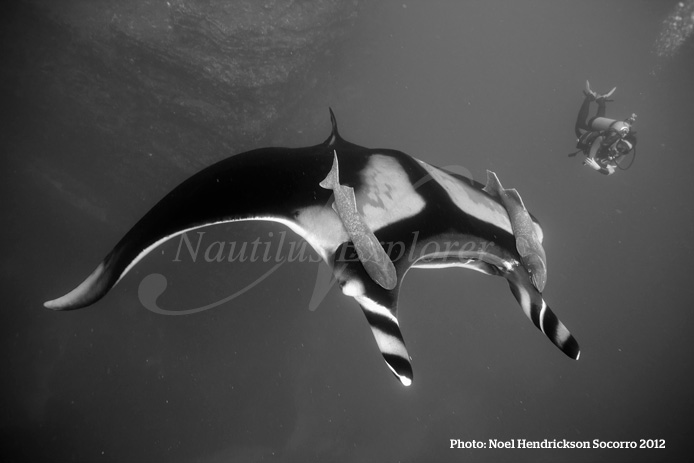 As you've heard, we arrived at Roca Partida this morning about 7AM. The weather is excellent and the seas calm with 2-4 ft rollers. Very manageable.  Roca Partida did not disappoint and presented the usual variety of pelagic critters such as Galapagos, silvertip and hammerhead sharks, tuna and wahoo. The rock itself was also full of life with the biggest lobster I have ever seen nestled in with a bunch of snoozing whitetip sharks. Moray eels were always yawning right about where you want to put your hand to take a photo of some other critter. It is a very hard dive to beat. Some folks were lucky enough to cavort with dolphins as well.
None of this would be possible without the wonder organization and attention of the excellent multinational crew and the very able luxury live-a-board dive boat NAUTILUS EXPLORER. The cook, Juan Carlo spoils us with hearty food and the hostesses Mundie and Sylvia as constantly waiting us, sending us off well hydrated and greeting us after each dive with warm drinks and towels. Our dive masters, Belinda and the Juan and only, show us all the good stuff and Capt Gordon, Chief Mate Karl and Engineer Marv make sure that the ship is where we left it when we return. Hernan is Herculean as he pulls us aboard the inflatables and ferries us back to the boat. The water temp is a comfortable 71-72 F. and finally I am with the best group of divers, ever!
If you have not done this trip be sure to put it on your list..soon!
Jim Smith, Maine, USA