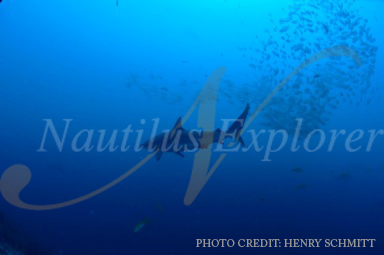 Roca Partida lived up to all my expectations! We had squadrons of sharks today. Today was really special!
—-
Roca Partida der beste Platz den ich bis jetzt betauchen durfte ! Grossfisch pur!!!
Thomas / Germany
—-
Roca Partida ist der Grund warum sich eine Ueberfahrt nach Socorro auf jeden Fall lohnt. Die Vielfalt an Haien ist Ueberwaeltigend. Wer einmal eine Schule von 50 ˆ 60 Seidenhaien gesehen hat, weiss warum sich dieser Platz auch fuer mehrere Tauchgaenge lohnt.
Gabi / Germany
—-
What can I say about the last two days spent at an odd shaped rock situated 200 miles off the coast of Mexico? I did seven out of the eight dives here and if I'd only done the first one I could have died happy! On that dive we encountered a whale shark up close at least three times. For many of us it was a landmark encounter, but particularly for my room mate Lily who, after 904 dives, was seeing her first whale shark in the wild. On the next dive I saw a Chevron manta all to myself, and on the third my first hammerheads. The final dive of the day capped it all off with schools of silkie sharks, white tips and silver tips waking up for some night time action. The sharks were so friendly that even as we were ascending they swam in and around us, over and under us. Everywhere you looked there were sharks. Today we saw more of the same, but for some variety did a drift dive into the blue in the afternoon. Sightings included sharks and barracudas, and for two lucky groups, a hawksbill turtle which benefitted from a thorough barnacle cleaning by a divemaster. As I sink a blue moon beer at the end of the day I know it just doesn't get much better! We depart for Socorro overnight for hopefully more of the same.