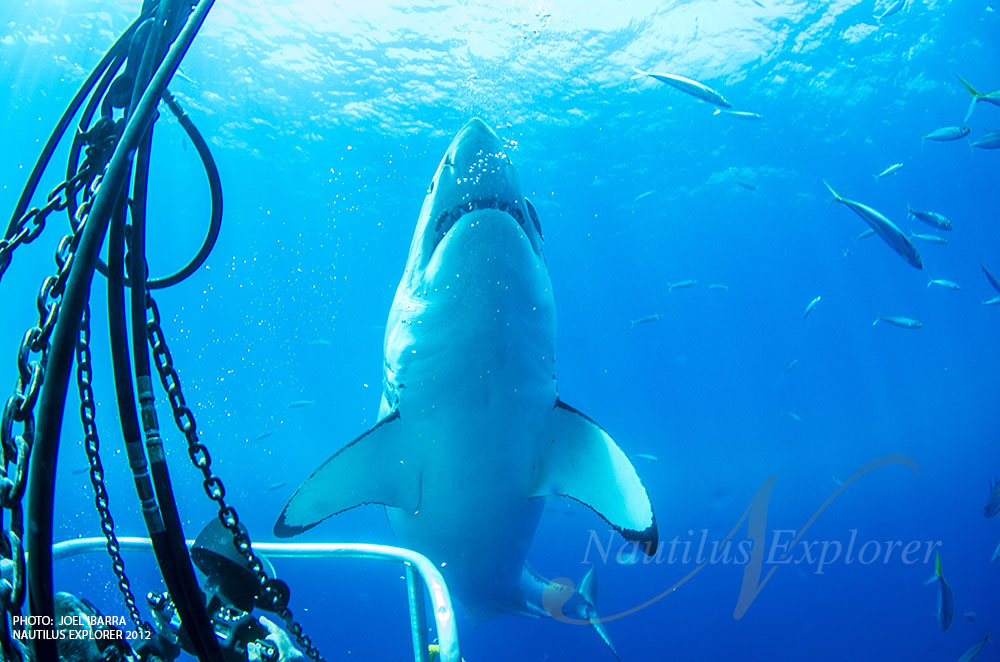 Today is a normally very busy day, it is our day we arrive in port  and guests from the last trip disembark and guests for the next trip arrive. The crew has to turn the boat, ie clean, reprovision, fuel, etc all within a very tight timeframe of 6-8 hours. Today has been particularily busy as next trip we have is one of those special trips that occur from time to time. About 1/2 of  our arriving guests are normal folks coming to witness, firsthand the nature of the Great White shark up close and personal. The rest of the group however is a film production which is being done as an alliance with the WWF(World Wildlife Fund) and Telcel(Mexican Phone company)who are supporting the production for a piece on the conservation and protection of the Great White Shark.
As with any film production that means masses of equipment and people shooting both topside and underwater. So we have been loading gear and getting guests settled. Although it will be busy will try and keep you informed of the results of this trip.
the next day…
Well it is the proverbial morning after the night before. Last evening while transitting from Ensenada to the island of Guadalupe, we received a call from another vessel in distress. Although we were only 29 miles from our destination, we alterer course to see if we could provide assistance. The vessel had broken down and had been drifting for some three hours before we received the call. This was all transpiring about 1 hour before sunset so we arrived just as it was getting to be late dusk with good light still. What we learned was there were 17 persons on board a 54′ wooden boat bound for Guadalupe as well. It was apparent that in the seas which were running at about 6-8′ the vessel was rolling violently from rail to rail on the beam and from our point of view it looked very precarious.  After attempting to hail the Mexican Naval Station at Guadalupe with no response, attempting to take people off in the seastate and the falling light conditions was too risky,it became obvious that we would need to attempt to get a towline to the vessel and tow it into Guadalupe. With darkness falling our crew was able to get a towline to vessel just as darkness was falling. This would have been nice if it was the end of the drama but of course never that simple after about 1 1/2 hours of towing we were into within 12 miles of the island, when the towline parted and we had to do the whole pickup again in the dark this time. After a few attempts we were able to get a line back on board the disabled boat and resume our tow to the island. We arrived the island just at midnight and got settled in and anchored for the night. A stressful but rewarding feeling to have everyone safely at anchor.
So diving with the white sharks will be especially fun today.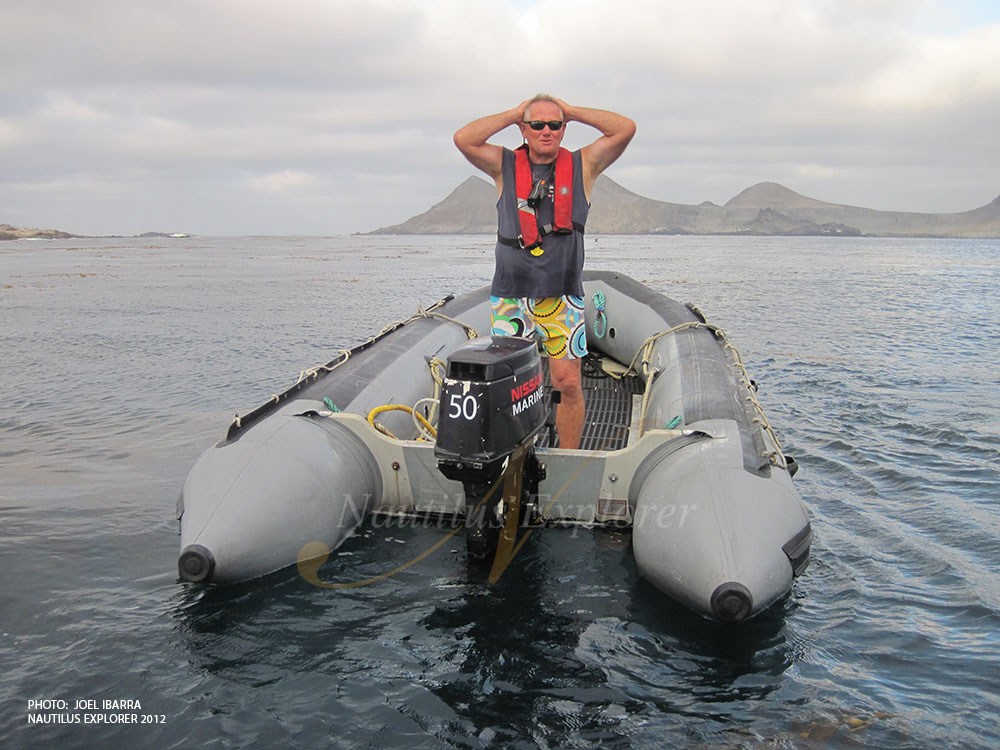 Al Spilde Captain