Join us in saying good bye to the beautiful Nautilus Swell & the end of liveaboard diving in British Columbia and Alaska…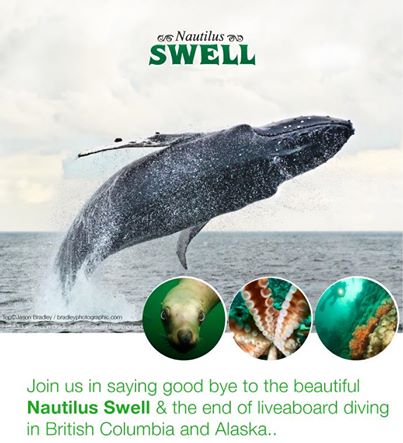 Read full newsletter & Special Offer (Save 10-40% on selected trips):
http://www.nautilusswell.com/newsletters/2014_apr
It is true. And it is very sad. We will be marking the end of the era of cold water liveaboard diving on December 1, 2014. The Nautilus Swell proudly and nostalgically followed in the footsteps of BC's finest diveboats starting with the 42′ Oceaner, and the 56′ Clavella, the Skeena, Spirit of the Pacific, Shoal Searcher, Lady Goodiver, Sea Venturer, Mamro and the Nautilus VI, Nautilus VII and the Nautilus Explorer. We will be retiring the Nautilus Swell as a dive boat at the end of this season.
We are not going quietly!!! Our scheduled has been amped up to fill every last day between now and December with savings between 10 – 40% on all new bookings as of today, April 23, 2014. Alaska, Gwaii Haanas, Port Hardy, and the Sunshine Coast. It's awesome diving that no drysuit diver should miss. Especially with these great savings.
Now for the good news. We are very fortunate to have purchased Cates Island, a beautiful private island by Pender Harbour on the Sunshine Coast. We will be transitioning to shore based diving including Agamemnon Channel, Powerlines, Fearney Bluff, Jervis Inlet, Skookumchuk, Chaudierre, Anderson Island, Welcome Pass and Texada and Lasqueti Islands. Stay tuned for more info within the next month on land diving packages.