While the majority of the world was driving to work, booting up their computers or eating breakfast; here on the Nautilus Explorer, 25 divers were suiting up and jumping into the balmy 81 degree waters of San Benedicto Island.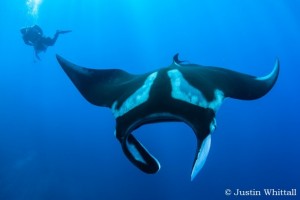 We descended down to 20 meters and slowly made our way around the divesite 'The Boiler'. Almost instantly 4 large manta rays appeared out of the blue and came to play. Gracefully flying around us, their large peaceful eyes observed each and every person, taking the time to soar in between divers, giving everyone a chance to observe their calm beauty.  Suddenly the water was full of squeaks and clicks and out of nowhere, a pod of dolphins came to play! They flipped and twirled around us, spinning backwards, playing with the divers and each other. Suddenly more mantas appeared, at one point there were 6 giant mantas flying overtop of us and the dolphins. 25 happy divers surfaced thinking that nothing could compare to that first dive of the day. Yet then,  on dive #3, two large Scalloped Hammerheads appeared, curiously investigating our presence. They stayed with us for minutes, coming within 20 feet of the divers. Mantas and hammerheads in the same dive is amazing enough but seeing them together was almost too much, I mean really, how does one decide which one to look at?!
DM Liz



We awoke to find ourselves in a quiet cove at Cabo Pearce, on Isla Socorro. The first sight out the cabin door was the intriguing rock face built over the centuries by various volacanic eruptions.
The dive site itself is a bit more exposed, so backrolling off the zodiac with negative buoyancy is the way to go with this site. A light current was present on the first dive, which picked up a bit by the second. Some distant sightings of a hammerhead shark and a small pod of dolphins were overshadowed by a lengthy visit with a giant manta. I think we spent 80% of the second dive with this one creature who stayed with us until we had to exit the water.
Water temps have been great all week at a consistent 28C – trunks and rashguards for many of us; no more than 3mm suits for the rest.
After lunch, the plan is for two more dives at this site, starting around the point in the stronger currents to explore some new areas. Looking forward to what we see next!
Christopher M.