The d*mned mantas were in the way for the hammerhead sharks!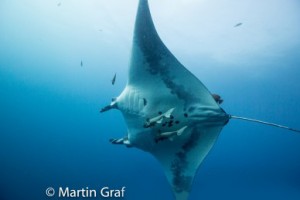 Today started at the lovely San Benedicto, with sunny skies and just enough cloud cover to keep us cool. As we dropped into El Canyon, we were met by several giant mantas that had been patiently waiting for us. They obliged us by performing a beautiful dance to welcome us to the first dive of the day. As we descended the anchor line, we dropped onto the ridge line of rocks, that would become our technicolor window to the parade of the dolphins, the whitetips, the bluefin tuna, and the many fascinating smaller fish that inhabit this amazing ridge.

When we surfaced, our every need was anticipated by the lovely and competent crew, who by the second day had already memorized what drink we preferred when we surfaced, and what kind of treats we would enjoy on our surface interval.

Cannot wait for tomorrow!!!!

El Canon San Benedicto.

Schooling Hammerheads, Dolphins and of course the phenomenal Socorro Mantas!! Great diving as always in this special place.