The grace and beauty as magnificent creatures is awe inspiring.
Didn't know what to expect, but could not have anticipated the amazing experiences we have had over the last three days onboard the Nautilus Explorer. Nothing has been too much trouble for the crew. As non-divers we have been guided, helped with patience, care and total professionalism. We have seen everything from the smallest fish to the largest great white and even a small pod of dolphines paid us a visit. Sea lions, elephant seals kept us amused with their various calls and a lone turtle paid us a fleeting visit. Dive Master Jesse was kind enough to take us on the last dive of our trip and we saw the most amazing sighting of one of the largest great whites as close to the cage as you would wish for. The food has been amazing. We would both like to say a huge "thank you" to you all.
Stephanie and Linda.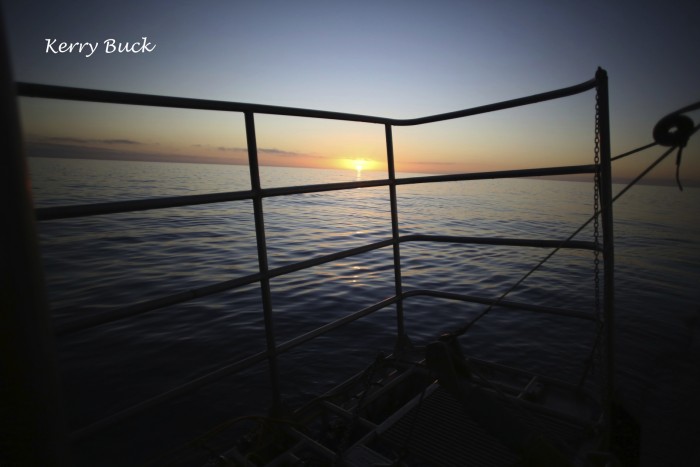 Enjoyed arriving after an amazingingly calm 20 hour crossing to Guadalupe Island. The Captain and Crew of the Nautilus Explorer gave a safety briefing un parrelled to the 6 livaboard trips I have been on previously. The professionalism and courtesy shine through in every action the staff take to serve each and everyone. They catered to every want and need. It was a delight to get to know everyone.
Started first Great White Shark dive in the submersible cage with incredible visibility. I was amazed how there was practically no anxiety about going down into this amazing creatures environment. The grace and beauty as magnificent creatures is awe inspiring.
Even though I was unable to go on the Belle Amie with my original group. Captain Barron was able to arrange a transport to visit my friends on the Belle Amie for a few hours. The crew greeted me with a warm welcome and a beautiful iced coffee… with whip cream. The food and treats looked fantastic, but could not hold a candle to Katie's amazing baked goodies. I can't decide what was better. Oat,coconut, white chocolate and peanut butter cookies, vs the pure coconut, infused with butter and more butter.
I am sitting here after 4 hours in the water with a satisfied/ happy BUZZ. Life is Good. Tomorrow is a new day. I can hardly wait.
Ron Burkard Long BEACH, CA