Magdalena Bay is home to one of the largest sardine runs in the world and the secret is out about being able to get in the water with striped marlin. The excitement of marlin going after a bait ball at 50 miles per hour right in front of you is freaking amazing. These are fantastic trips and something new and exciting. This is our second year of running these expeditions in partnership with local panga captains who have switched from fishing to eco-tourism.
BUT… we need your help. We are using our 45-ft sailing catamaran on these trips with just 6 guests onboard and space just opened up on our November 7th and 21st, 2021 departures. We need every berth full to witness and ask questions about the immense fishing pressure to supply cat and dog food.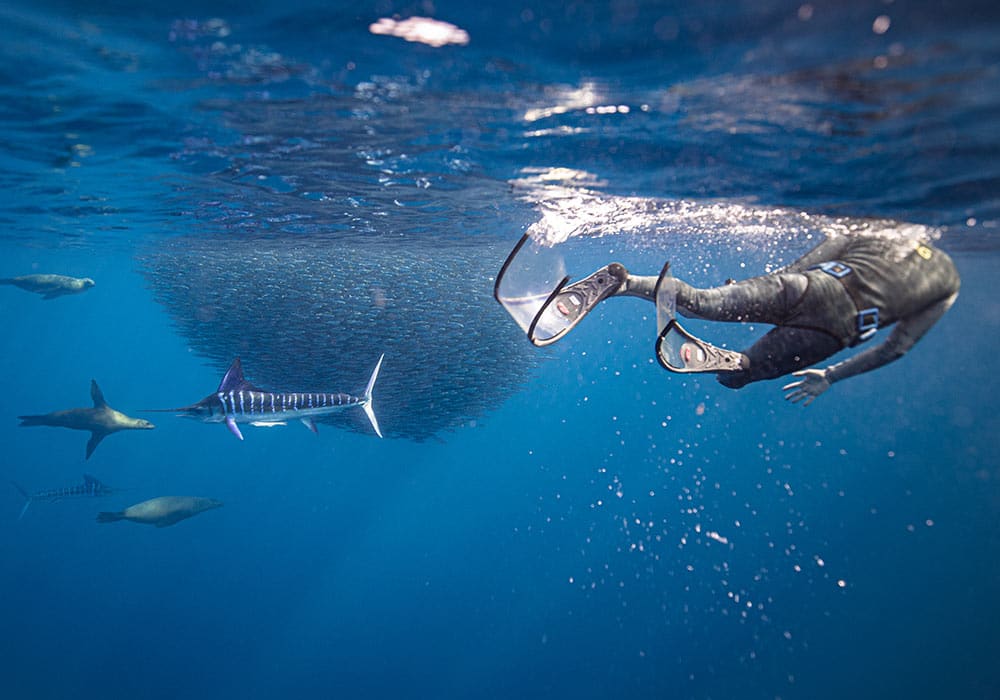 The local panga fishermen are mad as h*ll that the sardine and marlin are getting fished out illegally with up to 14 large industrial size boats going out of Magdalena Bay every night, each boat harvesting 100 – 200 tons of fish. The sardine run is going to be extinct at this rate. The worst thing is that the fish are being processed in 8 local factories for cat and dog food. t's illegal for more than 10% of the catch to be used for pet food.
We can help stop this. The local fishermen are pleading for your help. Social media. Images. Video. Blogs. All it will take is for this to stop is to get picked up on social media and shine a brilliant white spotlight on the problem. We are running these trips at cost to get divers, free-divers, swimmers and snorkelers out there to see the problem first hand. It's still an incredible trip. We want to keep it that way. Come and join us in November…