Socorro Island Closed for Military Op's so we Head to Clarion Island – Captain and Crew Blog – 27 FEB 2011
note from Captain Mike that the mexican authorities closed Socorro Island   to conduct military operations.    Permission was granted to the Nautilus Explorer and Solmar V to continue diving the 3 other islands in the Revillagigedo archipelago  –   San Benedicto, Roca Partida and the very seldom visited Clarion Island.     The closure is over.  Diving is continuing as usual..
A beautiful morning seemed imminent when I crawled out of my bunk this morning.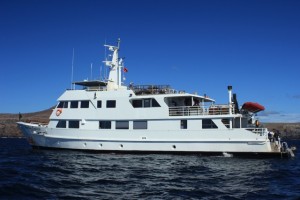 We had planned a short reposition to the East side of Clarion Island (the 4th of the Socorro Islands) to do some dives at a little known secret spot there.  When we rounded the South East point however, it was obvious that it would be too rough for us to do anything comfortably.  We turned around and headed back to our anchorage, choosing a spot just a little further west and closer to Punta Rocosa.  And what a great decision it turned out to be.  A few of our guests were rewarded with a visit from a giant manta, and the video and pictures taken in the crystal clear water proved what an amazing experience they had.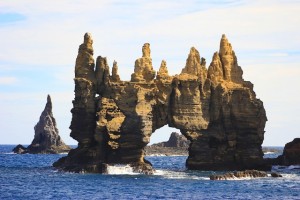 Upon leaving the island and taking a northerly route to view some incredible coastline, we were suddenly confronted with a humpback whale at the surface right in front of the Nautilus Explorer!  Luckily we had stopped to take some photos, and with everyone's camera in hand it was an incredible opportunity to shoot some amazing shots of a truly awesome creature.  It was a humpback, surrounded by dolphins, about 40 feet in length, spinning, tail slapping and generally splashing around.  Some great aerials, some mesmerizing body movements and a few minutes later he was gone, diving deep into the blue.  It was beautiful and put a warm smile on everyone's face.  It was then, at that moment of seeing the joy all around me that I felt so satisfied.  What a thing to share with so many thought sharing people.  A wonderful day!
> Captain Kevin
We started off early to try to go diving on the NE side of the island were we did the first dive when we got to Clarion island but the wind was blowing a little to strong so we headed back to where we spent the night where it was calm like a lake. We decided to dive a point that was close. The visibility was 60-80 ft the water temp was around 73 f you could see the bottom on our way we saw giant mantas on the surface so we drop off and started our dive we saw octopus, eels, and a small cave with 18 huge lobster 2 plate sizes each. When it was time to end the dive not know what sight was waiting for us on the surface as we popped our heads up first thing I saw was the zodiac waiting for us but about 300 meters away a mom and young breaching out of the water that was just like if we would have seen it under water that just made everyone's day. We headed to the nw side of the island to take pictures of the monument rock and the castle one in a million people get the chance to see it in person and actually take pictures on the horizon.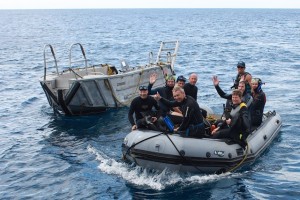 The whales were preforming a good-bye to us as we headed to Roca Partida it was too good that we could not refuse to just pass and not spending another day of diving we all are looking forward for what is awaiting for us at Roca Partida
DM Juan the only one