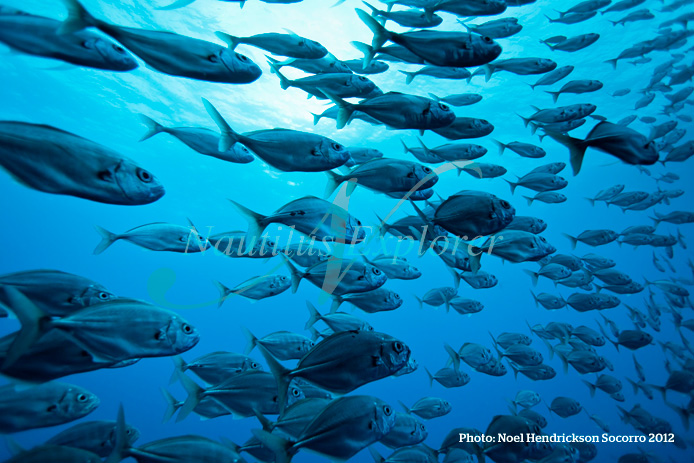 We arrived at the remote Clarion Island early this morning after an overnight transit from Roca Partida. Clarion is the 4th island in the Revillagigedo chain of islands, commonly known as the Socorro Islands. We rarely get a chance to dive here, so we are still in the exploration stage at Clarion. Today after checking in with the Navy Base here we did a total of three dives at two virgin divesites. After a slow cruise along the eastern shore of the island and studying the bottom topography using our depth sounder, we dropped the anchor in 70 ft of water close to shore and a huge reddish colored cliff rising straight up out of the ocean. A large pod of bottlenose dolphins escortedus during our reconnaissance of the area and remained close by while we geared up to get wet.
The site turned out to be a great dive with several divers spotting an adult sized Tiger shark near the beginning of the dive. The bottle nose dolphins spent much of the dive curiously cruising around all of the divers. A couple of juvenile galagapos sharks were seen as well as a couple of turtles, stingrays, and a school of very small porcupine fish. Visibility was a beautiful 80-100 ft of blue water.
After a little more reconnaissance we found our second divesite where we did our third and final dive of the day. Again, the bottlenose dolphins showed up and almost all of the divers enjoyed several encounters with them. Beautiful finger-like lava flows extended out from the shoreline and were home to octopus, spiny lobsters, and a couple of large green turtles. Tomorrow we continue the exploration of Clarion in search of more big animals!
Captain Gordon Kipp
Diving conditions: Water temp 24C (75F), visibility 24-30(80-100ft), current mild to moderate.
Surface conditions: Air temp 20-25C (68-77F), winds moderate, sunny with occasional rain showers.