Hurricane Bud and the Nautilus Explorer: The Last Chapter. Socorro, Mexico. May 29, 2012.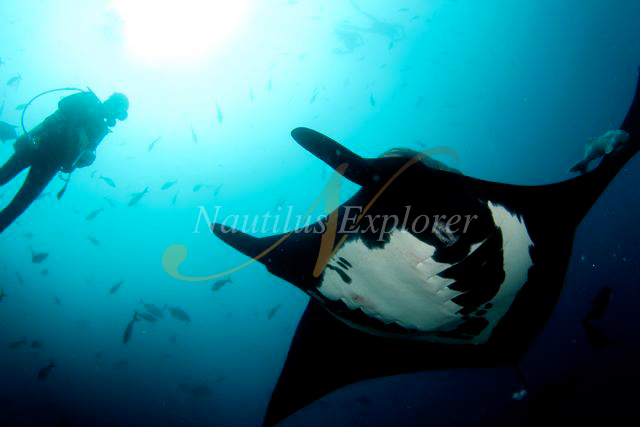 So Bud which has waffled between a Tropical Storm and a Hurricane, became a hurricane but its direction tracked as predicted by Captain Mike towards the Mexican Mainland and we have transitted overnight out to Isla San Benedicto, site of many dives but without question, "The Boiler" is the place to be. It is the Giant  Manta capital of the islands and we were richly rewarded for our patience of having to waiting out in the beautiful Sea of Cortez for the passage of the tropical storm. Conditions were such that it was one of those Captain's Prerogatives, that I needed to check out the conditions for my report, so went for a dive with Beto, one of our Mexican guests from Guadalajara. As we stepped off the back of the dive deck, even for me, my breath was taken away, the water was a deep azul color with crystal clear vis. Laid out before us immediately in full view was the shape, form of the underwater pinacle rising from the deeps to within 10′ of the surface. Below the boat we caught sight of several dolphins just passing through, and fish, tuna and jacks, but there down the length of the boiler was what we sought a Manta soaring around divers who have entered ahead of us. As we slowly came along the face of the rocks we saw more mantas, not one but three more. They stayed and flew by us repeatedly, above us, below us and eyeball to eyeball. It was great. Beto and I then continued around the rock spotting many green morays and more lobster than we could count. We finally came to our ledge where we often see hammerhead sharks coming in just off the sand far below, but today was no joy for the hammerheads. Water temp at depth today was exceptionally chilly for this time of year at 73F or about 21-22C and with vis exceeding 100'/30 metres. Always a great dive but today was special, tonight we will be transitting the 75 Nautical miles to Roca Partida. See what magic it has in store for us this week. Last week we stayed an extra day and were rewarded with a days diving with one whale shark  for three out of four dives. Will let you know in a couple of days.

5/23
Hurricanes shouldn't be a concern in May but it has happened to us. Captain Al makes the necessary adjustments and we head first into the Sea of Cortez where after an uneventful check out dive with a brief sea lion encounter, we get weights and gear squared away.

5/24
Day 2 consists of 2 dives around |La Reina, a small rocky lighthouse loaded with sea lions, a few morays and sundry small schools.  Then off to El Carpintero which had many morays, large school of jacks and some divers saw a small ray, apparently a manta although not a  positive ID. CHILLY thermocline at about 45 feet that is a reminder we aren't in Caribbean warm water diving.

The Nautilus Explorer is pretty roomy and comfortable in the common areas as well as below deck cabins, service is with a smile and folks always ready to help. Food is plentiful, too plentiful for my own good.

Hurricane has deviated, thank goodness and we will steam all night to The Boiler at San Benedicto Island. Eager anticipation and the sailing thus far has not been as rough as we feared. Let's see about tomorrow.

5/25 San Benedicto Island.
1st dive on the Boiler.  Fairly strong current, good visibility, schooling jacks, enormous and plentiful morays surrounded by lots of lobsters  and several flounders.

Dive 2.  The Boiler. Current was milder and viz clearer. Truth in advertising!!!!! No sooner in the water than manta #1 appears, followed shortly by manta #2 and later manta #3. Playtime and interaction for the rest of the dive as these mantas navigated among us repeatedly never venturing out of sight  I also saw a large tuna, but found it difficult to focus on anything other than these magnificent mantas. It was difficult to control depth with so much distraction as most of us commented that we found ourselves drifting unknowingly from 40 t0 90|and back up again.

Dive 3.  The Boiler. This time I saw only 2 of the mantas although apparently all three were around. Viz was slightly better. Saw literally dozens of lobsters and morays and a sleeping octopus in a crevice. This is a beautiful dive site even without the mantas with tons of life. This time I controlled depth much better staying between 50' and 60. Heavy surge had to be dealt with occasionally. Excellent dive.

Dive 4. Skipped this one and current was pretty strong according to those that went. A good one to skip.
Tonight we leave for Roca Perdida (about 8 hours away) and will start diving around 7:30 tomorrow morning as we will be on the site with the Solmar and boats will stagger dives to avoid too many divers in the water at the same time.

5/26
Dive 1.   Roca Partida. Dropped on the east side at the midpoint and circled the rock counterclockwise. Sharks were plentiful, not unusual to see group of 20 -including white tips, Galapagos, and silkies. Viz was very good, need to take some time on a later dive to have a look at the life on the rock itself as I spent this dive basically looking at sharks around the rock and in the blue. Missed a hammerhead and the stacked sharks seen by others strong current coming up southeast side and surge close to rock (we had been well warned about that.) We are alternating dives with Solmar.

Dive 2.  This time saw the stacked white tips.  Interesting because they are not only stacked, but stacked by size.  Probably 30-40 sharks in groups of 5-10.  Rounded the northeast corner into a pod of dolphins who were curious but not playful, with us anyway. Again many sharks and quite a bit of surge which makes depth control difficult for me. Many wahoo.