I have been super excited to get back and see the big white sharks of Guadalupe Island again.. and then.. too many sharks to count! Between 10 and 12 great whites!! Guadalupe Island. Aug 22, 2012.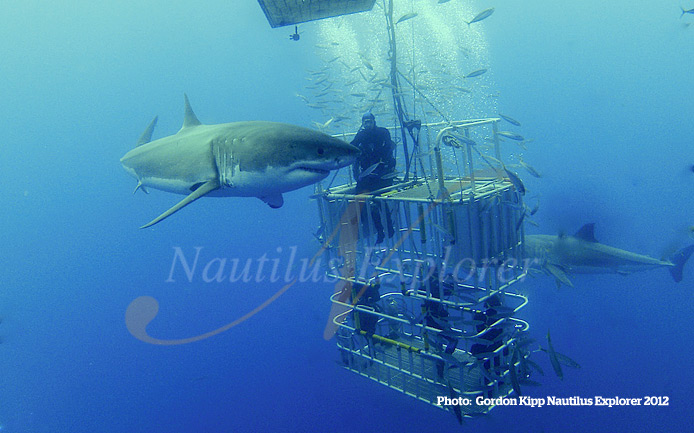 This has been my first trip of this season back to the mystical island of Guadalupe, 185 nautical miles south-south-west of the port city of Ensenada in Baja California North. I have been super excited to get back here and see the big white sharks again. Despite being in (or on top of) a cage the whole time this is some of my favorite diving to do. My imagination has been conjuring up any number of potential amazing encounters that I might experience on my first trip back and I can honestly say the last three days has easily met or exceeded anything my mind could come up with. The first two days were basically a continuous adrenaline rush with numerous male white sharks around the cages, approaching from above, below and eye level and alternating between slow, lazy passes to quick, excited and close-up encounters. No matter how many times it happens, standing on top of the submersible cage and holding eye contact with a 4.5 meter white shark as it passes only a couple meters away never fails to take my breath away.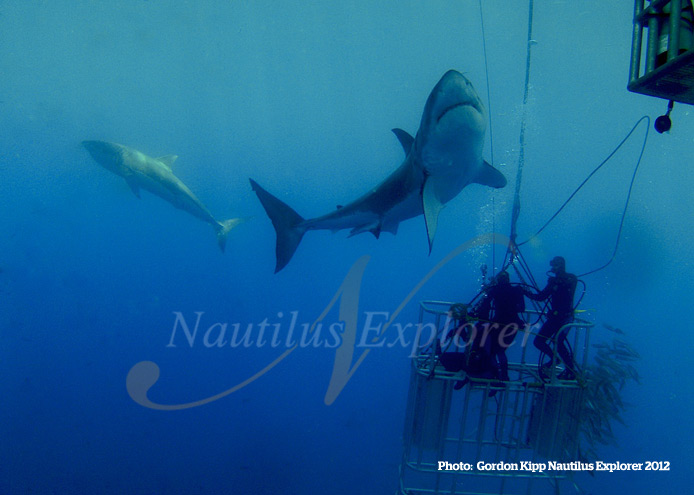 For the first half of today the action was fairly mellow, a great white shark here and there showing up, making a few lazy passes and then disappearing until a different shark would swim by 10 minutes later. Slow, steady, but nothing really to get the heart racing. Until this afternoon that is. Slowly the action started to increase, with a couple sharks staying around more and making closer passes. Then suddenly there were too many sharks to count. I don't know where they all came from, but I was spinning in a circle, looking up and down trying to keep track of them all. I counted 7 within sight at one point and I'm guessing we had 10-12 individual sharks on that one dive. And they were all very curious, coming in close at eye level, making passes from above, charging from beneath. It was one of the most intense white shark dives I've experienced in my four seasons here. It was great to be able to share that with our guests this week.
One more day of cage diving tomorrow and then we're off to the islands of San Benitos and Cedros for some world class kelp and Sea lion diving.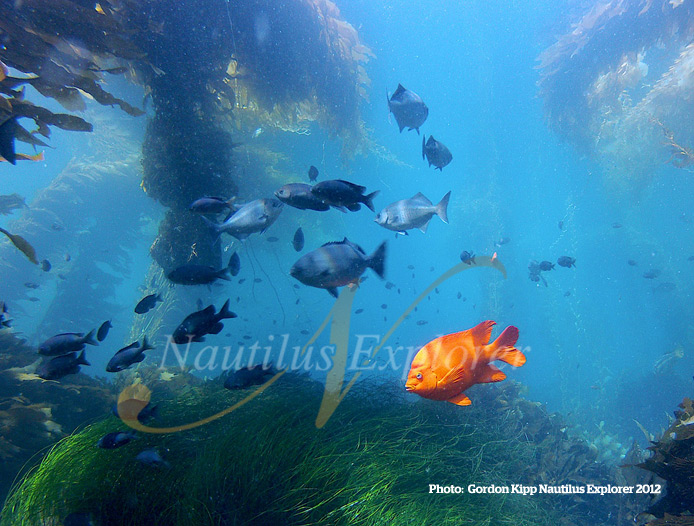 Captain Gordon Kipp
Surface conditions: air temp 25C daytime, 20C nighttime, cloudy in the morning with sunny skies most of the day, light winds and calm seas in the anchorage.