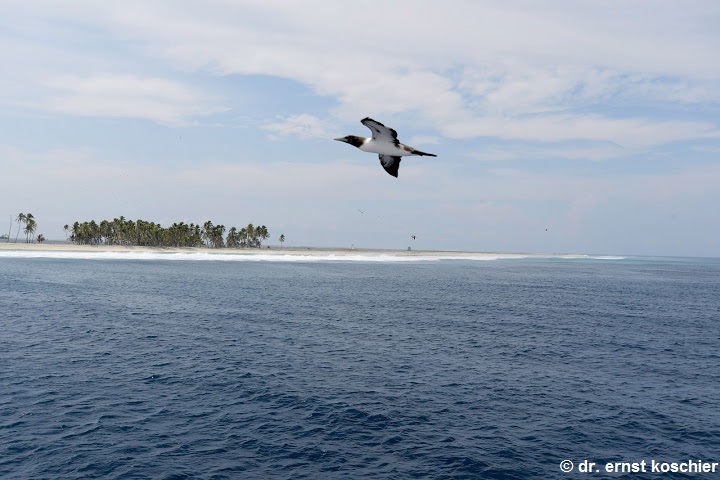 Today is our fourth day on location at Clipperton Atoll aka Isle of Passion. Its more romantic sounding name coming from the time when a Mexican navy sector was stationed on the island during the early 1900's and then forgotten about when the Mexican revolution started. The navy personnel and their families, who had previously depended on navy resupply ships for their stores, were left to fend for themselves. This invariably led to disease and madness. As the story goes, the last surviving man on the island declared himself the King of Clipperton (a title that has been claimed many times since on the Explorers 5 visits here), and began to rape and murder the remaining women. The women eventually revolted and murdered the self proclaimed King before being rescued finally by an American navy vessel.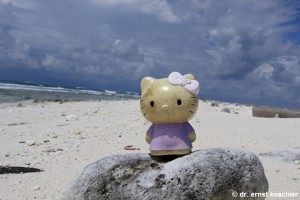 Today was our turn to land on the wave swept beaches of the historied island. With the barrier reef circling the island and the ever present swell breaking over this reef, getting ashore here is risky at best. It involves patience, timing and no small measure of cojones on everyones part, crew and guests alike. First we had to find the cut in the reef that would allow our inflatable through into the shallows on the inside of the reef. The second step is to standby outside the break line of the reef, with inflatable loaded and ready to go, watching the swell closely and waiting for those periods of relative calm between the big wave sets. When the big waves had passed through we would have a period of about 45 seconds to ride the back of a small swell in through the cut before the big waves would begin crashing behind us.
Once through the cut the crew could jump out of the inflatable and walk it into the beach where our guests could hop ashore. We got all our guests ashore without incident and spent most of the remainder of the day on the island.

Getting off the island and back to the Explorer presented the same challenges as landing, and despite the challenges and discomfort of heavy rain, low tides and increasing swell we managed to get our guests back onboard safely with only a couple close calls! Home sweet home.
Everyone is now dry, warm and getting ready for dinner. After dinner we'll try out a night dive on the leeward side of the island.
Weather today was overcast with periods of heavy rain, clearing early evening for about an hour of sunshine.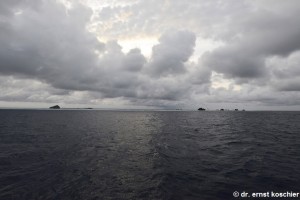 – Captain Gordon Kipp