Our first great white shark of the season at Guadalupe Island. My heartbeat was going 100 prm and made me feel ALIVE!!!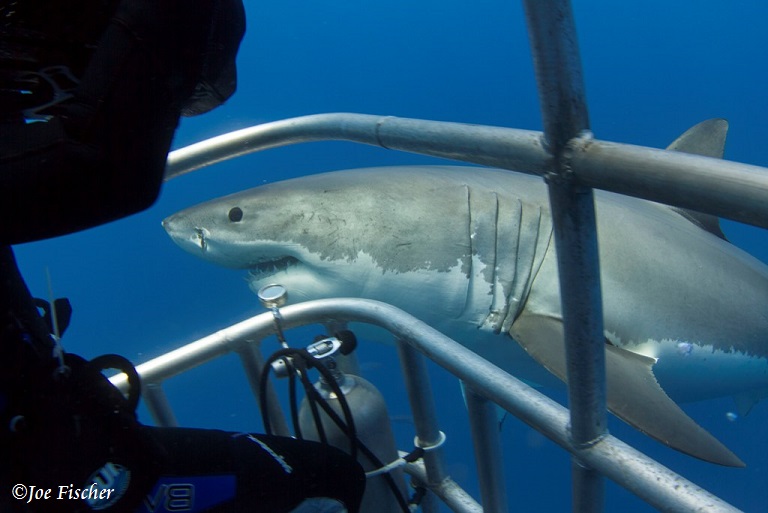 How do you like TORO from Guadalupe Island onboard the Nautilus Explorer?
July 30th 2013
I think he is really cute!! He poses well and he is very photogenic!!
– Emily Lever
We may not have seen any great white sharks today but we saw sea lions, storm petrels, dolphins, whales and my highlight was at the end of the day when Toro came for a visit!  He's a sea lion that climbed on the back deck and stayed for a while kindly posing for some great photos.  We arrived at Guadalupe Island last night after a great crossing.  The weather couldnt have been better.   It is so fantastic to be out on the boat again with such a great group of guests and an awesome crew.
– Mary Anne Lever
How do you like the white sharks of Guadalupe Island?
July 31st 2013
First white shark of the season and we get to be the first ones to watch him cool!! 10ft male very interested on our 2 person cage and then it went towards Juan, the only one by the 4 person cage; after that he just gave me the cool hand sign (AWESOME I love it Joel) Juan said.
– DM Joel IHO
Joel found the first great white shark today, after not seeing anything yesterday.  After much anxiety.  Finally we got a BIG GUY today after a quiet morning I was watching our guest's in and out of the cages, when Joel was finishing one dive, he just saw beneath the surface level unique shadow approaching for starboard in our direction suddenly this borrow becomes a awesome 10ft male!! In that moment all all of us at the dive deck shouted "SHARK" at same time and the action arrives to our vessel for first time on this trip. I did the next dive and this shark was little by little getting more interested in us after being at the surface near to the boat, it started to come to the cages closer and closer till it was next to the bars from both cages and we had our heartbeat at 100 prm and the feeling of this experience came back to me since the last year and make me feel… alive again!!!!
– DM  J.J.