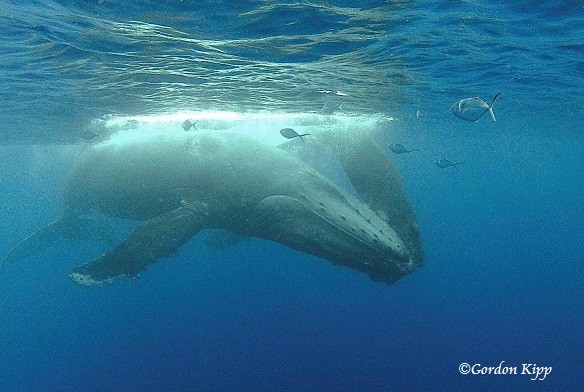 Our last dive day of this Socorro Expedition had us back at the island where we started the trip – San Benedicto.
Sun was shining and the water a beautiful blue for our morning dives at the Canyon. A small group of dolphins were playing at the surface nearby as we suited up for our first dive. Down at the cleaning stations we saw several hammerhead sharks cruising around, including some beautiful profile views of their unmistakable shape as they passed by overhead. A couple of small silver-tip sharks were also hanging around.
On the way back to the anchor line we encountered a big black giant pacific manta, who cruised around and above all of us for several minutes. For our afternoon dives we headed up to the Boiler where we enjoyed two great manta dives. There were at least 4 individual giant pacific mantas hanging around the rock, circling around and over us in their friendly way. One group of divers who swam out away from the rock a little were rewarded with a small school of hammerheads that made a couple of fairly close passes. On the last dive of the day some of us encountered a school of about 40-50 really BIG yellow fin tuna parading past just above us.
In between our afternoon dives we enjoyed our first humpbacks of the season at San Benedicto. We observed them slapping their tails about half a mile from the boat, so we all jumped into the inflatables and headed out to get a slightly closer look. All was quiet with everyone craning their necks to see where they would surface next. Suddenly one of the adult whales exploded from the ocean in a full body breach in full view of everyone! We finished with a cold beer in the hot tub,  watching the sunset before dinner until it was time to start making our way back to Cabo.
-Captain Gordon Kipp
Diving conditions: water temp 24C, viz 80ft plus with some pockets of low viz (40ft) at the Boiler, mild to moderate current.
Surface conditions: Sunny and warm, air temp 28C, moderate breeze