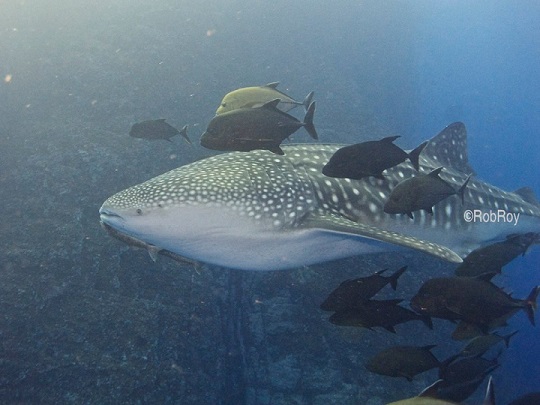 San Benedicto Island…
A smooth crossing.  Water temp 77, vis 60 to 80+.  Saw hammerhead sharks, giant Mantas, Galapagos sharks, maybe a Tiger shark, and other sharks
15 Jan, same conditions; diving uneventful.  Dove the boiler, north and south points and the canyon. Saw maybe 10 octopi on last dive. Also two trumpet fish doing mating dance earlier in day.

Roca Partida. Jan 16 through 18.  Vis same as San Benedicto; temp 77 to 79.
Conditions calm. Current low for Roca Partida. Conditions calm.
Saw Mantas on first day.  Whale shark on second day.  Lots of Manta action on third day.  Many sharks all three days. Galapagos, Silver tips and schools of hammerheads.
The third day of diving Roca Partida could be considered very good by worldwide standards. Exceptional really.
Also Tuna, Wahoo and many Jacks.
Conditions continue calm on way home.

Excellent job by the crew.

-Dave B.