I realized that three pairs of humpback whale eyes were watching me through the water. And that they did not mind my presence at all.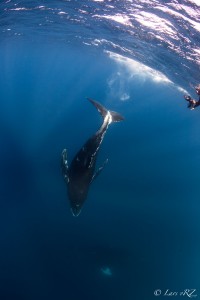 CABO (PEARCE) ROCKS
THERE ARE JUST NO WORDS TO DESCRIBE TODAY. SNORKELING WITH THE HUMPBACK WHALES FROM MORNING TILL AFTERNOON AND LOOKING RIGHT INTO THEIR FRIENDLY EYES. THANKS TO THE AMAZING NAUTILUS EXPLORER CREW WHO MADE THIS DREAM COME TRUE FOR ALL OF US.
INA K. & HERBERT F.
A DAY WE WILL NEVER FORGET. IT BEGUN EARLY, WITH A SCHOOL OF HAMMERHEAD SHARKS AND A PLAYFUL GIANT MANTA FOR AT LEAST 15 MTS. BACK ON THE NAUTILUS EXPLORER WE HAD TO REALIZE, THAT THERE WAS A HUMPBACK WHALE MUM, A CALF AND AN ESCORT JUST BESIDE THE BOAT, WITHIN LESS THAN 10 FT., JUST WAITING FOR US. IN THE WATER WITH FINS, MASK AND SNORKEL, I ALMOST SUFFERED A CARDIAC ARREST: THE THREE OF THEM JUST BELOW ME, GAZING IN MY DIRECTION, THREE PAIRS OF WHALE EYES ON ME. AND THEY DID NOT MIND MY PRESENCE AT ALL. THE CALF CAME UP, EVERY THREE OR FOUR MINUTES TO THE SURFACE FOR BREATHING WITH THIS AMAZING, CUTE SOUND WHEN IT TOOK THE AIR IN. THE CALF BECAME CURIOUS AND INCHED NEARER AND NEARER. AFTER EVERY APPROACH THE CALF DOVE BACK TO HIS MUM AND COVERED UNDER HER HUGE BODY. THEN AFTER ANOTHER 5 MTS ALL THE THREE OF THEM CAME UP, BREATHED NOISILY AND SHOWED US THEIR MAJESTIC FLUKES. AND THEY CAME BACK AGAIN AND AGAIN. IN ANOTHER THREE DIVES WE HAD GALAPAGOS SHARKS, COUNTLESS ENCOUNTERS WITH THE GIANT MANTAS, OCTOPUS, AND ALL THE TIME SURROUNDED BY THE AMAZING SINGING OF THE WHALES. AT THE END OF THE LAST DIVE A SCHOOL OF AT LEAST TEN SPINNER DOLPHINS JOINED US AND LITERALLY DANCED WITH US THROUGH THE OCEAN UNTIL MY AIR RAN OUT.
THANKS TO CAPTAIN GORDON AND HIS CREW FOR THIS UNFORGETTABLE DAY!
BENJAMIN L.