Oh man, we had the privilege of having Wyland onboard the Nautilus Belle Amie recently. He is an amazing guy; artist, painter, sculptor, photographer, composer AND scuba diver and (lover of the ocean). It was a real pleasure to dive with Wyland and get to know him. Our beautiful Belle was in need of some good karma and lots of LOVE after her recent launch and Wyland graciously stepped up to help drawing a turtle for good luck on one of dinner plates (which we promise not to sell on eBay!).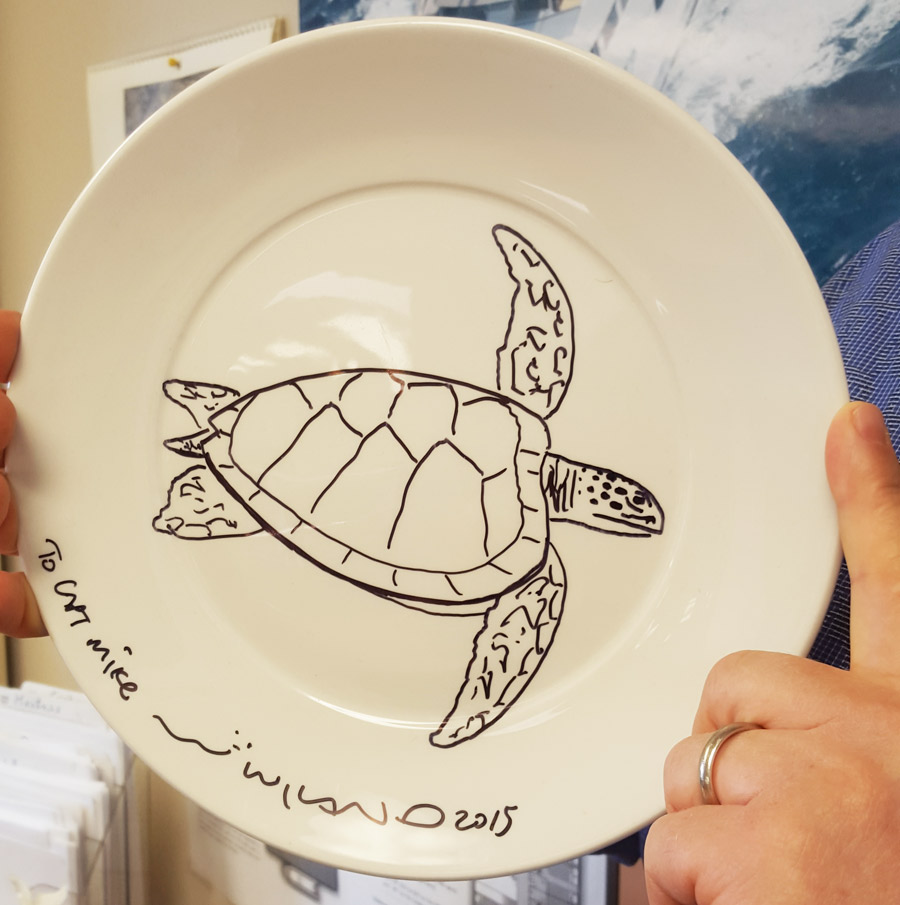 But wait, there's more! "Wyland has changed the way people think about our environment when he started painting life-size whales on the sides of buildings in the 1980's…. he has become synonymous with the new generation of awareness about environmental conservation" and has completed over 100 giant murals on the sides of buildings and painted with over 1,000,000 kids in 50 countries. www.wyland.com. It was a thrill for me to help Wyland experience MANTA LOVE at Socorro Island. Manta love – hard to describe – an unforgettable experience – impossible to forget. Hats off and huge appreciation and thank to Wyland for sharing his rendition of a giant manta floating across the top of the Belle Amie.

Now that's positive karma!! Wyland had the full experience with a big beautiful manta showing him all her love and understood our need and compulsion to help and love these giant manta rays. Part of this is raising money to fund scientific studies, an ongoing identification project and conservation work. This manta image will be available for sale in the near future with 100% of the proceeds going to the Socorro Conservation Fund specifically focussed on manta projects. MUCHAS GRACIAS WYLAND!!
Manta love baby
Captain Mike
ps. funny sidebar. When I was out on the trip, I told our boat op's team back in Vancouver that one of our guests had painted "graffiti" on the side of the Belle (sorry Wyland :). They were very upset. Fast forward to getting home and showing them the video of Wyland painting the video. Their anger quickly switched from the "graffiti" to being directed at me and my apparently bad sense of humour..