It feels good to be back again starting the new season down here in Revillagigedo & Socorro.
I woke up at 230 am this morning with first a couple of drops of water I usually sleep outside since many years on boats) , sat up and then the sky opened to a tropical downpour, I scrambled inside.
Living here in Baja this has been a crazy year! I never seen the desert so green since I came here year 2000, a friend came and visit me and said Sten this is not a desert its a jungle. We had so much rain , lightning like it would be like being in Central america. And now this trip we are cutting one day cause we have a tropical depression that headed to Socorro. Our crossing is calm as we are ahead of it thanks for our weatherr models that we get downloaded from the office. And of years of experience actually from Mike Lever an since long time pilot we get input for forecast. Strange is that this time of the year its not normal.
We have had a trip of great white sharks in Guadalupe , Sealions in Cedros and finishing up with Socorro in 84 F /28 C warm water. Started in the boiler in San Benedicto with 100ft viz and 5 giant pacific mantas on the first dive.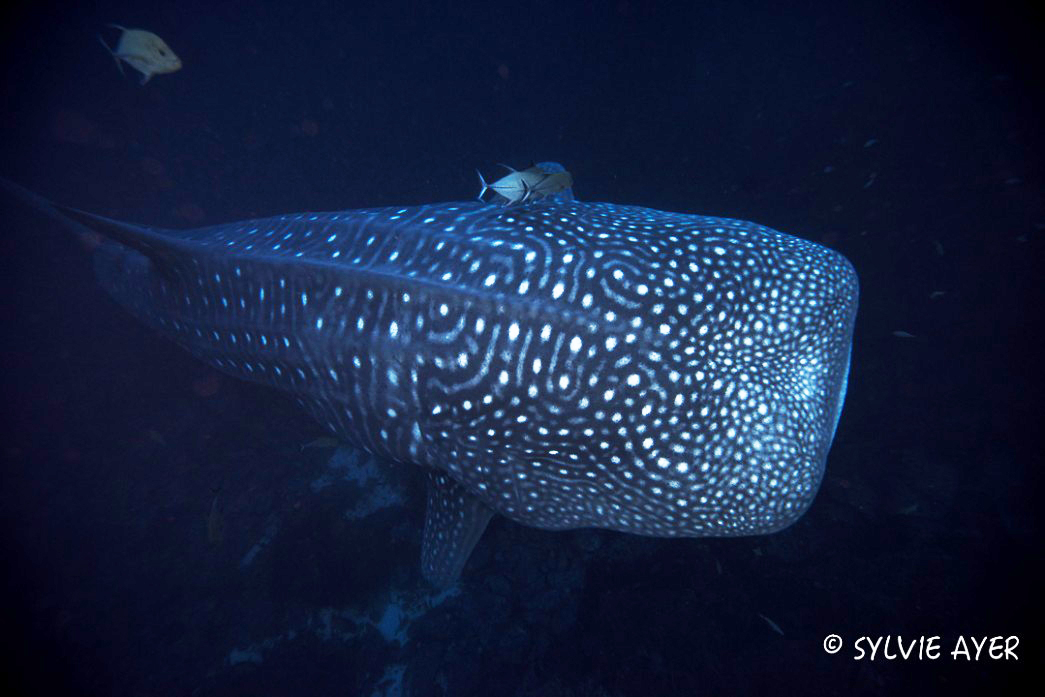 In Roca Partida a monster pregnant whaleshark turn up from the abyss, some divers totally forgot their MOD on their Nitrox gas in their tanks and with the very clear 120 ft viz fell far to deep down mesmerized by the shark, I got busy there for a moment picking up divers, you really have to watch it in Roca…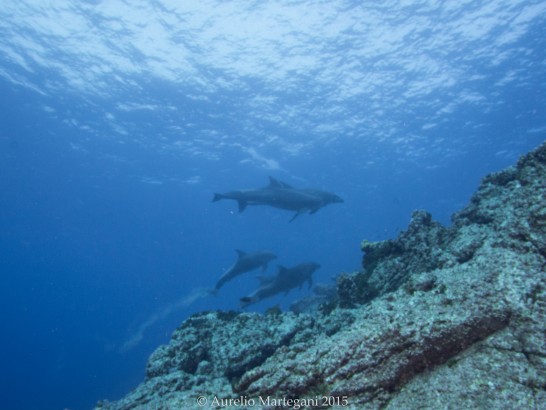 Socorro gave lots of mantas getting cleaned by clarion angelfish on Cabo Pierce, again the water was clear and blue as well yesterday finishing up by the Canyon where we got visited by a gang of bottle nose dolphin. By a rock down by the cleaning station I was happy to see a big white dotted green muray eal I learned to know 11 years ago, she is still there and she is big! They are said to live more then 40 years, she was big already 11 years ago.
We did spot some hammerheads, silver tips, silkie and Galapagos sharks by Roca Partida. But not so much. Water was warm and down to 60 m no thermo clime to talk about , we also had very little current. I saw a Oceanic Blacktip shark by the Canyon that is quiet rare. On the night snorkeling with the silkie sharks, a silkieshark had a satelitetag attached, wonder who put that one one, never seen that before over here.
It feels good to be back again starting the new season down here in Revillagigedo.
Starting an other season always curious what we will experience.
Guest has been great a mix from Germany , Italy , UK, Canada, Scweich and even from my homeland Sweden. BEing with my coworkers been great in cooperation and friendship from us old dogs to new guys hard work been making it fun, We sleep good at night..:)
Ups ! Just finished writing this up on the sundeck a spermwhale laid on the surface took a big dump and dived down to the abyss…