Regularly hailed as one of the top diving spots in the world, Roca Partida, part of Revillagigedo Islands in Mexico, is an oasis in the 'desert' ocean for marine life. Following Part I of Elizabeth's diving adventures aboard the Nautilus Belle Amie, discover her aquatic escapades diving the sites of Roca Partida and San Benedicto, plus some rather unique manta ray behavior…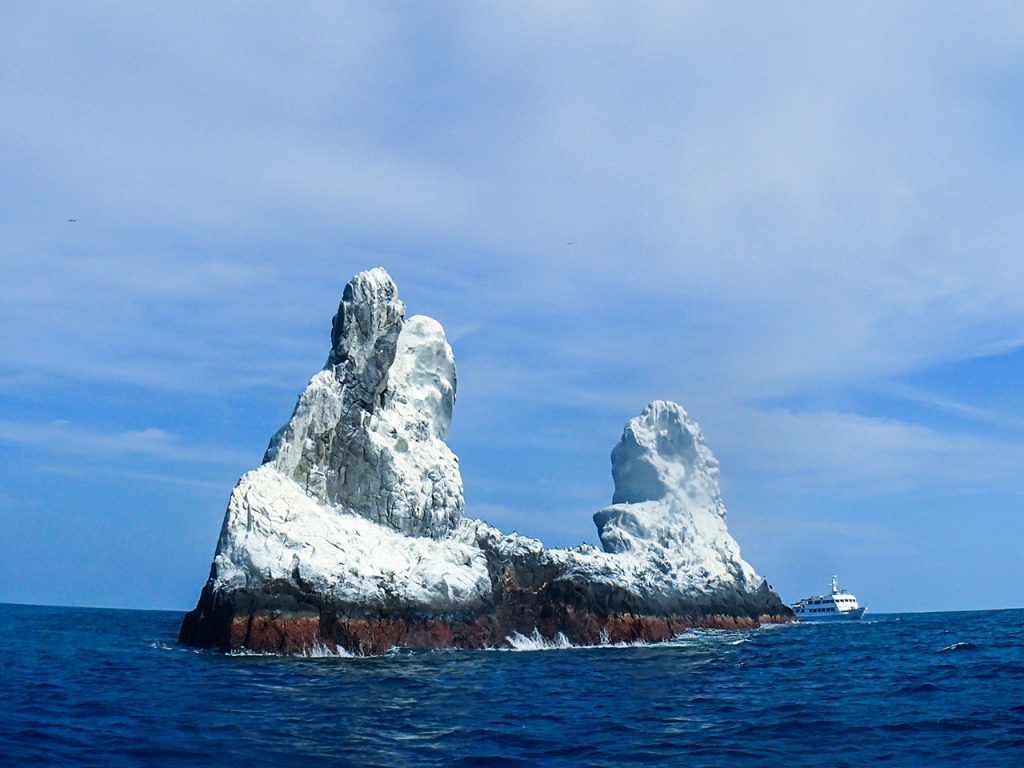 Unbeatable Diving: Roca Partida
WOW, WOW, WOW – what an amazing tiny rock in the middle of the sea. Covered with white "snow ", it looks like lava just pushed its way out of the sea. Roca Partida means broken rock, it is an oasis for birds and more sharks and fish than you can imagine. The first dive took us around the rock, all sides had different attributes. The enchanting Celina was our dive master. Conditions were excellent, great visibility and oh my gosh, if you love sharks, this is where you want to be. The ledges in the rock are very special, you'll have to see it for yourself, I won't spoil it for you.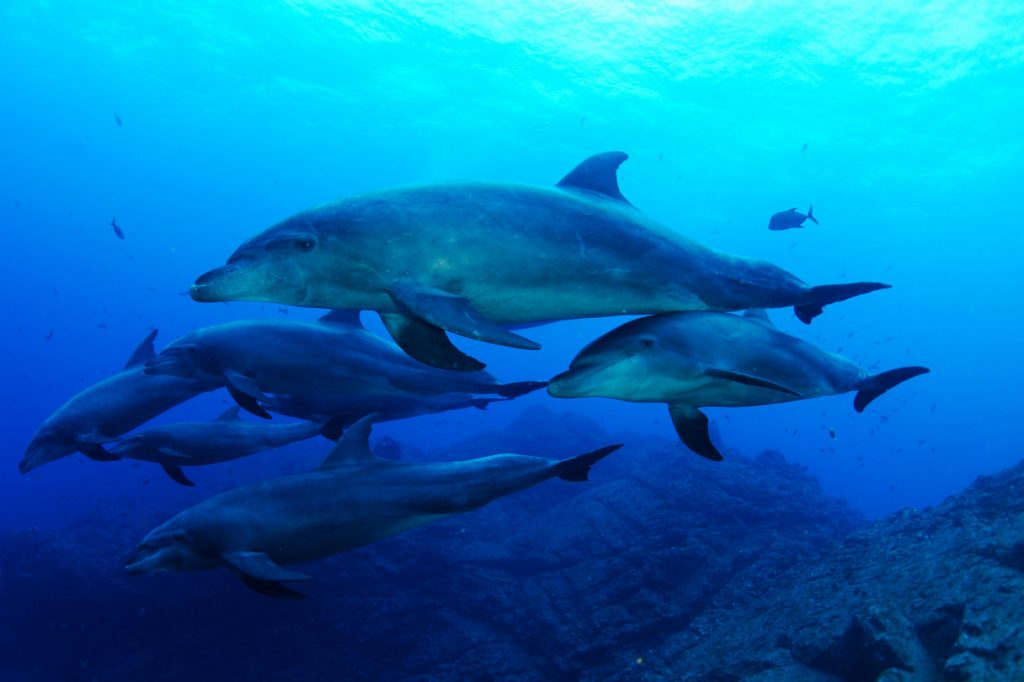 Spotting My Favorite Animals…
Faint sightings of hammerheads and an occasional manta did a drive by, but the real attractions are the sharks, crustaceans that make their home on the vertical faces of the rock, the massive schools of diverse fish that circle the rock, and the shark nursery – yes, we saw lots of babies. Selfishly, I have not made a secret of my love of dolphins and how much I want to see them. We could hear the clicking and Pascal and Xavi had their heads of a swivel trying to find them. We all took off on a tear after Pascal got a read on them, a few baby dolphins made a brief appearance, riding the waves around the rock. I have high hopes for Benedicto.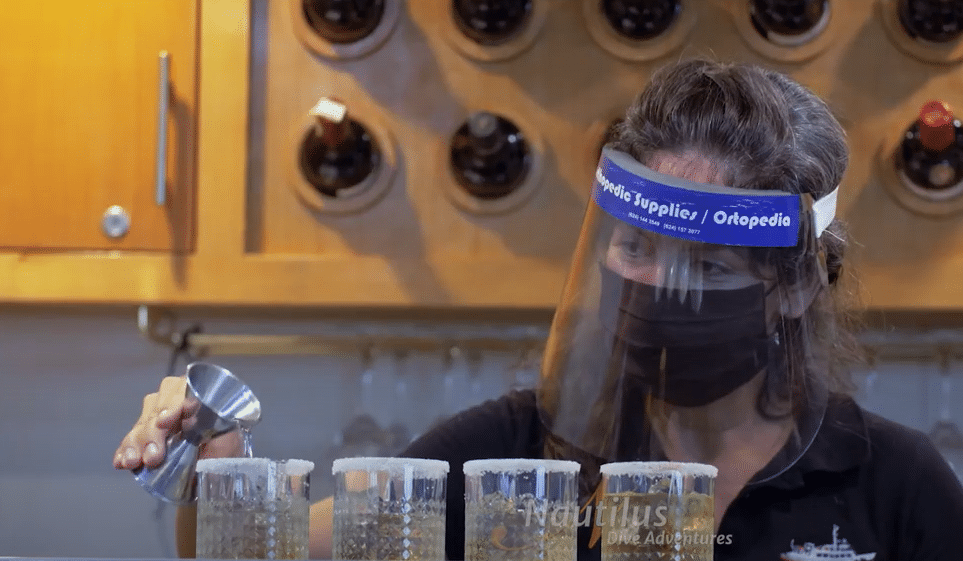 Hostess with The Mostess
The skiff rides out are very quick here, which makes it super convenient. We were lucky with the weather and again, Favi, Jen, Laurentina – our fabulous hostesses – and our Chef, Gerardo, spoiled us with excellent meals and service. A special shout out to our captain, TJ, who is easily the most excited person before and after every dive.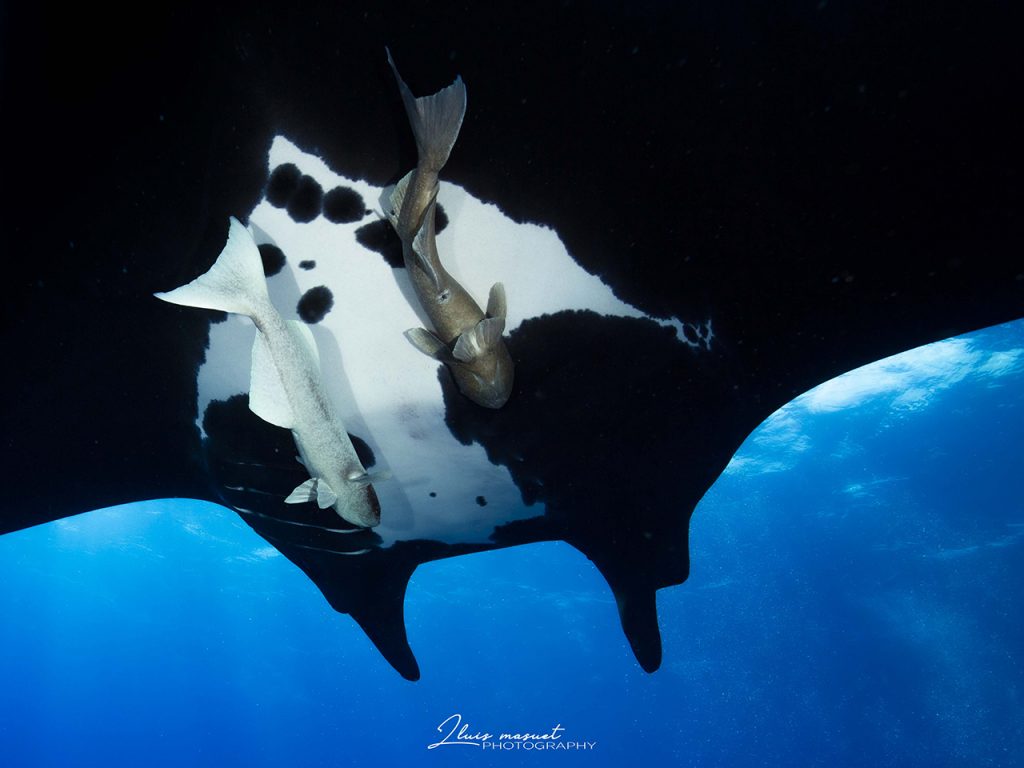 San Beneditco: A Mantas Bubble Bath
After a first great day at Benedicto, it was hard to imagine what this day around the big island could bring. It did not disappoint. We headed out with Christian, aka Gato, and spent the morning frolicking with giant mantas. The terrain and presence of divers seemed to be the perfect match for them. The mantas truly seem to want to engage with us, or maybe its our bubbles. They make loops around, occasionally divert to chase each other, but always come back to their favorites, the dive masters. On the second dive of the day, three mantas flew at us at once, it was like seeing aliens from outer space. I kept hearing Sci-Fi soundtracks in my head. They all have different white markings, and the black mantas are rare and equally beautiful.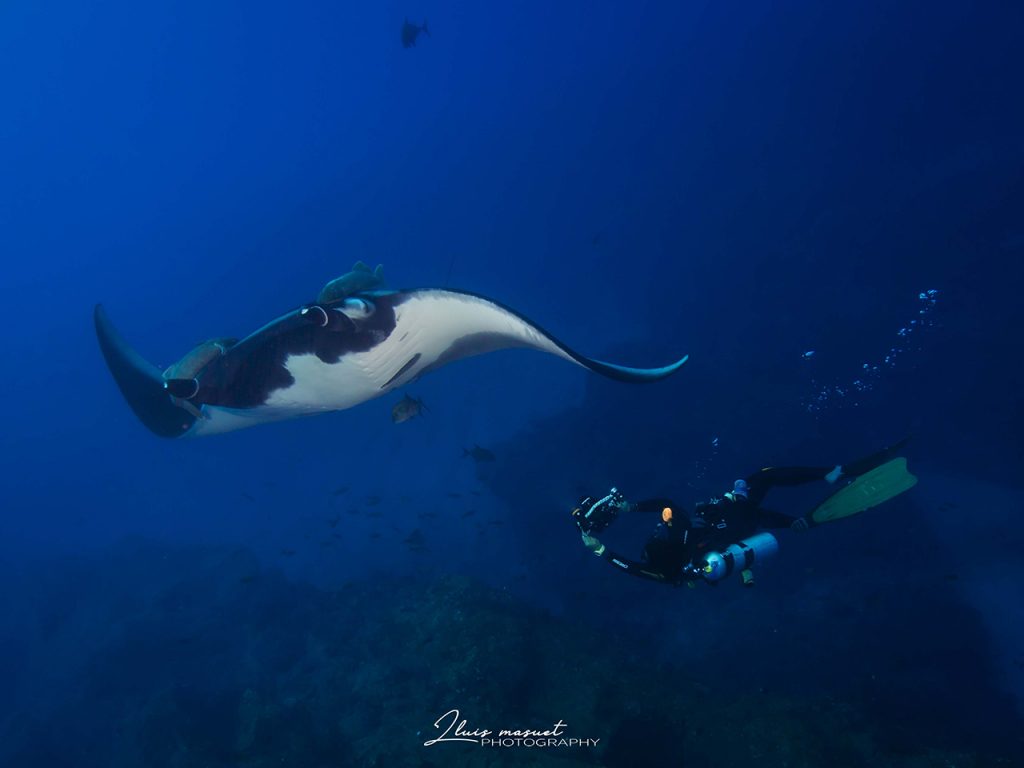 San Benedicto: Manta Ray Behavior
Our last dive was with Xavi and the last thing he said as we entered the water was, "are you ready for me?" Xavi summoned his manta, who was happy to play. She stopped right on top and stayed perfectly still as she got her bubble bath. This happened three more times, so it was no fluke! At one point, I thought she was trying to drown him as she was pushing him lower and lower. I learned later that if a manta stops swimming, they sink. I would say she was really enjoying herself. It was amazing to see. Socorro gets 5 STARS for mantas and their antics and the crew was amazing as always.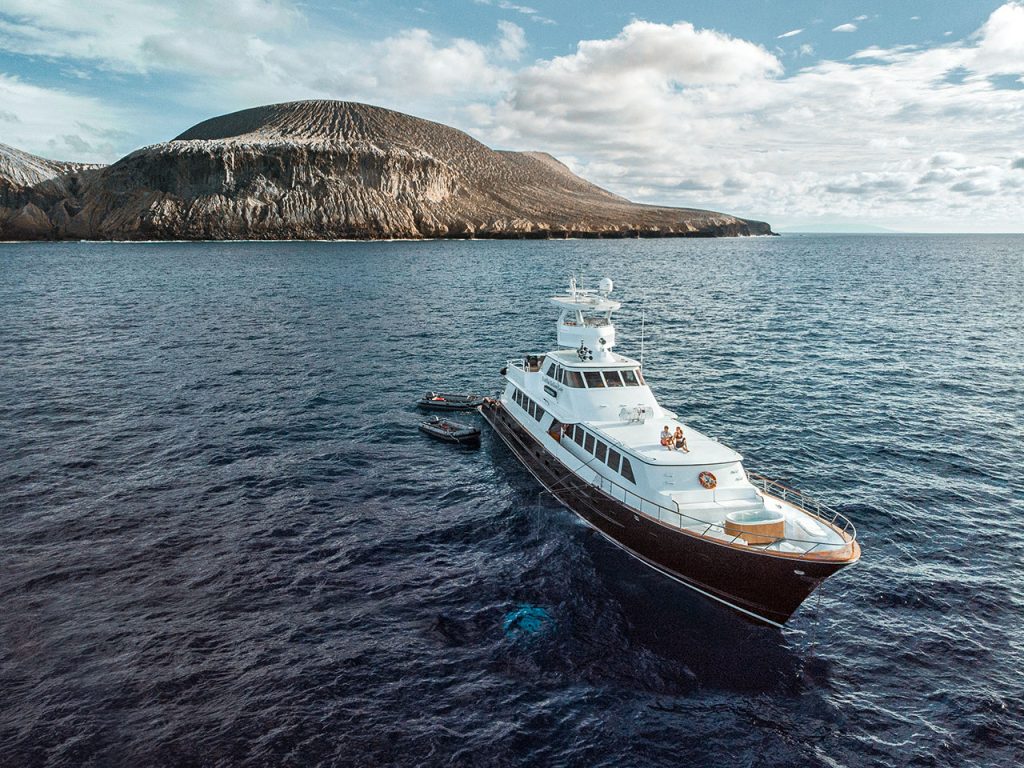 Life Aboard the Nautilus Belle Amie
The Chef was grilling beef on the sun deck when we returned and it filled the air with the most glorious aroma, as a southern girl, I love anything on the bar-b-que. After dinner we enjoyed swapping stories, mostly Steve's, and looking at the amazing videos and photos. We were on the move for Roca Partida at nine and sleep settled over the Belle Amie.
Dive Briefings are excellent too, the white board has excellent drawings of the topography and the information is really interesting – word to the wise, DON'T BE LATE! Also, the Belle Amie crew runs a tight ship. This is an operation, it is super organized, efficient and you know that their first priority is everyone's safety. For my first liveaboard, this is an amazing experience.
Read Part I of Elizabeth's diving adventure in Socorro aboard the Nautilus Belle Amie and stay tuned for Part III, the grand finale…
Want to witness this unique manta ray behavior with your own eyes? Get in touch and join us on a voyage to dive in Socorro.
Image credit: manta ray imagery, Lluís Masuet; Nautilus Belle Amie, Bugs and Bears