Diving with resting humpback whale mother and calf!
We decided on our extra long trip to take out a third day at Roca Partida and we did not regret it!
The dives had been good and the whaling even better! On the 4 dives that we did today on all 4 we saw whales!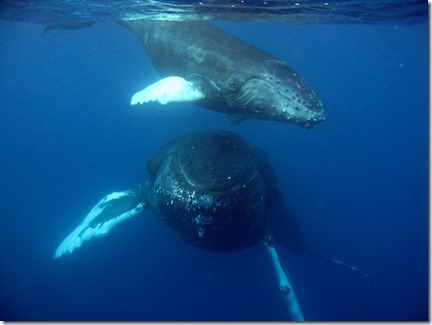 Photo by Volker Siedt
We had a cold thermo-cline pass by and suddenly we where surrounded by Galapagos , hammerheads and silvertip sharks. It all came at one time and did not last for more then 5 minutes and they where gone.
We where happy with that and started to ascend to the safety stop when I spotted something out of the rock, It was the pectoral fin of a mother humpback, We approached slowly and on 60 ft of water there they where! A mother resting and a calf just coming down to her cuddling up under the chin of the resting mother.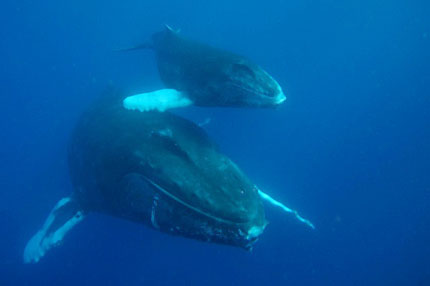 Photo by Sten Johansson
I hardly dared to either breathe or move and the current pressed me closer to them that I slowly and carefully wiggled a bit away from them not to spook them. we where several being able to see this magic moment for a few minutes until the mother slowly rose up to the surface to breath and slowly went away in to the blue…
This is the best whale encounter I have had on scuba gear. It is breathtaking and some of us came out of the water crying.
Surface conditions ; Sunny , calm seas 26 C Underwater conditions : Low current , temp 22C 73F  Viz 15m-25m. 50-90ft
Dive guide
Sten Johansson