First day at Roca Partida.  We were very excited about this first dive since at Socorro Island, visibility was not so good. We jumped into the water and the first thing we spot is a bulky silver tip and a big lonely tuna surrounded by many jacks. Plenty of jacks and other fishes, pretty good visibility, and very very good vibrations. As soon as we reach the south end of Roca Partida, two bottle nose dolphins came around to welcome us, very friendly. Also a big Galapagos shark was around, a bit too deep though to see it clearly. We only missed the hammerheads in this first dive.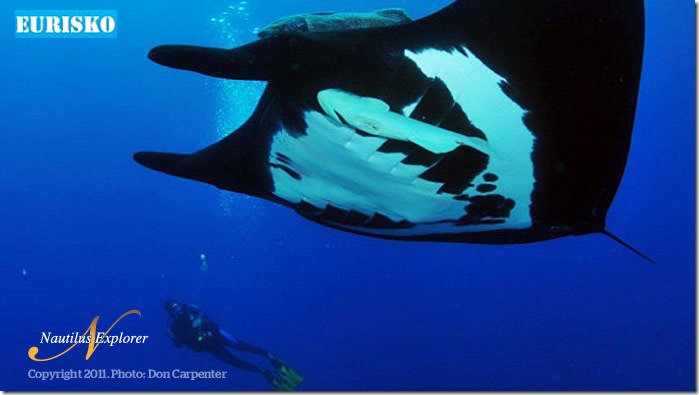 But to sum up, this is a great place for diving. Amazing life variety and shark seeing guaranteed. We hope this goes on for the next dives/days.
-Gabriel-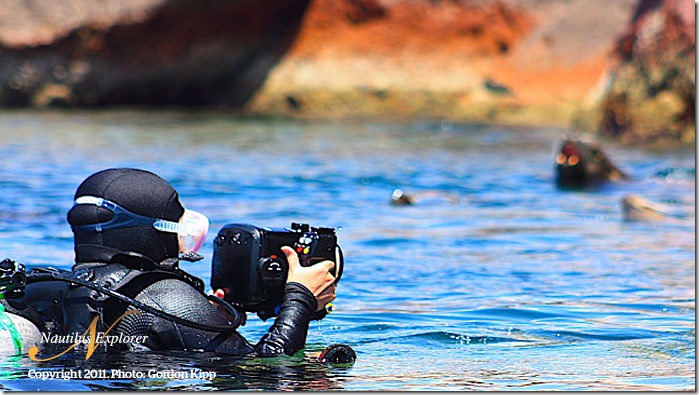 Dr. Maurizio Hoyes Padilla and I were the first two ready at the designated first dive time of 7:45AM and we entered the skiff with no other takers.  We knew what lay ahead, the penultimate diving of the trip at Roca Partida.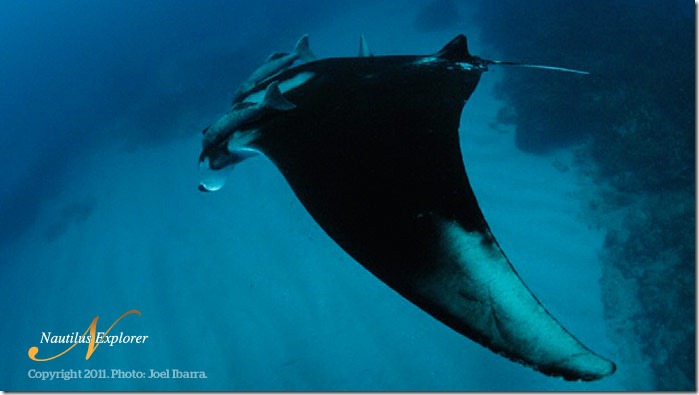 Captain Gordon confirmed and launched us towards the North side of the bunny eared rock pinnacle, destined for the far cove which would start our dive at Roca Partida.  As soon as we arrived, Gordo counted down and we back rolled into the blue.  Tapping me head in positive confirmation, off we went.  Dr. P had brought his tagging stick to attach tracking devices and he went seaward, away from the rock just  a little.  As my eyes followed him I saw just a few metres beyond him a large Yellow Fin Tuna passing by. Over a metre in length, the YFT dwarfed Dr. Padilla but was followed by a school of juveniles more equally matching his diminutive size. We headed CCW around the rock and I pushed on to the leeward rock ledge where we had such great success on our previous trip years before.  As we rounded the corner a Galapagos Shark spied us and passed over the 110ft ledge in the same direction we were going.  As we proceeded down the length of RP, a large Silvertip shark swam at us for a close up view.
Scott