"Dive of my life", "Spiritual", "Ruined for life about diving elsewhere", etc. Socorro, Mexico. May 23, 2012.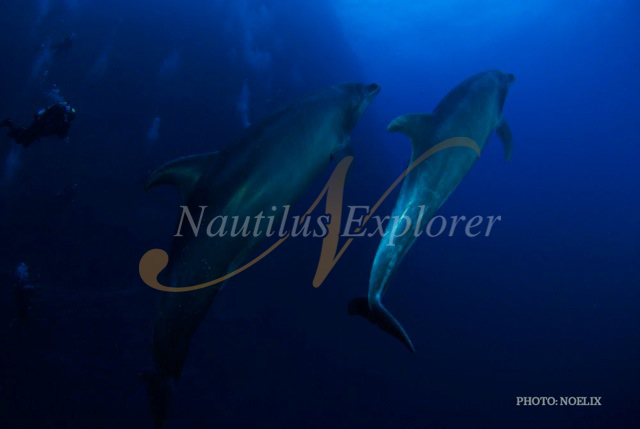 Captain's Log:
We made an overnight run out to Roca Partida. Currently we are anchored on top of the remnants of a old volcano created eons ago. It is 270 nautical miles (430 Kilometres) to Cabo San Lucas on the Baja and just over 400 NM (650 KM) to Puerto Vallarta on the Mexican mainland. Although this is a special place all the time, there are times it is magical. Today has been one of those days that dreams and fantasies can only conjure up. Many of our guests have come out of the water after the first dive talking, dive of my life, spiritual, ruined for life about diving elsewhere, etc. So what was the fuss about? First dive, sunny side of the rockpile, hammerheads, galapogos, silkies, white tips, silver tips and then what should come in playing on the waves but a large group of dolphins. They were here with their babies playing with the divers, face to face literally inches away and they stayed for most of the dive. Is it always like this? No, sometimes it is only great or excellent but maybe not magical. I can say however that magical happens a lot out here. Temperature today is 27C sunny skies with water temp of 72 F or 22 C, vis was 80-90'+
Enjoy your day, we will out here!!
Captain Al
—-
Guest blogs:
How was your dive at the boiler??
Where do suddenly all the birds come from? The island of San Benedicto can't be far. Captain Al calls us to the bow and there are the dolphins swimming and jumping. What a way to start our Socorro holiday. Finally the first dive at el canyon, the water is colder than expected, the visibility a bit poorer than imagined. But when you get hammerhead-sharks on your check-dive nothing really matters anymore. Some even saw a manta. Next dive, same place, same creatures. Wow! Forgot about the food, the plans of losing weight are thrown over board the first day. Or as the crew says: Enjoy, you are on a holiday. I will and I will be dreaming of mantas at the boiler before breakfast.
Stefan.
—-
A day at The Boiler. Wow, I'm in love. Saw a manta every time we went into the water today, the first hung out longest, at least 10 minutes I would say. Visibility got worse over the day but that didn't keep us from looking out for those magnificent creatures. Wild currents, loads of fish, big lobsters, massive moray eels and beautiful octopus, we got a lot today. I personally only missed out on the piled up white-tips, perhaps I didn`t go deep enough. Off to Roca Partida now. In the words of the Terminator: I`ll be back!
Wiebke, 32, Germany.