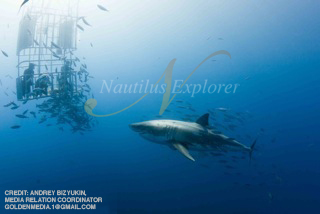 I like to send you a short feedback of our client Joachim  who has been visiting the Nautilus Explorer on the trip 11th May 2012
Mr. Z called me a few days ago to tell me the following:
"I was extremely surprised about the professionalism of the crew, the dive boat and the entire process during my stay on the Nautilus Explorer.
The way the crew let us dive was for me something new, as I could dive as long as we wanted, how we wanted and with who we wanted. The very
Well experienced dive guide on the boat made the trip to a unique adventure for me. The dive sites are fabulous and we saw everything what I expected. Even we could not dive at Socorro Island, cause of some U.S. training, the trip was a whole success. The entire crew was very helpful
And very nice to each of us. Even the food was the best I have ever had on a liveaboard. For me its absolutely necessary to return onto that boat
For another trip in the future. This liveaboard trip was the best I have ever experienced in my life… "
He has been on plenty Liveaboards already and he knows what he is talking about J I just thought, u like to hear what a very satisfied and happy client of the Nautilus Explorer has to say after leaving Mexico. You really don't want to know everything he said, because I had him on the phone for not less than 90minutes J He was very very happy and will tell all his dive friends about the trip…
I wish you all the best and maybe we will meet again in Düsseldorf at the BOOT show 2013.
Enjoy the rest of your week.
Cheers