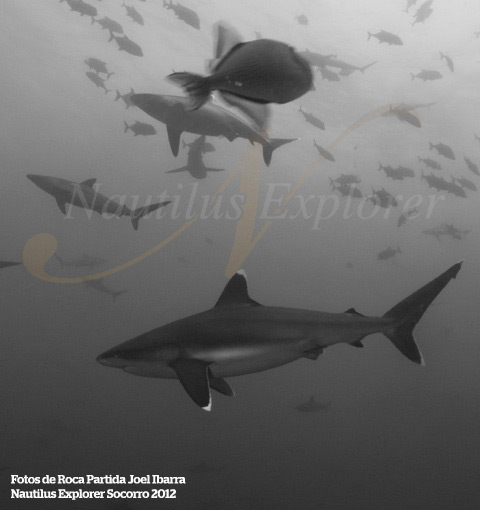 Roca was like diving in an aquarium, a school of fifteen Galapagos sharks, more white tip reef sharks than I can count, a moray eel lounge, a lobster that could feed a family of four, a couple of mantas and all in one dive. George.
Siccuramente uno dei posti piu bello dal mondo che ho visto diversi pesci, da piccoli ai grandi non si puo descrivere aldo (Italia) (english translation by tigre who is not only a scuba stallion but also a lyrical genius..surely one of the most beautiful spots in the world that i have ever seen different fish, from small to big it can not be described).
For a first liveaboard experience, the bar has been set extremely high, I don't know who else can live up to this. Elisabeth.
I was mad because I had a need to interact with giant mantas, and I make this trip for this reason, and I thought to myself, what if I don't get it∑.so I went diving with tigre at punta tosca the other day, and tigre gave me five mantas and closer interaction than I could have ever asked for. Manta heaven. Thanks tigre.  And roca is a sensory overload..also, the attraction of the depth, all the sharks, I just don't want to come up, ever. I can spend a week right there. Danielle (u.s. by way of france) I saw my first ever whale shark and I hadn't expected it, extremely close encounters with friendly mantas which I have never had before, groups of hammerhead sharks which I have never seen before.. allll firsts on this tripterrific..  paul (Holland)
Seriously, this is the best dive trip that I have ever had..the weather, the diving, the crew is absolutely fantastic. All my trips are dive trips and I have done soooo many, but this has been the best, absolutely fantastic! Thank you to the crew. Daniella (u.s. by way of france).