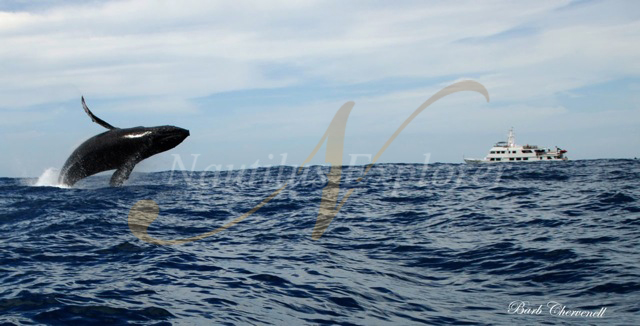 Os mergulhos foram fantásticos com muitas surpresas sub. A  embarcacao Nautilus Explorer e excelente e a tripulacao e  muito querida e atenciosa em todo momento.  Roca partida e um ponto que todos deveriam conhecer.  Todos os mergulhos foram muito especiais e inesqueciveis, com certeza levaremos pela vida toda e na próxima oportunidade voltaremos sem duvida.
Gostariamos de deixar um agradecimento todo especial aos tripulantes da Nautilus Explorer, sem excecao, por isso nao citaremos nomes, pois todos foram extremamente atenciosos e simpáticos e os levaremos para o Brasil em nossos coracoes.
Grande abraco.
Graziela e Anderson (Melao)  Brasil

Os mergulhos foram maravilhosos. A embarcacao e muito confortavel e oferece um excelente servico com sua agradavel tripulacao, que nos deixa totalmente a vontade, onde com certeza nos sentimos como se estivemos em casa, como em uma grande familia.
Foi nos oferecido um excelente servico, por parte de toda a  tripulacao.
Carmem e as meninas sao adoraveis e sempre muito divertidas e prestativas.
Adoramos os dive masteres  que em todos os mergulhos nos acompanharam e , deixamos um MUITO OBRIGADO ESPECIAL A JOEL E JEIJEI.
Saibam que teremos todos sempre em nossas lembrancas e com certeza em uma próxima oportunidade, voltaremos e lhes indicaremos a varios amigos.
Grande abracos e saudades
Solange e Marco – Brasil

Minha viagem foi fantastica, a tripulacao e muito atenciosa, o barco fantastico e os mergulhos um show a parte! Ja vou planejar a mina viagem ao Alasca!!!!!!! -Andre Hecksher (Brasil)
After 25 years of diving and 5 live aboard, Soccoro diving on the Nautilus Explorer came on the top of list as our #1 dive trip ever!  Our favourite site is Roca Partida: sensory overload between the giant mantas, the sharks and the tunas.  Overall, rating the destination, the diving, the crew and the boat, it has been the best trip ever.  Highly recommend it!!!