Looking back at our last Guadalupe white shark trip of the season – the gorgeousness of this trip rests on the extraordinary crew. I loved all of them. Carmen especially!!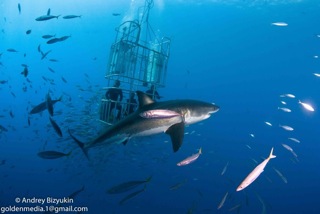 I loved them all, every one in their own certain way! Maybe I loved Carmen especially – even though she tries to feed me more and more calories every day. A couple of weeks on this ship and I would look like the average "normal" US American! Que horror! Divemaster Tigre is un encanto, too – I wish I would have his always good and overwhelming good mood. Joel is wonderful. The cook very friendly and handles the food very very well! Everybody behaves with utmost friendliness; polite, professional, clean, safe.
Who is Mike? If he is important, I hope he makes sure that this most wonderful crew is paid properly!
Dear Mike: the gorgeousness of this trip rests for me solely on the extraordinary friendliness of the crew. All of them! From deck hand to captain. All are always friendly, all are truly incredibly hard working and always keep a big friendly smile on their face. Regarding the diving – with 24 passengers it is just not pleasant any more to dive. This is simply too much for a diving operation. As my brother once remarked when I wanted to bring a nice cake for a party of too many people: don't do it, then nobody has any benefit of it any more. Falling over a reef with 30 people makes any diving more a nightmare. I have to admit that I didn't read the small print when I booked (many years ago), otherwise I would never ever have booked a trip with so many passengers on board. So, forgive me, Mike, chances are very dim that I will ever return as a client. I had booked, a long time ago, because several fellow divers that I had met all over the world had praised the Nautilus Explorer a lot (there you go: many experienced divers you made very happy). The White Sharks I was not terribly interested in (and, now you will believe that I'm a complete fool!, I only heard last year in Polynesia from my buddy there that I was going to see them, from a cage – I had really booked the trip without reading the schedule thanks to your good reputation), and I'm a warm water diver, anyway… But I have to admit that it was an interesting experience. Mantas I had seen in other parts of the world much better, and the shark stuff, too (now you see I'm not only a fool but also spoilt!). So divingwise, I would say that for me the trip was not worth the money, really not, being the worst that there were too many divers aboard. I do not regret it to have booked the trip and I enjoyed it, because your crew was truly outstanding – well, several fellow divers told me that I was apparently their little favourite (and these things most times work reciprocall, don't they…?). I had the whole time friendly Mexicans around with whom I could casually chat, in Spanish, and that I really enjoyed (2 months ago skiing in Chile – there you see how spoilt I am!- the hotel was cluttered by 95% Brazilians and no Spanish chatting possible). But for much less money I could have, of course, spend a couple of weeks in Buenes Aires, too, chatting with whomever I fancied to chat. I see it as very positive that the crew became more "indigenous" for Mexico and less Canadian in the last seasons (as experienced follow divers told me who cruised with you before). The crew really did the best they could to manage the (too) many divers, and they did it well – in spite of this being very difficult. On other little naggings: I had cabin J, that's not pleasant close to the engine and the generator (as the snoring of my otherwise very nice buddy/cabin mate – but I won't blame you for that). Regarding the pickup from the (seedy, every worse than mine) motel in San Diego – you should really see that in the future somebody Spanish speaking is coming along; Karl had his problems on the border and it is not the duty of Mexican custom's officers to speak perfect English (rather take Joel than Tigre if the latter is hanging on to his (counter)revolutionary beard). May I remark that there seem to be a inverse relationship between rank in hierarchy and Spanish knowledge amongst the crew…? It would not be a bad idea to send the officers to a Spanish course… Forgive me this one long paragraph, but the program apparently does not allow for more structure… The diving operation was safe – and that was the most important issue, as always. The food is good, who complains about that should see to cook better first (especially under ship circumstances), the cook pleasant to talk with, too. I already mentioned that all of them work very very hard, and well together, there is a flawless pleasant atmosphere among the crew (well, one evening they asked me if I wouldn't like to work here, too – do I have to apply with you LOL?); we all observed quite well that popular Captain Tim drags as hard heavy bottles out of the zodiacs as everybody else, so he surely doesn't play the detached captain but works along in the trenches. I admit that having surpassed the middle of my life now, I appreciate it more and more when I don't have to drag my heavy equipment myself (especially not on a slippery sliding diving deck…) As quisquilia that I remember: 1) get some readable and not too primitive books; the ones here were dreadful (and keep them on board)
Hola Mike – your wonderful feedback program does not work. So your boys from the tripulacion told me to sign it (they seem not to bee too unhappy about it) – and you should buy them a Mac so that they can play with it and have a reliable computer on the ship.
Yes, yes, I would share house of flat with EVERY OF THEM (preferably all of them, that would be fun!) – and with my German co-divers probably none of them (well, I left most happily Germany almost twenty years ago).
Big hug (if you're as nice as the crew here),
Dr mult Jan Carsten RADEKE  and, yes, you're welcome to write back or come over for dinner at my place next time you come to London – Carmen and Tigre got my card, too, and were told to come and stay with me for a week to look through London!