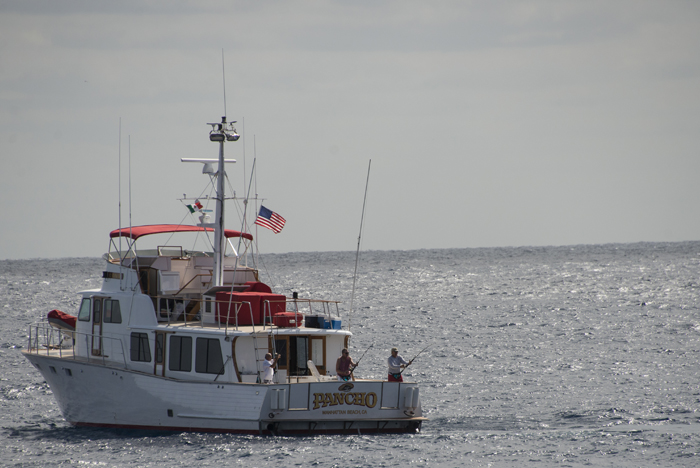 We are steaming north towards Cabo San Lucas and my mind is still unbelieving at what we have seen this trip. It has been like pitching a no-hitter or as close as you can get with Mother Nature.
For three days at Roca Partida we were entertained and enthralled by a mom and her calf(humpback whale) slowly swimming around the dive site, divers saw them diving, we snorkeled every chance we got. But it was not just the whales it was also all the other cast of characters that showed up. We snorkeled one day with probably a couple hundred dolphins chasing tuna. All of the sharks we can see at Roca Partida came to the party, plus we had Mantas.
We spent three days in Socorro which after Roca Partida seemed very slow and was hard to be in the followup position after RP but for the last two days we have been back at San Benedicto and it was a producer this trip as well. The joke on board was that we hadn't seen a whale shark or a tiger shark. Well we had two whale sharks for three out of four dives one day and the last day a tiger shark was spotted. The tiger shark would be the only imperfection for the whole trip as only 2 of our divers saw it and not the whole group. Everyone on board saw all the wonders of the sea this trip and it was mind numbing.
It was also humbling to watch the sea at its best, but sad to report we still have to fight to keep fishing boats away from the islands. we have seen a large tuna clipper working at the edge of the nucleus zone for the biosphere reserve. What's worse has been american sport fishing boats sneaking in to fish inside the restricted zone. We have photo's of these boats excellent evidence coupled with great support and cooperation in Cabo. These guys are going to get a real surprise when they head into port. if all goes according to plan, the most recent sport boat to fish illegally in the reserve is going to be arrested and the captain and paying guests will be detained. Hopefully with some time in jail. If you were a fisherman on the "Pancho" from Manhattan Beach, California, watch out and let us know how the food was in a mexican jail!!