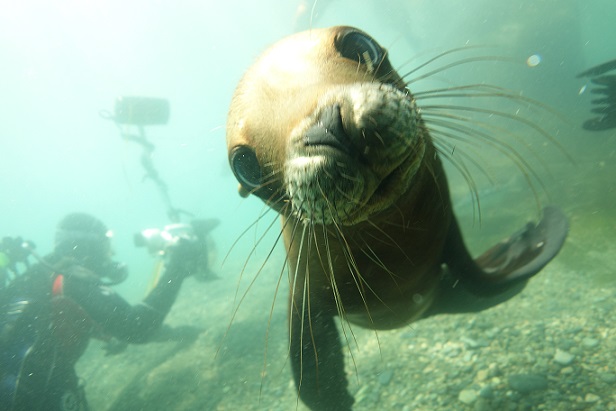 Hola…This is Silvia From the Nautilus Explorer, I being working for this great company and my friend, Captain Mike, for almost 10 years.  I have done trips from Sea of Cortez to Alaska, British Columbia, Socorro,, Clipperton, California and Guadalupe. And now we are doing Guadalupe season. This trip is a combo, one of my favorites, because after to see the great White Sharks, we sail to San Benitos and Cedros Island, where we can dive with Sea lions and the beautiful kelp . This is a picture of one of the colonies of sea lions in Cedros.
Here is a smiling babe sea lion saying hi…very playful and curious….I've done a zodiac excursion with two of our guests and it was very interesting to watch the behavior of these creatures. I'm surprised how the males protect their area when somebody approaches close to them. Very powerful animals.
The best thing to finish this trip, on our way back to Ensenada…..Blue Whales fitting!!!!!  Wow!!! First time watching this.. really crazy…. On this trip we have…great white sharks, sea lions, dolphins, mola mola, and blue whales!!!!!. What else I can ask for?