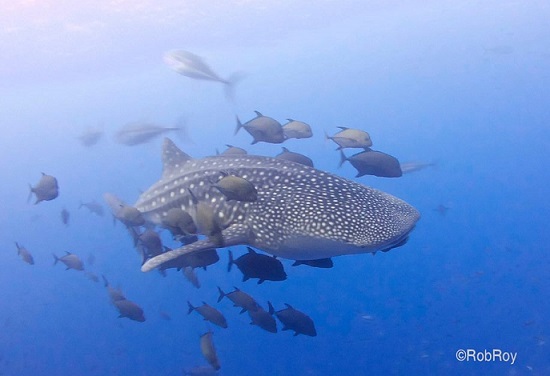 Wonderful trip. I've heard about the nice fish life in the Socorro area, but this exceeded my expectations. First day at the Boiler, we were greeted by giant mantas. They circled us multiple times until we had to start back to the boat. There was also lobster, octopus, and smaller fish too.
Roca Partida – we had good conditions for some wonderful dives. Lots of sharks (and some smaller fish too). Then a whale shark came by on one of the dives and swam by more than once. Oh, what a treat! And the mantas came and played with us. On our last dive, the mantas stayed around the whole time making sure that every person got a nice close look. Water temps were 75-79F the whole week. Awesome time. Oh, and the crew and food are great, too. Nice boat.
–Marty & Laurie

This was my 6th trip to the Socorro Islands and each trip seems to get better and better: many, many sharks & mantas,  dolphins, a whaleshark and healthy schools of fish.  While at Roca Partido, the Navy frigate came by to check out what we were doing..…. A very positive sign that the Mexican government is actively patrolling the area, looking for boats illegally fishing in the marine reserve.  I saw remnants of old fishing nets at San Benedicto, but these were all old, old nets.  No new nets, another sign that illegal fishing appears to be a problem of the past.  This may help to explain the abundance of sharks and mantas.  Joel the divemaster explained that all the dive boats have created a network of reporting any commercial fishing boat in the area to the authorities.  This has lead to the capture and seizure of the illegal fishing boats.  At this rate, the area will continue to get even better and better that it already is….. and it's already great!  I will be back.
-Ed Stetson, Santa Barbara
(note from Captain Mike –  Ed is being very modest.  He and others in this group were very proactive in helping with one particular illegal fishing event that led to the capture and seizure of a longliner fishing boat.  Huge thanks to everyone who was onboard)..