2 giant mantas at Socorro thought they were fighter jets coming in for a landing.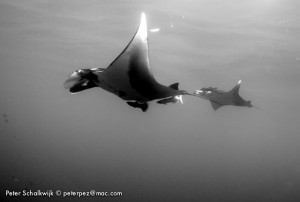 On this 4th day trip aboard Nautilus Explorer, after yesterday's Manta show on Socorro Island, we went back to San Benedicto Island to a new set of diving. Early morning we had a nice dive on The Canyon with our friends Galapagos, Silk and Hammerheads sharks that showed up! Now let's see what happens in The Boiler!
Menezes
Brazil

Day 4, 1st dive of day was easily the best so far. We jumped in and were welcomed by a few hammerheads at El Canyon. That was one to check of the list!!  The dive got better; numerous White Tips and Silky's also graced us with their presence, only to finish off the dive with 2  giant Manta's that thought they were fighter jets coming in for a landing. Excellent day of diving so far. Staff is one of the best! Looking forward to enjoying our last few days.
Ryan Meyer
Chicago

Amazing week so far – great people and wonderful experience!  Tons of sharks & manta rays!  Was overwhelmed with all of the
hammerhead sharks we saw on our morning dive today.  To top off the day, our final dive, at The Boiler, allowed us to "play" with 3 manta rays…  Boy did they love us!  The entire dive was spent with them, even as we were getting into the boat!