I spotted a sperm whale logging on the surface halfway to Socorro!!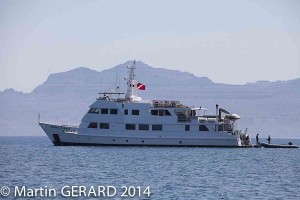 Good to be back in the Mexican Pacific after starting the year on the Swell in BC.
First day of the trip in transit to the Socorro  Islands I spotted a Sperm whale breathing on the surface.  Slowed the boat and approached close but not too close.  It was a large male breathing frequently before showing his tail and going for a long deep dive. Great tail shots for the cameras on the bow!
Went diving at Roca Partida. Was awesome, 2 whale sharks, maybe 3.. first jumped in and swam around the boat a sort of small one doing circles around the Explorer, guests snorkeling with it. Then on the dive a smallish one (for a WHALE SHARK) and larger one maybe 7m, nice clear blue and warm, I dove no wet suit and was fine for 34 min.  Great contrast from dry suit diving in BC. Looking at fish then a whale shark would swim by and I 'd try and get GoPro to work then look at more fish then another whale shark swims by…. Way cool!  So fun! Good diving consistently at all our dive sites. Yeah things are good and everyone is happy.    Great weather this trip, light winds and long low swells.  Keeping a close watch on low pressure systems to the south as we near the end of the Socorro season before the tropical storm season.
Heading into the Sea of Cortez with a full moon and the smell of cactus from an offshore breeze made for a nice night.  Finishing the combo trip with some top-side views, beach walks and diving with playful sea lions.
First Mate, Kevin.