Sightings of a hammerhead shark were overshadowed by the giant manta ray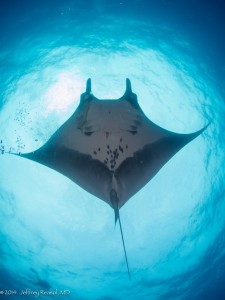 We awoke to find ourselves in a quiet cove at Cabo Pearce, on Isla Socorro. The first sight out the cabin door was the intriguing rock face built over the centuries by various volacanic eruptions.  The dive site itself is a bit more exposed, so backrolling off the zodiac with negative buoyancy is the way to go with this site. A light current was present on the first dive, which picked up a bit by the second. Some distant sightings of a hammerhead shark and a small pod of dolphins were overshadowed by a lengthy visit with a giant manta. I think we spent 80% of the second dive with this one creature who stayed with us until we had to exit the water.
Water temps have been great all week at a consistent 28C – trunks and rashguards for many of us; no more than 3mm suits for the rest.
After lunch, the plan is for two more dives at this site, starting around the point in the stronger currents to explore some new areas. Looking forward to what we see next!

Christopher M.