This was my first experience with great white sharks and I must say it was a once in a lifetime experience. The sharks where nothing short of spectacular to see in person, after only seeing these gentle beasts on shark week. I never thought I would ever experience such a trip like this. I was invited on my friend's 50th birthday and this trip was on his bucket list and I was fortunate enough to join in on the fun.
I have never dived in my life and the crew of the Belle Amie helped me all the way. Shout out to Damian for giving me pointers and making it easy to get down with the sharks. The entire staff of this vessel make you feel like you are home, even though you are at sea. The food was off the hook too!! Overall I would highly recommend this adventure company to sail with, top notch service and an incredible vacation you will never forget.
–Marcus M. Womer
---
What an amazing first day of diving with the great white sharks! At times, we had four or five great whites circling the cages. Kenric, a large male, stuck with us most of the day, coming so close to the cages we could have reached out and touched him. It was a special day for all of us on the Nautilus Belle Aime – diving to our heart's content.
–Jennifer Perfler
---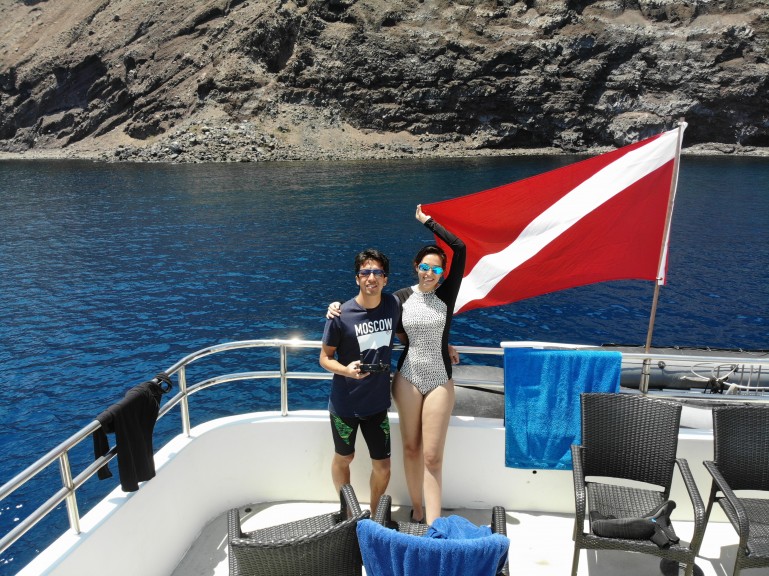 It's quite hard to know what to write as I'm sitting here after a day which has been physically, mentally and emotionally exhausting! We started just after sunrise when the shark wranglers started baiting the great whites, and the divers prepared to enter the surface cages. We went in just after 7 am and were instantly rewarded with two great whites circling our cages, occasionally surging upwards to take the bait. Three submersible cage dives allowed us to view the great whites from below, framed in the light from above, and level, eye to eye, an unnerving experience which left us feeling as if we'd stared into the abyss, and the abyss had stared back!
–Joe Reale & Mariana Gomez 
---
Unreal experience. We had high hopes and they have been surpassed. The boat is great, the crew are fantastic. Such energy and devotion to ensure every guest has the best experience ever. A very light-hearted atmosphere, which makes a relaxing and fun time.
The stars of the show are of course the great whites! Henrik is my favourite, he is always there and happy to come right up to the cage. He seems to fancy Steve and likes it when Steve waves at him. And what a poser! Henrik that is, not Steve! Big toothy grin right at you. I have been in the cage with six great whites swimming around the cages at once!
We always knew this would be an experience of a lifetime. Amazing. And for some reason, there is a really strong temptation to put your hand out and stroke them as they go past. Resist!! What a great choice for our honeymoon.
–Michelle and Steve Barker-Knott
---
Muchas gracias a todo el staff, a todos los diver masters por compartirnos su experiencias y por darnos sus servicio. El viaje sobrepaso mis expectativas de isla Guadalupe y eso se lo debo al animo y a la ayuda de todo el crew. Ver a uno de los depredadores mas grande del mundo fue mucho mejor y mucho mas divertido de lo que creia, vajar con el crew y con todos los pasajeros fue una experiencia de otro mundo. De nuevo, muchisimas gracias por hacer esta experiencia completa y dejar tan buenos recuerdos.
–Juan Ignacio Sada, Monterrey, Mexico