Note from Mike Lever, Nautilus Dive Adventures
It's time to speak out about our ongoing efforts to protect and conserve the sharks and mantas that have stretched over the past dozen years.
We love our sharks and mantas but have always been very modest about the extraordinary efforts we have made to protect and better understand these beautiful animals.
This is who we are and what we actually do…
We first arrived in Mexico in 2002 as cold water divers used to the giant octopus, wolf-eels and sea lions of British Columbia and Alaska. It didn't take very long to fall in love with the friendly giants of Socorro Island – manta birostris – the giant mantas.
It took a little longer to get comfortable with the sharks! We weren't used to sharks and to be honest, at first we found them to be intimidating and somewhat scary.
Of course, in those days, there were very few sharks in the waters around Socorro so we didn't actually get to see that many. The place was under immense fishing pressure from illegal long liners out of Mazatlan to massive corporate owned tuna seiners complete with helicopters and kilometer-long purse seine nets. Even the sport fishing boats from Cabo were in the islands slaughtering everything they could catch for 'sport'.
I well remember our very first trip to Socorro and watching a big white shark sport fishing boat 'Legal Eagle' anchored at Cabo Henslow and jigging for sharks off the back deck. I dove under the Legal Eagle that night and counted more than 20 gutted sharks – apparently killed just for the sport of it. Something clicked that night dive and, while I was very new to islands and new to sharks, I felt sick and nauseas at what I was seeing. My fighting instinct kicked into full force.

We started photographing and recording all the illegal fishing that we were observing – cutting and freeing up fishing nets and long lines that we found tangled on the underwater reefs and still catching fish, sharks, dolphins and turtles. We called them zombie nets because they kept on killing the poor animals long after the nets had been abandoned.
I soon became more aggressive and started chasing down fishing boats with our big steel dive boat. Unfortunately, that didn't accomplish much other than plant us squarely in the crosshairs of all the bad guys.
I am a stubborn and driven kind of person and I soon became more aggressive and started chasing down fishing boats with our big steel dive boat. I would intercept the bad guys with the Nautilus Explorer and get really close – sometimes just 20 feet away in open ocean – and be really obvious about shooting film and video and telling the fishing guys over the radio that we were in contact with the navy interceptors who were on their way. Unfortunately, that didn't accomplish much other than plant us squarely in the crosshairs of all the bad guys.
In those days, there was one other dive boat in the islands, the Solmar V, and ourselves: Just lots of illegal fishing, virtually no navy presence and two conservation-minded dive boats plus repeated warnings by the local authorities to stop getting in the way of the fishermen.
Things were very different from now. Socorro Island was not a mainstream diving destination. Our guests were almost always up for bailing on the diving if it meant we were going to go after an illegal fishing boat. Guests wouldn't hesitate to jump in the water to help us remove the nets and fishing line and record the horrors that the we were seeing underwater.

We took heartbreaking images and video of animals that were trapped and dead in the nets – not for harvest and not to be used for food. Just killed by nets that would take decades or longer to rot and stop killing.
We became very unpopular. Local sport fishing captains in Cabo would get angry at us. We got plenty of threats and the physical danger was very real. It got to the point where I was being warned by everyone that it would be stupid for me to get off the boat without protection.
Menacing guys made their presence very obvious around the dock in Cabo. We got chased out of Cabo and started basing off the beach in San Jose. It was kind of cool to be picking up guests off the beach at night and ferrying them out to the boat by zodiac.

We soon got chased out of there and had to relocate 60 miles up the coast in the tiny village of Los Frailles with more midnight pickups by zodiac off the beach. The bad guys formally complained and said that we were running drugs and we were run out of Los Frailles.. We finally settled 15 hours up the coast in La Paz which added a h*lluva long schlep to our runs down to Socorro.
Amazingly, our guests in those early days were totally cool with all the inconvenience. It was truly exciting times. I was very candid about what we were seeing in the islands and what were doing about it. I will be eternally grateful to all our wonderful clients and guests who supported us. . La Paz turned out to be a great fit for us because of a strong conservation culture throughout the entire city. La Paz means City of Peace which was very appropriate.. It was quite a while before we were able to base out of Cabo again.
So how did we react to all the additional threats and problems? I kept going after illegal fishing boats and I started two conservation funds working with International Community Foundation out of San Diego; The Socorro Conservation Fund and the Guadalupe Conservation Fund. These were 501C3 funds recognized formally as non-profit organizations under Title 26 of the United States Code with an independent board of directors and are active to this day. I still run both funds and we have raised almost all the donations from our guests and our own corporate donations. I even purchased a twin-engine beech baron aircraft and donated it's use to the National Parks Service for aerial patrols.
One of the ironies of the negative comments from Regina Domingo is that we donated approximately $3,000 of company money to her Nakawe Project earlier this year to help her and another director attend the CITES conference and lobby for the protection of Mako sharks. I think that is what she might be referring to as bribery.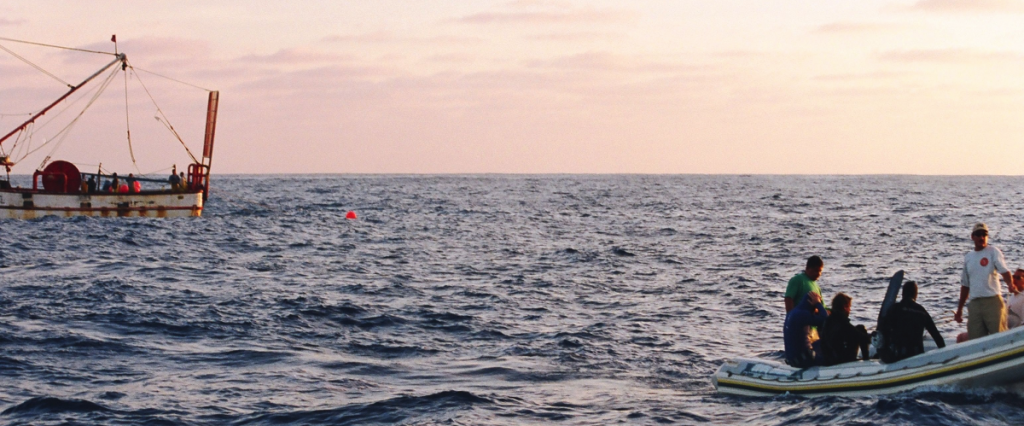 Things came to a climax in March 2008 when I intercepted two illegal fishing boats that had entirely circled the pinnacles and cleaning stations at the Boiler on the west side of San Benedicto Island with drift nets. I was irate and chased after one of the boats for hours before we "persuaded" him to turn around and return for navy inspection. We were worried about gunfire and during the chase, I repeatedly asked our guests to take cover on the lower deck. It took every political contact we had to persuade a navy interceptor to divert from narco patrol and inspect the illegal fishing boat. They found hundreds and hundreds of shark fins and 6 dead mantas onboard. We then dove the nets and as well as dolphins, turtles, hammerhead and silky sharks, we counted 22 thresher sharks dead in the nets. This is the first and only time we ever saw threshers in the islands. With the help of a famous TV reporter the government took action.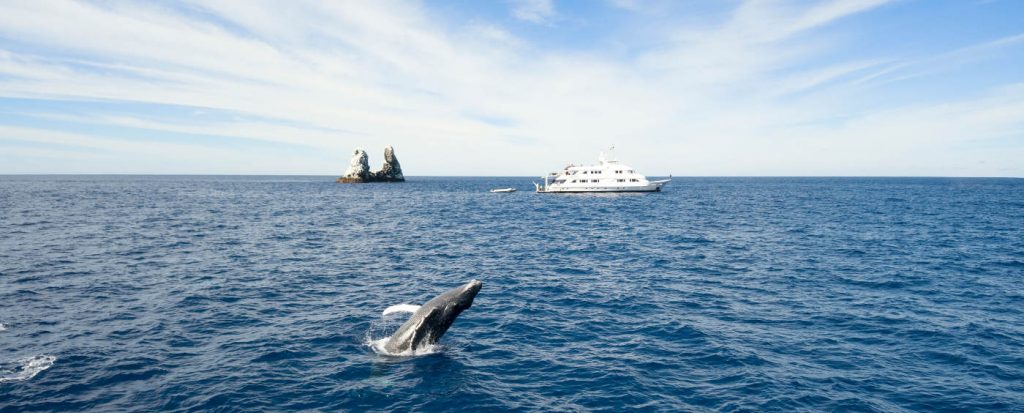 We just kept on going and going and doing as much political work as possible. More dive boats showed up in the market. The islands become biological reserve, and then a UNESCO heritage site and then the largest marine park on this side of North America. Things became calm and tranquil. The shark and manta population rebounded. The diving has since become simply excellent. It's a wonderful outcome.
We love the mantas and sharks more than ever and are super happy to help 4,000 divers a year get in the water with our beautiful friends.
Much credit is due to the Government of Mexico, the Navy and the National Parks Service for everything they have accomplished in improving the protection of the islands over the years.
Now, direct to the extremely regrettable incident involving a shark and one of our dive cages. Accidents happen. We hate what happened to Stouffer. Video is available of the efforts our crew made to save Stouffer and get him out of the cage – something not shown on social media.
The slaughter and all the needless death we have witnessed over the years must be contrasted with the tens of thousands of divers who appreciate the animals far more after seeing them first hand. This, versus one poor shark who may or may not have died.
We are continuing our conservation efforts and protection of these priceless animals. To say anything different is simply wrong. Please visit our website for more information and to learn what the people who know us are saying. Then you be the judge.